2021 Annual Gathering: Heroes Among Us
September 27, 2021
Incredible donors. Staff and volunteers who went above and beyond. And a community that continues to prove that not even the biggest challenges can stop us from being there for NH residents struggling during these difficult times. Those were the themes echoed throughout our (virtual) Annual Gathering on September 25. Watch Tom Blonski's annual Presidential Address as he honors the many unsung heroes who made selfless sacrifices and continued to fight through the pandemic:
At the Annual Gathering, we also paid tribute to three special individuals –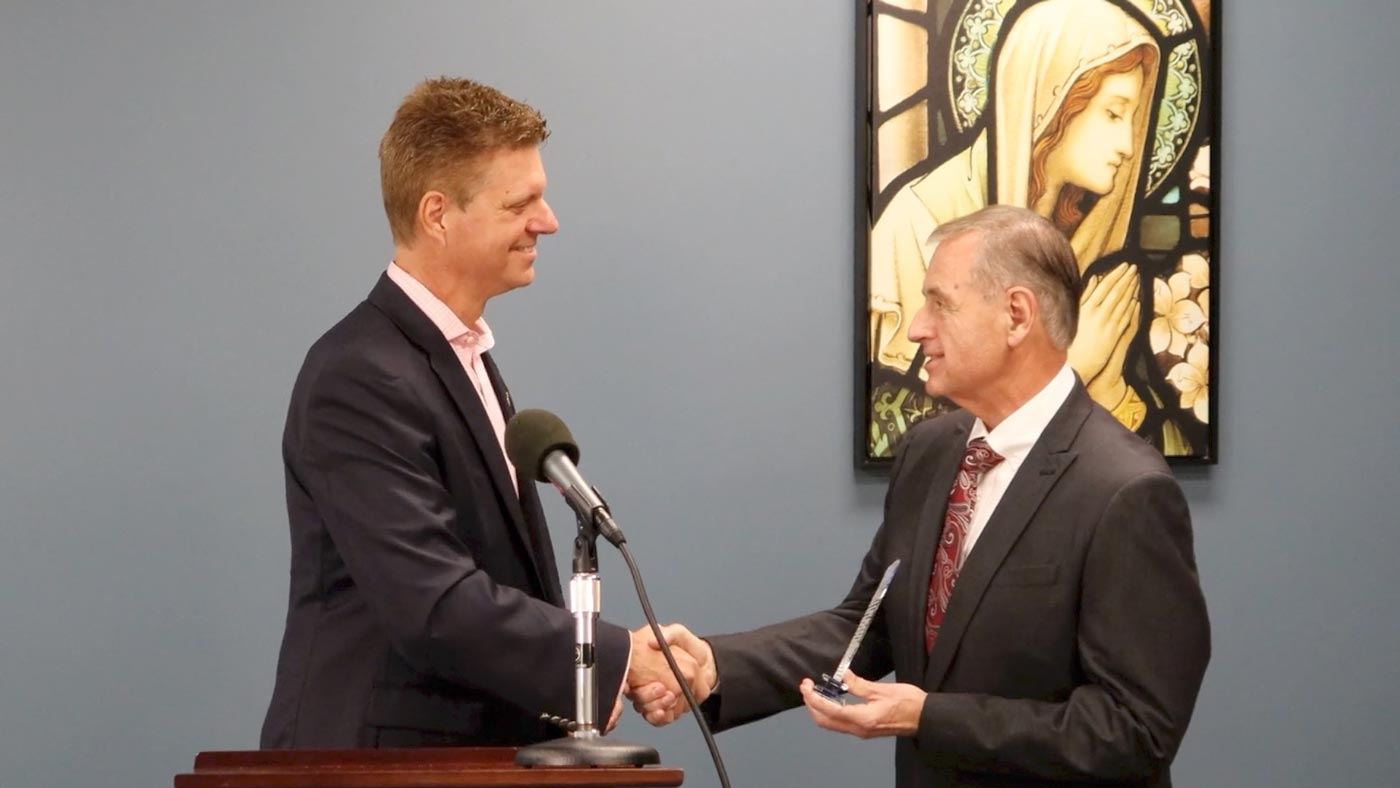 John Dumais – Guardian Angel Award
John Dumais joined the Catholic Charites NH Board in 1994 – and hasn't looked back since. He's been a Board member, committee member, fundraiser, advocate and mentor. And this year, we were honored to recognize him with the Guardian Angel Community Award at our 2021 Annual Meeting. As president & CEO of the New Hampshire Grocers Association, John has been instrumental in the phenomenal growth and success of the New Hampshire Food Bank. He helped acquire, develop and fundraise for the NHFB's current warehouse and facility, which increased its square footage by 400 percent. He has volunteered countless hours of his time, supported our various events and most importantly, has been a tremendous sounding board and advocate for all we do. As Catholic Charities NH President & CEO Tom Blonski shared, "John embodies the idea that our Christian faith demands deeds and not just words. He never shied away from a challenge and always approached it as an opportunity. Because of John's influence, we grew in ways we never thought possible." Congratulations and THANK YOU, John, for all you do – not just for us, but for the thousands of New Hampshire residents you have helped through your service.

Darlene Underhill – In His Footsteps
"She truly leads by example and integrity." The annual "In His Footsteps Award" recognizes a Catholic Charities NH employee who exemplifies the core values of Catholic Charities (collaboration, honor, optimism, integrity, compassion, excellence and service). We are very proud to announce this year's recipient, Darlene Underhill, director of clinical services. In a year where the COVID-19 pandemic challenged us like never before, Darlene continually went above and beyond in helping not only our senior living communities, but all Catholic Charites NH programs. It was because of her that we were able to remain one step ahead of the continual risk to the health and safety of our staff, residents and communities. She was the go-to resource for staff who had questions or concerns with the pandemic. She spent many late nights trying to maintain adequate personal protective equipment for our various communities. And when we faced staffing shortages, she worked tirelessly to find temporary staff to ensure our residents received the care they needed.
Here's what some of her colleagues shared about her:
"Over the past year and a half with COVID, Darlene has been called upon to a level I don't think too many can understand"
"The uncertainty of the pandemic, supplies, the virus, the regulations – all of which is cumbersome and overwhelming – Darlene handled with great poise."
"Our residents and staff are so fortunate to have her knowledge, skill, experience and heart as an advocate and as a resource."
Congratulations, Darlene! Words cannot express how we – and our community – appreciate the incredible work you do every day. Your clinical expertise, leadership and compassion are truly unmatched.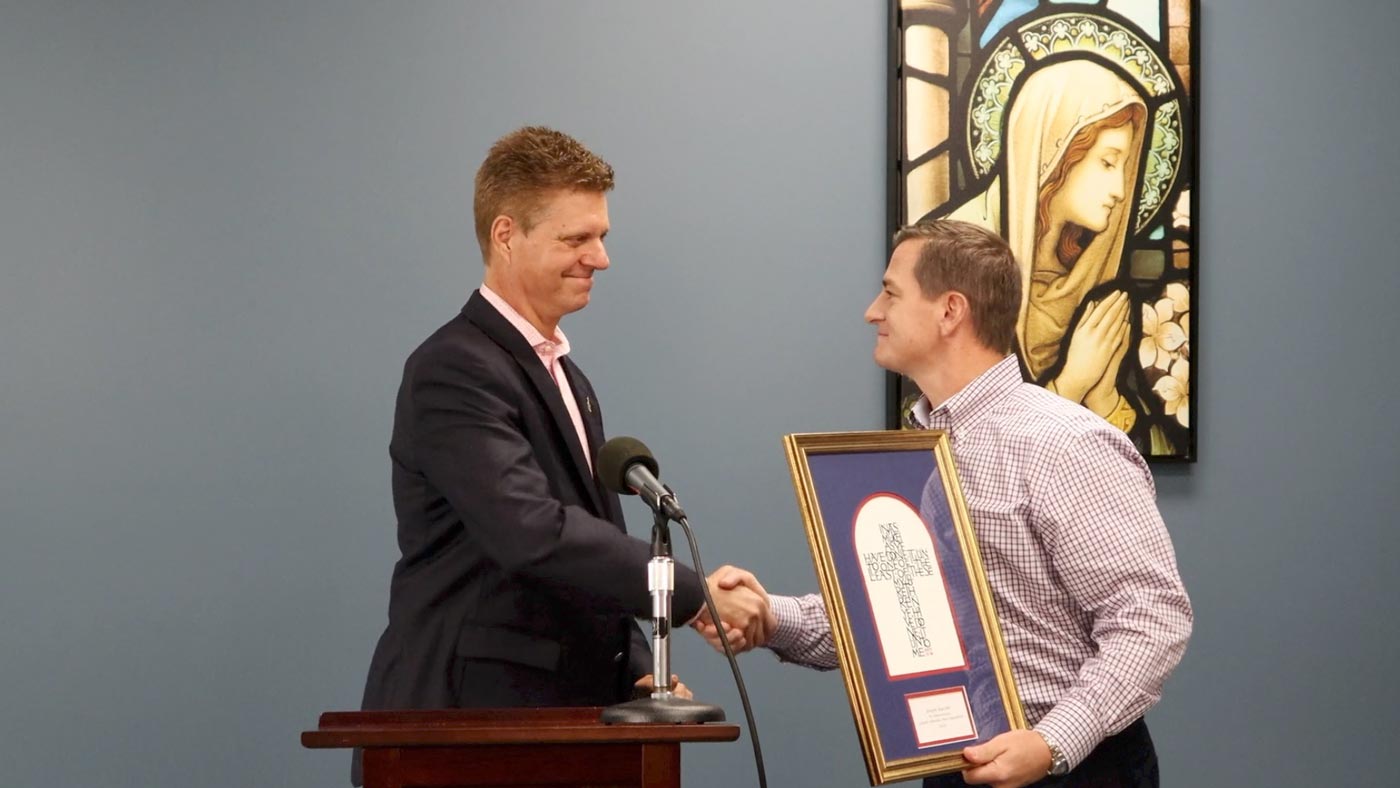 Joe Raczka – "A Servant Leader"
"A servant leader is a person who enriches the lives of individuals, including the least privileged in society." Joe Raczka is a shining example, especially during the past six years he served on our Board of Trustees. As our former Vice-Chair of the Board (among many other roles), Joe's innovation, creativity and strategic thinking helped us become a more nimble and responsive organization – and laid the foundation to a path of further successes. As our President & CEO Tom Blonski shared, "Joe is a strategist, an innovator, a responsible risk-taker, a doer, a connector, and an influencer who, in his calm, cool and collected manner, embraces opportunity with a glass-half-full optimism. He led with grace, dignity and respect. Everything Joe brings to the table is always done with the best intention – and with love." Thank you, Joe, for your service and dedication to Catholic Charities NH and the betterment of our communities!