History
An Unmatched History of Moving Lives Forward in NH
History
An Unmatched History of Moving Lives Forward in NH
Since 1945, Catholic Charities NH has been a mainstay in communities across New Hampshire, creating a better quality of life for hundreds of thousands of individuals and families through our wide range of programs.
Founded by Bishop Matthew F. Brady, with an initial staff of three, Catholic Charities NH has grown to become the largest human services agency in New Hampshire, with nearly 1,000 employees across all corners of the state.
From our long-standing work in creating safe environments for children, strengthening families and caring for our state's seniors with the dignity they deserve, the legacy of Catholic Charities NH has brought influential and lasting change to the key issues impacting the people and communities across New Hampshire.
Nurturing Children & Strengthening Families
One of Catholic Charities NH's early focus areas, aligned with key social needs of the 1940s, was fulfilling a gap in services for young children. We coordinated and assumed the financial management of six orphanages managed by religious communities in New Hampshire. In assessing the needs of children, our emphasis shifted towards placing children in loving and secure families, rather than institutional settings. This paved the way for our Adoption Services program, which placed more than 2,000 children in loving homes.
The Our Place program was established in 1982 in Manchester through a collaboration with Catholic Medical Center. The program initially offered support for pregnant and parenting teens to help reduce child abuse and neglect. Today, the program remains strong, with a more comprehensive focus on pregnancy and parenting education and equipping families with the skills to build nurturing and safe home environments while reducing childhood stressors and preventing abuse. We also now serve families in the Greater Nashua area.
St. Charles Children's Home was acquired by Catholic Charities NH in 1968 and transitioned from the last of the orphanages to group home care. For more than 100 years, St. Charles operated as a residential home for children, until becoming a short-term therapeutic education service provider for students with behavioral, emotional and social challenges in 2012. In 2018, St. Charles Children's Home became St. Charles School, a full-time licensed special education school for students, grades K-8, who display severe emotional disturbances and other forms of behavioral impairments.
In 2021, Catholic Charities NH acquired Greenland-based New Generation, which provides a family-oriented shelter, transitional housing and aftercare services to help pregnant and single mothers facing homelessness – as well as their children – get back on their feet and build self-sufficient futures with stable housing and jobs. New Generation became our first residential facility for mothers and children.
Caring for our Seniors
Along with our work with children, supporting and caring for New Hampshire's elderly and aging population has been a constant focus since our inception, with hundreds of thousands of seniors positively impacted through our wide range of healthcare and supportive services.
To fulfill a need in more residential-based healthcare services, Catholic Charities NH constructed and opened its first two nursing facilities, St. Teresa's Manor in Manchester and St. Francis Home in Laconia, in 1948. Two more homes, St. Ann in Dover and St. Vincent de Paul in Berlin, followed in 1958 and 1963, respectively.
Our expansion continued with Mt. Carmel Rehabilitation and Nursing Center opening in Manchester in 1969. Today, Mt. Carmel remains our largest nursing facility, with 120 resident beds.
Catholic Charities NH purchased Warde Rehabilitation and Nursing Center in Windham, a 32-bed skilled nursing and 39-bed assisted living facility in 2015. In 2019, Warde expanded with the addition of a modern two-story, 21-unit independent living wing – Searles Place at Warde – and a new 10-bed assisted living wing.
Today, we operate seven skilled nursing facilities statewide, as well as four independent living communities and an assisted living community, serving more than 1,000 seniors annually.
Beyond healthcare services, we also respond to the needs of seniors who wish to remain independent in their homes. Catholic Charities NH received a grant in 1984 from the Robert Wood Johnson Foundation to create Caregivers, an ecumenical coalition of Manchester-area churches, synagogues and agencies providing volunteer services for the frail, elderly and handicapped. Since then, Caregivers organizations in Derry, Nashua, Manchester, Littleton and Salem were born. The CareGivers of Greater Manchester and Greater Nashua rejoined the Catholic Charities NH family as an official program in 2018, and today provides homebound and disabled seniors with groceries, rides to medical appointments and various forms of emotional support.
Further building on our wide range of localized services and support for seniors and elderly across the state, Catholic Charites NH acquired Monadnock at Home in 2019. The nonprofit membership organization provides seniors across the Monadnock Region with services enabling them to remain living independently at home.
Feeding the Hungry
The New Hampshire Food Bank opened its doors in 1984 as a program of Catholic Charities NH and remains the only food warehouse distribution center in the state. In its first year, it distributed 250,000 pounds of food out of a 6,000-square-foot warehouse.
Today, it delivers more than 16 million pounds of food annually from a state-of-the-art, 60,000-square-foot warehouse. The NHFB is now able to collect and store a much greater volume of food, while at the same time, deliver food and products to more than 400 partner agencies statewide. Since moving into the new building, food distribution has increased by 131% over the last decade.
In 2008, The New Hampshire Food Bank launched the Recipe for Success Culinary Job Training Program to help individuals suffering financial hardship gain the skills and experience necessary to seek employment in the food service industry. In 12 years, 545 individuals have graduated from the program, many of whom went on to successful careers.
Supporting Local Community Needs
Our first regional office opened in Littleton in 1971. Today, the Littleton office is one of nine district offices providing case management, direct outreach and referral services that address key local community needs through our Community Services program, formerly known as Parish Social Ministry. Other office locations include Berlin, Concord, Keene, Laconia, Lebanon, Manchester, Nashua and Rochester.
As Littleton has done since its inception, many of these service locations also provide Mental Health Counseling Services, which was established in the 1960s, offering individual, marital and family counseling. The program remains operational today, offering both in-person and telehealth services. Our team specializes in a wide range of areas such as grief, addiction and life adjustment challenges.
In 1979, Catholic Charities NH began helping refugees in the wake of the Vietnam War, providing assistance with sponsorship and initial resettlement. In 1992, Catholic Charities NH officially opened the office of Immigration & Refugee Services, with a focus on providing legal case management. Within two years, the office was accredited by the U.S. Bureau of Immigration Services.
Today, the program – now called Immigration Legal Services – and its team of immigration attorneys and BIA-accredited representatives provide high-quality legal consultation and representation for a variety of immigration needs such as naturalization, family reunification and protection for immigrant victims of crime.
In 2015, Catholic Charities NH deepened its focus on driving sustainable change for New Hampshire residents facing poverty and despair with the design and implementation of an innovative 'Life Plan' tool. Developed through our years of experience working with individuals and families in need, the Life Plan is a customized assessment and series of goals we collaboratively develop with clients to address and remove current crises, while shifting the fundamental dynamics of their lives to generate more positive, long-term successes. By 2023, our Community Services, Our Place, New Generation and Liberty House programs utilize the Life Plan tool to help their clients move their lives forward.
In 2020, the COVID-19 pandemic changed our way of life – and how we offered services. Catholic Charities NH swiftly established the Crisis Fund to provide expanded emergency financial relief for individuals and families, food assistance for homebound seniors, access to teletherapy for those in need of mental health counseling and other urgent needs. The fund raised more than $360,000. During that time, our Mental Health Counseling program also began to offer teletherapy services, enabling us to reach individuals in previously underserved communities.
Supporting Veterans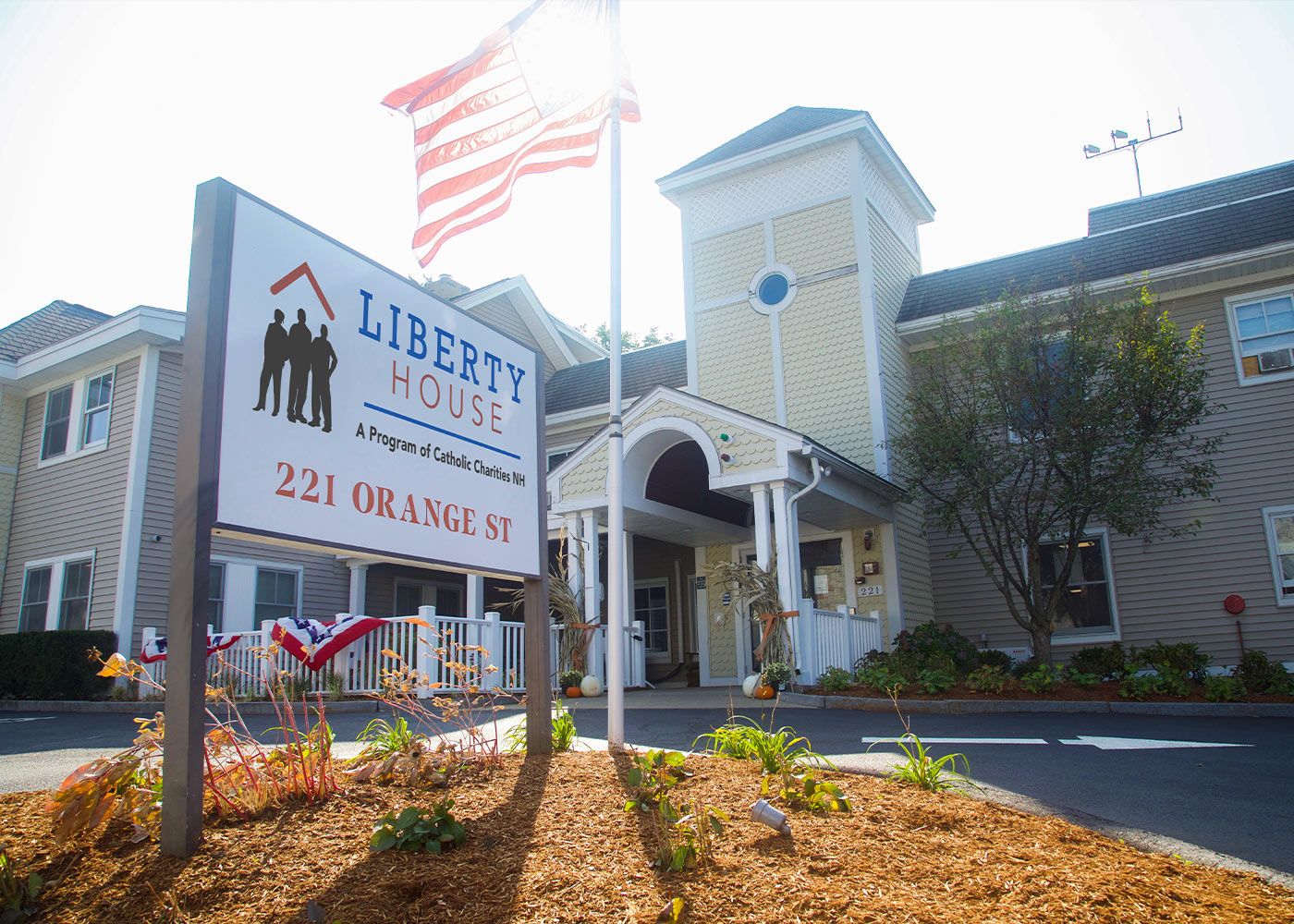 In 2018, Catholic Charities NH found another way to better support an underserved and vulnerable population with the acquisition of Liberty House, which brought more than 15 years of experience providing sober transitional housing, recovery services and wellness programs for homeless and struggling veterans. In 2020, Liberty House expanded with its move into a 16,000-square-foot home in Manchester that more than doubled its residential capacity and paved the way to offer expanded services and the availability to serve more veteran populations.
Now a program of Catholic Charities NH, Liberty House is poised to nearly triple the capacity of its sober transitional living program and make critical services available for more veteran populations, including retired and mobility-challenged veterans.
Our Timeline
1945 – Bishop Matthew Brady founded New Hampshire Catholic Charities. Monsignor McGreal was named the first Director of the organization.

1945-1946 – Catholic Charities inherited four small homes for the elderly (the start of our nursing and rehabilitation facilities).

1945 – Catholic Charities launched adoption services and began operating six orphanages.

1948 – St. Teresa (Manchester) and St. Francis (Laconia) nursing facilities are opened.

1958 – St. Ann Home in Dover is opened.

1960's – Counseling services started in Manchester.

1963 – St. Vincent de Paul Nursing Facility opened in Berlin.

1968 – St. Charles Children's Home is acquired by Catholic Charities and transitioned from the last of the orphanages to group home care.

1968 – The new Mt. Carmel opened in Manchester.

1971 – First district office opened in Littleton.

1972 – The Keene District Office opened.

1977 – Outreach services begin in Lebanon with opening of a new district office.

1979 – Nashua and Concord District Offices opened.

1979 – Catholic Charities began helping refugees in the wake of the Vietnam War, starting our Immigration Legal Services.

1980 – Rochester and Berlin District Offices opened.

1981 – Salem and Laconia District Offices opened.

1982 – The Our Place pregnancy program was launched.

1984 – New Hampshire Food Bank is established.

1987 – Manchester District Office established.

1987-1988 – Independent Retirement Living is added to St. Teresa and St. Francis facilities.

1990 – Good Shepherd Nursing Home was purchased.

1994 – Our six nursing facilities became accredited.

1995 – Catholic Charities assumed management of two nursing facilities: Warde Senior Living and St. Joseph Residence.

1997 – Independent Living added to St. Ann Rehabilitation and Nursing Center.

2003 – The Food Bank began new outreach with the Cooking Matters program.

2008 – Recipe for Success Culinary Job Training Program and NH Food Bank's Production Garden began.

2011 – The NH Food Bank's SNAP (Supplemental Nutrition Assistance Program) Outreach Program started.

2013 – Parish & Community Services' Basic Financial Fitness program created.

2015 – Catholic Charities purchased Warde Senior Living in Windham.

2017 – Catholic Charities began managing St. Peter's Day Care Center for Catholic Medical Center.

2018 – St. Charles Children's Home became St. Charles School.

2018 – Catholic Charities acquired The CareGivers.

2019 – Liberty House joined the Catholic Charities family.

2019 – Searles Place Independent Living at Warde opened.

2020 – Monadnock at Home became a program of Catholic Charities NH.

2020 – Catholic Charities acquired the Guardian Angel Thrift Shop in Berlin.

2021 – Catholic Charities acquired New Generation in Greenland.