A Servant Heart, A Servant Leader
June 20, 2023
In the silence of a foggy Seattle morning, the ringing of his phone woke Marc Cousineau from a deep sleep.
The voice on the other end was Deacon Richard Shannon, 3,000 miles away.
Marc had responded to a small ad tucked away in the latest edition of Catholic Reporter, a Parish Social Ministry Coordinator at Catholic Charities NH.
Unbeknownst to Shannon, who was starting his work day eager to learn about the newest applicant, there was the three-hour time difference separating them.
Rather than going back to sleep, Marc was eager to learn more, even if there were a few occasional yawns and a lingering foggy mind.
Little did Marc realize at that moment, but this early morning conversation set the tone for the next 39 years (and counting) of his life – a noble calling, a career rooted in his strong faith and his passion for helping others, all made possible through the support of compassionate donors.
From Coast to Coast: Embracing New Beginnings
After finishing graduate school at Seattle University, Marc knew he was ready for a new chapter in his life. And when he saw that ad for a Parish Social Ministry Coordinator at Catholic Charities NH, he knew it was the moment he was waiting for. Six weeks later, he boarded a plane headed to New Hampshire, excited for the path he was about to pave.
"My Catholic faith and the values of human life and dignity outlined in Catholic Social Teaching are important to me," Cousineau shares. "Being part of an organization that already embraced those values meant that I didn't have to strive to incorporate them into my work. It was a natural fit for me to work for Catholic Charities because it resonated with who I am."
"Marc is a man of great faith and passion for helping others, one of the nicest people you will encounter," said Deacon Dick Shannon, former director of (Parish &) Community Services, who hired Marc in 1984 and worked alongside him for more than 30 years. "When I first met him, it was clear he was the type of person you immediately feel comfortable with, someone who is sensitive and compassionate, always willing to walk with you regardless of what issue you are facing."
Expanding The Footprint in the Upper Valley
Marc initially settled in Claremont, where he helped with the Morehouse Project, cultivating various internship opportunities for college students who spent summers researching and presenting solutions around key social challenges across New Hampshire. He soon after transitioned to the Upper Valley, where he was instrumental in building relationships with other social services agencies and growing the organization's footprint in serving the needs of residents in Lebanon, Claremont, New London, Hanover, Enfield and other communities.
He proved to be an invaluable resource for other members of the Catholic Charities NH staff, always willing to pitch in with more statewide initiatives. As a licensed Catholic chaplain, he built up the organization's support group offerings for individuals dealing with key issues such as bereavement, divorce and other life challenges.
"Marc is always willing to step forward, helping his colleagues understand how we can best support those we are serving," said Shannon. "He is the ultimate teammate, proving day in and day out that together, everyone can achieve more."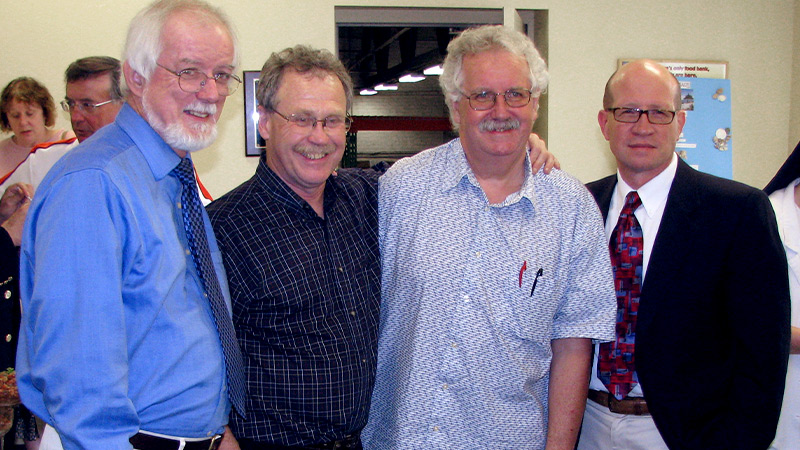 Addressing Urgent Needs and Creating Sustainable Solutions
In 2016, Marc was promoted to the director of the Community Services program, which addresses the negative effects of poverty, helping individuals and families create sustainable solutions and build more stable lives.
He played a pivotal role in the development of the Life Plan assessment tool, a unique and holistic approach to case management that has created meaningful, long-term change for hundreds of lives.
"While we strive to address the immediate situation our clients face, the key to finding a long-term solution lies in tackling the underlying issue beneath the surface," adds Cousineau. "Our approach is understanding the complete picture and considering the whole person. We examine the puzzle of their situation, identify the existing pieces, and determine how we can fill in any missing ones. We are not a transactional charity – we stick with the people we serve and, working together, best set them up for the road ahead."
The Dignity of Human Life
While serving those in need can be challenging and take time, Marc stays focused on the fact that every interaction, every conversation and every level of support is driving meaningful change into the lives of those who need it most, regardless of their faith and backgrounds. And in his mind, that is one of the ways that Catholic Charities NH stands out.
"We firmly believe in treating people with the utmost respect and acknowledging their individuality, rather than simply viewing them as customers or clients," said Cousineau. "Similar to medical providers who view their patients as people, we recognize the person behind the circumstances, no matter how complicated or intimidating they may appear."
"When someone reaches out to us, it's because something urgent is happening in their lives, regardless of how big or small it may seem to them. Our role is to provide a calming presence, work with them through whatever they are facing, and be the steady source of support that they need."
Navigating Unprecedented Challenges
COVID-19 presented unprecedented challenges, with demand for emergency financial assistance through Community Services growing by 50% in the first six months of the pandemic. But through his leadership, Marc swiftly transitioned the program and staff from in-person service to online support via phone and Zoom.
"Helping us shift from working in the office to working from home was no easy task," said Nicole Plourde, deputy director of Community Services. "Marc kept our team connected, ensuring we had the necessary resources to deliver high-quality services to our clients. The innovative solutions he implemented proved particularly beneficial for clients facing isolation, and they continue to meet their needs through various programs we offer."
A Resilient Team Effort
One of the most rewarding moments is when clients have that "aha" moment realizing they'll get the help they need or that there is a way out of their difficult situations.
"It's a moment of hope because individuals may be uncertain about what the future holds," he said. "When they realize that things will improve and that our staff genuinely cares about their well-being, it has a profound impact. Many express to me that we were the only ones who listened to them or returned their calls, and they appreciate our efforts to best understand their situation."
For Marc, it's the people that make him excited to come to work every day.
"There's a shared sense of working together towards a common cause and creating a positive working environment, and it's not just limited to those on the frontlines," Cousineau reflects. "Whether it's finance, administration, or other supportive roles, everyone feels a sense of importance and accomplishment in their work. We believe in the significance of the work we do and the positive impact we have on each other. It's vital work that needs to be done, and we feel privileged to be a part of it."
Making a Difference Through Donor Support
As Marc reflects on 39 years of working for Catholic Charities NH, there's a sense of gratitude that fills his heart – not only for his dedicated staff and colleagues, but also for the donors who enables the transformative work they do.
Thanks to donor support, the Community Services program assisted over 3,700 household members in 2022 alone, providing financial assistance, access to food, and preserving housing for those in need. That's an increase of nearly 10 percent over the previous year.
"Especially today, donor impact goes even further and allows us to do so much more," said Cousineau. "There are few places like Catholic Charities NH where supporters can play such an active part in the solution, creating life-changing moments for our neighbors in need, whether it's preserving housing, providing access to food or giving them the edge they need to take back control over their lives."
Embracing His Calling
As Marc reflects on that early morning phone call from Shannon, he knew that was his calling – and the start of something bigger – a long and purposeful career.
"For me, it all comes down to having the heart of the work. God has blessed me with one of those hearts that deeply cares about people. While there were many other career paths I could have taken, I wouldn't trade a single moment of this journey."