Benefits of Respite Care
December 13, 2016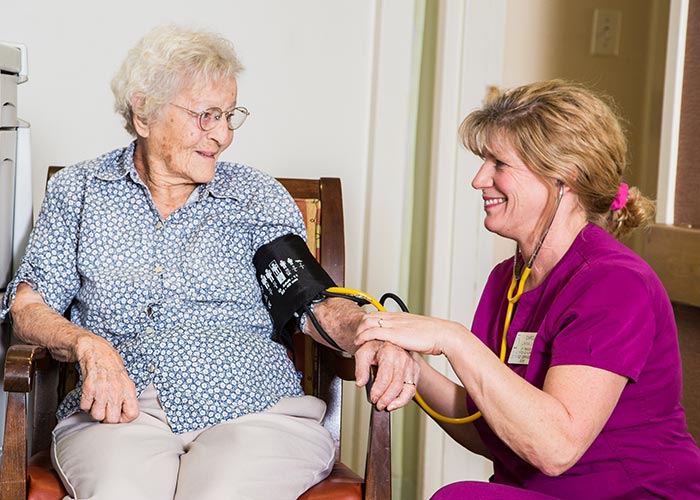 Caring for a parent, spouse or other loved one at home is a profound act of love – and an enormous responsibility.
Motivated by duty, caring concern and family values, caretakers often derive a great sense of fulfillment from helping their loved ones.
It can also be emotionally draining. And there are times when they need a break.
Stress among caregiver often peaks at this time of year when shopping, family gatherings, decorating and other holiday preparations put a premium on a caregiver's time.
Respite care is a wonderful way for caregivers to get a temporary, much-needed break while ensuring loved ones continue to receive the care they require.
"Respite care, especially around the holidays, is nice," said Michael Takesian, assistant vice president of Healthcare Services at Catholic Charities New Hampshire, which owns and operates seven rehabilitation and nursing centers throughout the state.
"When you've got to get your shopping done and you have to leave, it's nice to put your loved ones in a safe, warm place where they will get three meals a day, where they will be cared for … while you get those things done," Takesian added.
"Catholic Charities NH offers respite care at all seven of its facilities depending on bed availability," he said. "The typical stay ranges from one to two weeks, though some can be as long as a month."
"It benefits the resident. It benefits the family," Takesian said. "It's kind of a nice break for everybody."
According to research produced by Zanit Burden Interview, a self-reporting measurement tool for caregivers, the emotional drain of caring for an aging loved one causes nearly 70 percent of family caregivers to display symptoms of depression and anxiety.
Respite care can help.
"Catholic Charities NH's St. Ann Rehabilitation and Nursing Center in Dover routinely provides respite care for home caregivers," administrator Robin T. Fortin said. "Average stays are a week to 10 days."
"St. Teresa Rehabilitation and Nursing Center in Manchester will have one to two people in respite care during the holiday season," administrator Chrystal-Leigh McCaffrey explained. "Typical stays range from five to seven days. Some have come back to live as full-time residents," she added.
Respite care is not just for the holidays.
"One gentleman was in respite care at St. Ann three times in the last year," Fortin noted.
Respite care allows caregivers to attend to tasks they don't always have time to do. Equally important, it gives caregivers a chance to take a vacation or time for themselves.
For caregivers on the verge of exhaustion or experiencing flashes of resentment, that break can maintain healthy relationships between caregivers and loved ones.
"Others considering placing a parent or spouse in long-term care may use respite care to gauge how they react,: Takesian said. "It's an opportunity for them to test the waters to see how their loved one would respond to that."
"Other times, a spouse undergoes medical treatment that makes them unable to care for their loved one," Takesian said. "Respite care is a valuable resource in such situations where stays can last a month or more."
"You can create all kinds of different opportunities where people look for and need some help," Takesian explained.
And, at this time of the year, respite care can be a great way to make the holidays happier and healthier for everyone.
St. Teresa and St. Ann are among Catholic Charities NH's seven rehabilitation and nursing centers. Besides respite care, each offers short-term skilled nursing and rehabilitation care, long-term care, Alzheimer and dementia care, and hospice.
Visit cc-nh.org/healthcare for more information on respite care and Catholic Charities NH's Healthcare Services.