Immigration and Refugee Services
September 2, 2016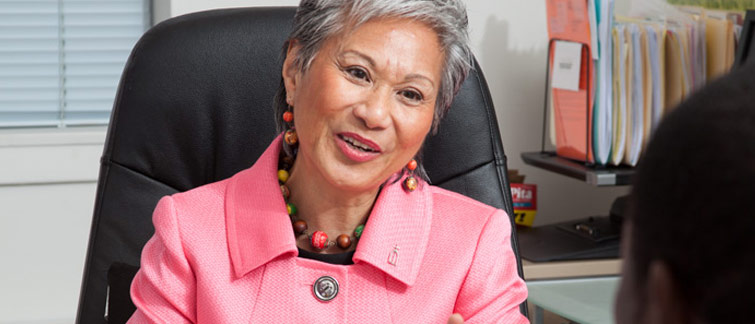 Imagine for a moment you have arrived on foreign soil, not speaking the language, not knowing how to find work, or transportation, or housing with a desperate need to start your life over and get away from the terrors of your homeland. You have nothing but the clothes on your back and very little money. How do you begin?
Catholic Charities NH offers Immigration and Refugee Services that provide low-income newcomers with expert immigration and legal services. They offer family-based legal services, from adjustment/green cards, family reunification to naturalization. They also assist with obtaining immigrant visas and provide legal services to immigrant victims of domestic violence and assault. Occasionally, they have the opportunity to take on an asylum case.
Immigrants face many challenges and hurdles. Often, the process to obtain certain immigration benefits is complex, requiring applicants to go through a series of steps and long waiting periods.
Becoming a United States citizen, for example, requires one to learn to read, write, speak English, and to pass a U.S. Civics test. Individuals often have to wait years before an asylum case might be heard or a relative will be allowed to join them.
"It takes incredible perseverance and resiliency to survive as an immigrant in the U.S. today. And for the most needy, for undocumented immigrants or for those whose visas have expired, most often than not, there is little we can do," says Cathy Chesley of Catholic Charities Immigration and Refugee Service program.
Immigrants work very hard to support their families at the barest levels of existence. The government focuses on the removal process for those immigrants who may have engaged in illegal activities. Unfortunately, many children get caught up in this process that is very destructive to families.
CCNH Immigration and Refugee Services primarily focus on:
Adjust of Status/Green Card
Citizenship
Family Reunification
Reunification
In one reunification case, a man named Abdu had fled Kenya due to political strife. He applied for and was granted refugee status in the U.S. He entered with documents, however his wife and children remained in Kenya in a refugee camp. As a refugee, Abdu was able to petition for permission to bring his "immediate family" (his wife and children) here to the U.S. CCNH Immigration and Refugee Services assisted with reuniting his family. As a refugee, Abdu was entitled to work. In order to bring his family here, he had to show that he could support them.
VAWA
CCNH also serves immigrant victims of domestic violence and sexual assault who are married to a U.S. citizen or a legal permanent resident. The Violence Against Women Act (VAWA) provides special exceptions for those who are being abused and need protection. VAWA allows a pathway to citizenship for those who qualify. Though not all victims are women, the overwhelming majority are.
Catholic Charities works with other domestic violence programs to remove clients from the debilitating cycle of violence. Once they are stabilized with work, going to school, living independently, they eventually can become a citizen.
It takes courage to report a husband or an intimate partner who might be the sole breadwinner in the family or who is threatening to take the U.S. born children away from the abused parent. When they can no longer live with the abuse, they finally take action to remove themselves from the violence. In most immigrant cultures, there is a strong bias against reporting domestic violence. Individuals who report are embarrassed. They are often shunned by their community, blamed, and sometimes abandoned. Partnering with shelters in New Hampshire such as the YWCA in Manchester and Bridges in Nashua, CCNH assists approximately fifty-five families a year who are living in these circumstances.
Asylum
In a limited number of cases, CCNH assists asylum-seekers. Asylum can be available to some immigrants who cannot return home because they have been and will be subjected to continued persecution on the basis of race, religion, ethnic origin or political views. An individual must show a hefty amount of evidence to support their case as to why they can't return home. For example, to be a successful asylum seeker, one might have to show that their house was burned because of their political views or that they were raped or beaten due to their religion. In addition, they have to prove that the government is unable or unwilling to protect them.
Asylum cases can take years to process, and is demanding and laborious. One seeking asylum must apply within the first year of living in the United States. Five months after applying for asylum, one can apply for work authorization. People seeking asylum pay $380 each time they renew to maintain their status. Asylum seekers take a huge risk in submitting an application since one is walking into an immigration office and announcing their undocumented status. In some cases where asylum is denied, applicants have been immediately placed in removal. Consequently, only the most desperate and those with a firm documentation of needing asylum take this step.
Recently CCNH Immigration and Refugee services assisted a Pascal, a man who grew up in the Democratic Republic of Congo, with his asylum case. One day, while waiting for a bus, Pascal's brother was arbitrarily arrested.
Pascal went to the police commission to ask about his brother's whereabouts. He carried his letter to Human Rights Watch regarding the circumstances of his brother's disappearance, asking them to investigate, which he was about mail. The letter was found during a pat down, and Pascal was immediately detained, and thrown into a large room with numerous other prisoners in conditions that were unsanitary and inhumane. Some of the prisoners were taken away for execution. Pascal feared this would be his fate.
A guard recognized the dialect of Pascal's voice and spared him because he owed a debt of gratitude for kindness he was shown by Pascal's village. The guard told Pascal that he would pretend to be in a deep sleep that night and allow Pascal to slip out of the jail. Pascal escaped and ran to the house of a friend who sheltered him.
Soon thereafter, Pascal had been accepted into a graduate program at Southern New Hampshire University. He faced the significant challenge of acquiring new documentation and the risk of passing through airport security, but in 2014 he somewhat miraculously found himself in Manchester, N.H. pursuing a Master's Degree in Operations and Project Management.
Pascal knew that when he completed his degree his student visa would expire and he would have to return to his country where, he says, "there would be no need for hope." His family was continually threatened and he would face arrest and almost certain death, having been identified by the government as someone who exposed them to human rights organizations, thereby leading to the loss of significant international aid for the Republic.
He sought help through CCNH Immigration and Refugee Services and requested political asylum. This past May, Pascal completed his degree with high honors. However he continues to wait for his interview with USCIS to be scheduled. Meanwhile, because he has obtained permission to work, he is able to support himself. He continues to pray hopefully that ultimately he will be granted asylum.*
*Excerpts taken from story written by Gary Bouchard printed in Parable Magazine.
Naturalization
The ultimate goal for all immigrants is Naturalization or Citizenship. This occurs when an individual has been in the US for at least 5 years, has a green card, and has learned to speak, read and write English. They must pass a civics test. And they must have a record free of crime. As proud new Americans, these naturalized citizens that contribute to the work force, pay taxes, and vote. For many it means higher paying jobs and an ability to fully integrate into American life.
Various CCNH programs help immigrants integrate through parenting classes, financial fitness classes, counseling services, and if necessary food assistance. Working together with Immigration and Refugee Services, these programs help to Move Lives Forward. Families become more independent, more financially stable, healthier and happier.
To learn more visit: cc-nh.org/immigration or contact: 603.889.9431.