CCNH Addresses NH Opioid Crisis
November 7, 2016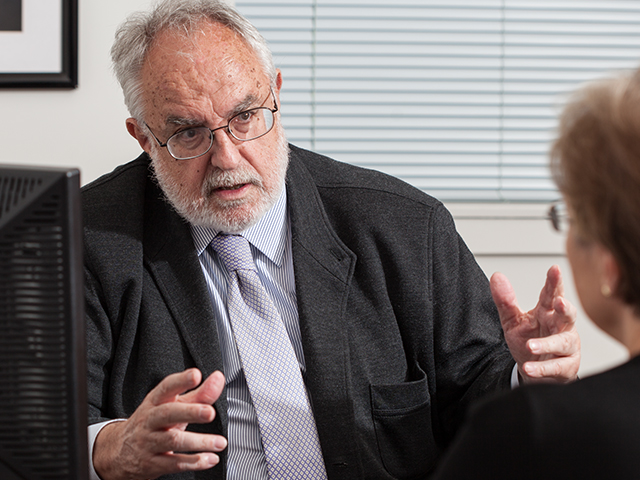 In response to New Hampshire's deadly opioid epidemic, Catholic Charities New Hampshire is sending a team of clinicians skilled in addiction counseling across the state to meet with families coping with this crisis.
Counselors will conduct a series of presentations on substance use disorder and its impact on families in November and December in Epping, Rochester and Manchester. It intends to expand them to the Upper Valley and North Country.
The initiative marks a shift in CCNH counseling team's response to the opioid crisis responsible for most of the record 488 drug deaths the state Medical Examiner's office projects will occur in 2016.
"This is the first initiative to go into the communities in New Hampshire and offer our services," said the Rev. John J. Mahoney Jr., who is CCNH director of clinical services.
"We treat people from every walk of life and every faith tradition," he added.
Instead of waiting for clients to come to them, counselors will proactively go into communities to address the needs of families whose loved ones struggle with substance use disorder.
"I've seen the miracles that can happen in the counseling room as they sit with a counselor who is committed to walk with them through their recovery. That's why I'm so committed to this," added Mahoney, a licensed clinical mental health counselor and canon lawyer.
The "Families Coping with the Opioid Crisis" presentations will focus on addiction as a disease that affects the family. Sessions will be led by counselors trained in substance use disorder who use the medical model of addiction counseling. Topics will include opioids and the brain, signs of opioid use, setting boundaries with an addicted person, and avoiding enabling behavior.
"We hope to educate, heal and move lives forward," explained Mahoney, who sits on the Board of the Friends of the New Hampshire Drug Courts.
Presentations will be held at Holy Rosary Parish in Rochester on Nov. 30, St. Joseph Parish in Epping on Dec. 6, and Blessed Sacrament Parish in Manchester on Dec. 13. All will run for 6:30-8 p.m. and will offer opportunities to ask questions. They are open to general public.
Susan McKeown, a certified prevention specialist, called the counseling initiative an "excellent" way to provide families with "the support and skills they need to deal with the state's number one public health problem."
"It absolutely is a critical way of dealing with this issue and getting support for their families," said McKeown, who co-founded the Families Advocating for Substance Abuse Treatment, Education & Recovery in Manchester support group 14 years ago.
"For every person affected by substance use disorder, there is a family affected, whether they are close to the user or estranged at the time of use," McKeown added. Family support and counseling also help to maintain long-term recovery by users, she said.
CCNH Counseling Services has six mental-health counselors experienced in the treatment of substance use disorder. They include two master licensed alcohol and drug counselors.
CCNH's mental health professionals practice from 13 sites throughout New Hampshire.