CCNH Difference Makers – Christina Lowe
March 30, 2021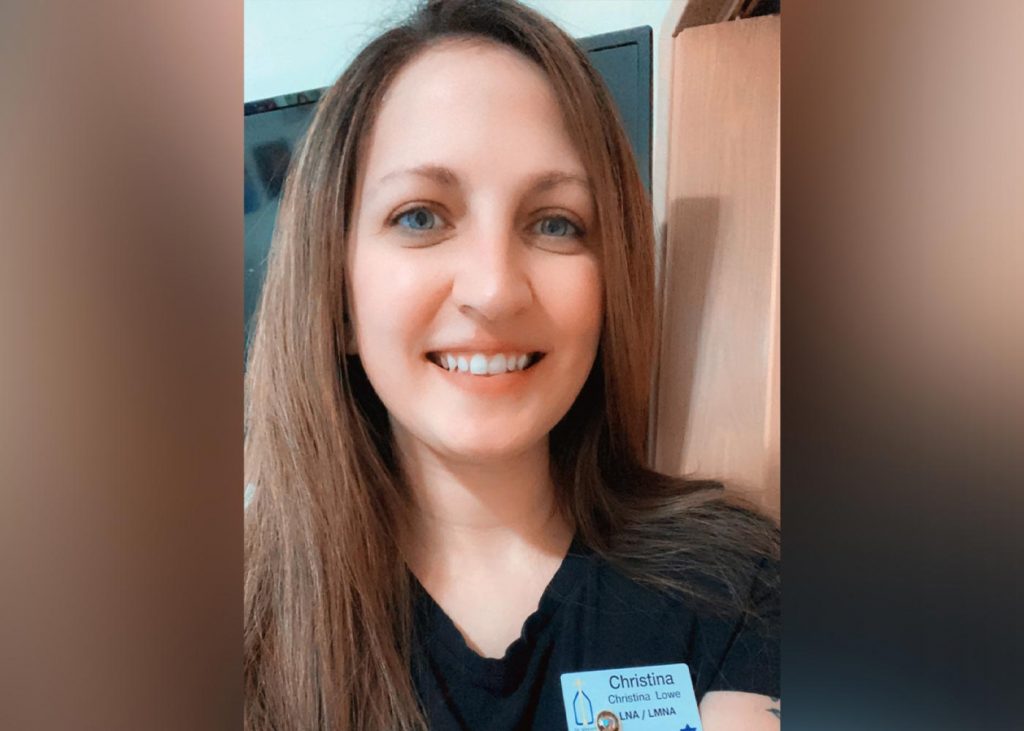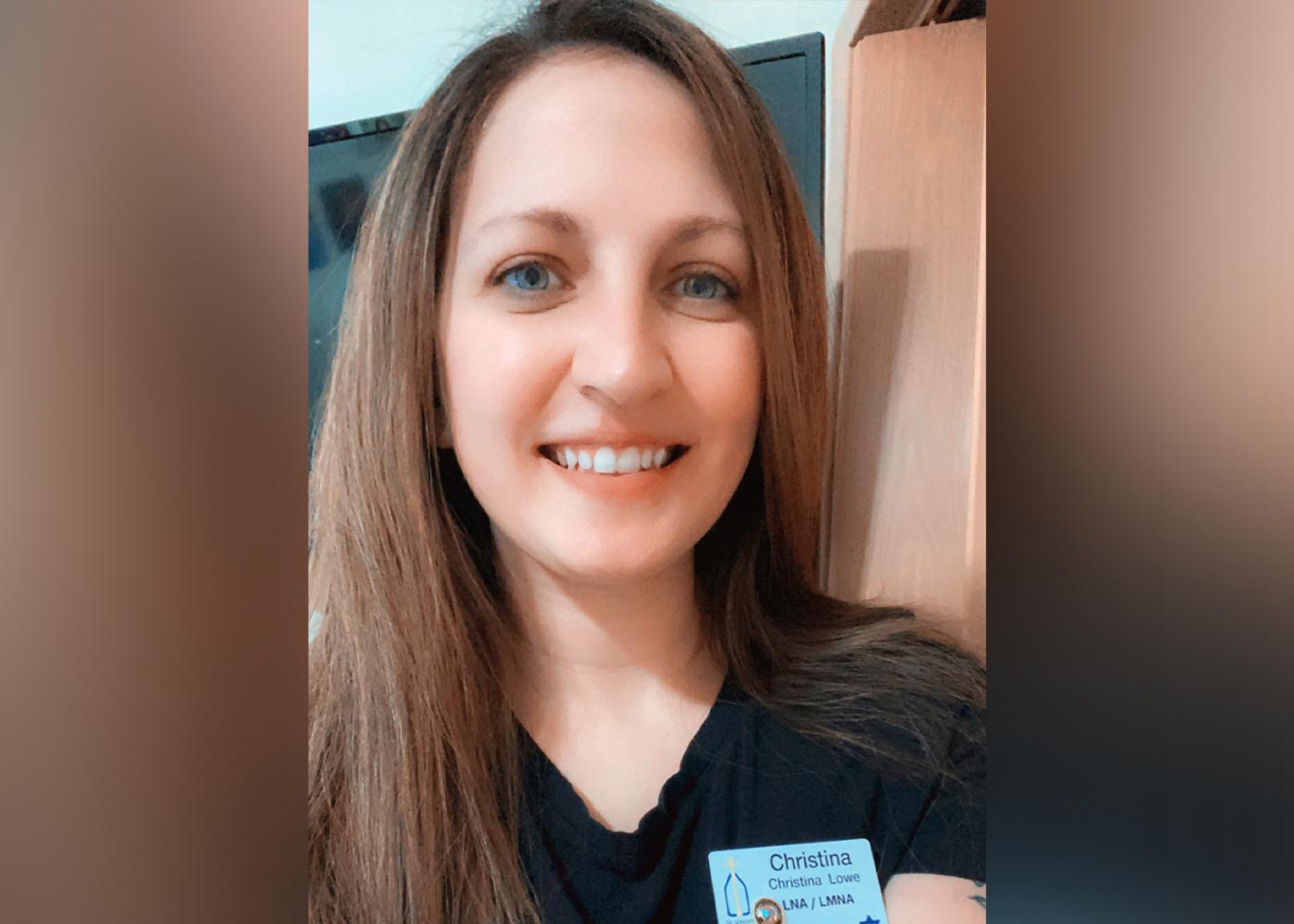 "Difference Makers" is a blog series highlighting many of the incredible employees at Catholic Charities NH, each making a positive and unique impact on the individuals, families and communities that we proudly serve.
Today, meet Christina Lowe, a licensed medication nursing assistant (LMNA) at St. Vincent de Paul Rehabilitation and Nursing Center in Berlin. Christina is passionate about her residents and always thinking of ways she can better serve them. She's one of our healthcare heroes who continues to show up each day with a smile on her face. When she's not working, you can find her spending time with her family or at one of her daughter's sporting events. Let's get to know Christina:
What does your typical day look like?
My day shift starts at 6:30 a.m., counting the medication for residents. From there, my day is full of med tasks, like ensuring residents get their medications on time and checking vitals on certain residents due to some prescriptions having parameters on them. Every once in a while, I'll get to work as a licensed nursing assistant (LNA), and I enjoy it. Since becoming an LMNA, it's given me a newfound appreciation for being an LNA and all that comes with it.
What do you enjoy most about working at St. Vincent?
The residents are the reason I'm excited to come to work each day. Since I'm from Berlin, many of them know my family, and it's fun getting to know them and their own families. Most of our residents grew up in the area, so it's interesting to hear about the town's history and what it used to be like back in the day.
What is so unique about the Catholic Charities culture at St. Vincent?
It's a strong resident-centered and family-like environment. As a staff, we always try to do more for our residents, even outside of work. We have traveling LNAs that come to St. Vincent, and they always end up wanting to stay here because it starts to feel like home for them.
What does working here mean to you?
I'm very proud to work here. Every day, the residents are excited to see me. They even notice when I haven't been at work, and that's special to me. As a staff, we are making a difference for them with the care we give, and it takes a lot of weight off their family members.
How has working at St. Vincent helped with your professional development?
When I started here, I was just an LNA. In 2018, management convinced me to get my peer mentoring certification, and I began to train new LNAs. In 2020, they wanted me to become an LMNA, paid for my tuition to do the course and supported me through it. They've given me incredible opportunities to grow in my career, and it's helped me come out of my shell.
What is most rewarding about your work?
I have many residents that I'm very close to, and I love going the extra mile for them, like curling a woman's hair, assisting the men with a fresh shave or helping them put on their favorite outfits. It's the little things I can do for them that make me feel good, and I know they appreciate it so much.
What is one of your favorite memories working at St. Vincent?
One afternoon during the beginning of the pandemic, our residents were in the dining room eating. One of my coworkers, who's one of the funniest people I know, started playing old country music over the dining room speakers. She began singing and dancing in the middle of the room, and other staff joined in. Before we knew it, the residents started to sing and dance along while enjoying their meals. The residents had been feeling down that day, and this really lifted their spirits.
How has the COVID-19 crisis changed the appreciation you have for working at St. Vincent and the team around you?
We've all worked the whole year wearing layers of personal protective equipment (PPE) and seeing our residents and staff become sick, but through it all, we stuck through it together. Even when we felt burnt out, we kept going. This pandemic is something we never imagined could happen, and what's keeping us going is knowing that we're getting to the better end of this. We'll appreciate the everyday things we took for granted so much more when the pandemic is over – like not having to wear masks, being able to do activities again and having family members back in the building.
Describe St. Vincent in 3 words
Family, loving and caring.
What do you enjoy doing outside of work? What are some of your hobbies?
I like to shop at the North Conway outlets, spend time with my family and watch my kids play sports. I also enjoy being with my mom.
What do you love about New Hampshire?
I love all of the outdoor activities New Hampshire has to offer, like the swimming areas, beaches and mountains. I also appreciate the four seasons and how each one is different.
What is your favorite vacation spot?
Old Orchard Beach in Maine – I like to spend time hanging out on the beach, going to the local shops, trying different restaurants and watching live bands.
What is your favorite motto or quote?
You only live once. In the past, especially in relationships, I feel like I wasted and never valued my time. This quote reminds me to be happy in the present and live the one life I have to the fullest.
What is your favorite movie?
I'd have to say Dirty Dancing with Jennifer Grey and Patrick Swayze. I've always liked the storyline, and it's a classic 80's chick flick.
What is your favorite book?
One of my favorites is House Rules by Jodi Picoult. I love all of her books and have so many of them. Once I get one in my hands, I can never put it down. She lives in New Hampshire, and she bases some of her books in local towns or cities here and around New England.
Who is the person you admire most?
My mom – she's a strong woman. She was in the National Guard for 26 years and is one of the most giving people I know. She's helped me through life and has always held me accountable. I wouldn't be who I am today without her.
Are you interested in becoming a key part of our team, helping others while growing your career as Christina has? Click here for our many openings in healthcare, social services, administration and more!