CCNH Difference Makers – Cindy Coughlin
October 5, 2022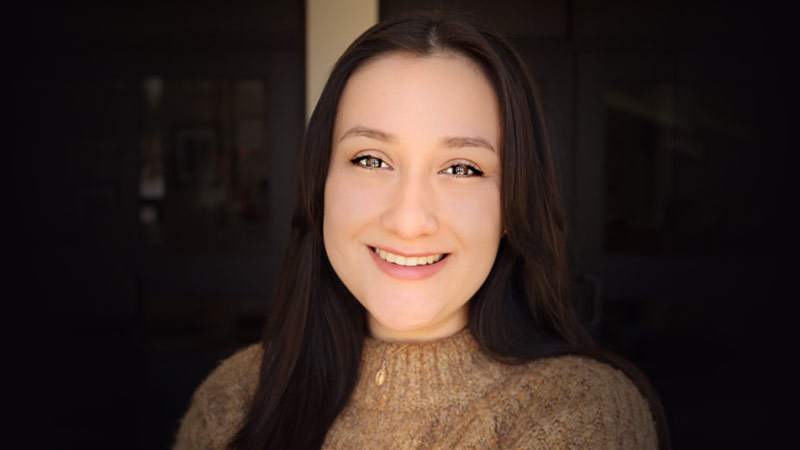 "Difference Makers" is a blog series highlighting many of the incredible employees at Catholic Charities NH, each making a positive and unique impact in helping individuals and families across New Hampshire move their lives forward.
Cindy Coughlin is a licensed clinical mental health counselor who made Catholic Charities her home 4 years ago, first as an intern fulfilling her master's degree requirements, and then as a full-time counselor. Cindy's a model example of self-sacrificing love, especially when it comes to helping teens work through and overcome life's obstacles. This Southern California native knows better than most that sometimes life's "set-backs" are often set-ups in disguise. The leap of faith she took to move to New Hampshire in the first place is a prime example of that. We're proud to have her on our team and grateful to know she's helping move lives forward. Let's meet Cindy!
The story of your work at CCNH really can be traced back to your teen years in southern California – can you connect those dots for us?
Growing up, I knew many people in my life that went through difficult challenges, dysfunction, and traumas in their lives and I was always very passionate about wanting to help other people through that. I have had my own share of struggles and difficulties, as well. I think God placed that call in my heart early in my life and since the age of 13, I've known that I've wanted to be a therapist or work in the mental health field and provide the kind of care I would have wanted to have.
How I got here in the first place wasn't something I chose for myself – it was truly God's choice. I didn't wake up one day and say, 'I think I am going to go to college in New Hampshire.' I happened to see the priest at my home parish in Hawaiian Gardens, CA and he said, "Hey, what are you doing with your life lately?" I told him I was at a community college and working as a waitress nearby and he asked me if I still wanted to study the liberal arts, which I've always loved and dreamed of studying. I said that I did but that there was no way I could afford that or have the grades to get in to a liberal arts college – I had barely graduated high school. So, he says, "Well my father is deeply involved with a small liberal arts college in Warner, NH and they're looking to give scholarships to kids at this parish, would you be interested?" He then goes on to say that a parishioner in our parish would pay the flight for me to go visit and check it out, so I agreed to go. I went in August of 2014 – it was sunny and beautiful and warm. I prayed about it and felt a peace in my heart that I should do it and do it soon. So, in the span of two weeks, I uprooted my entire life and I moved to New Hampshire to start my sophomore year at Magdalen College of the Liberal Arts. Since my move, my life has truly been blessed in abundance, and all because Father Ed Broom at St. Peter Chanel Catholic Church said, 'Hey, I thought of you…'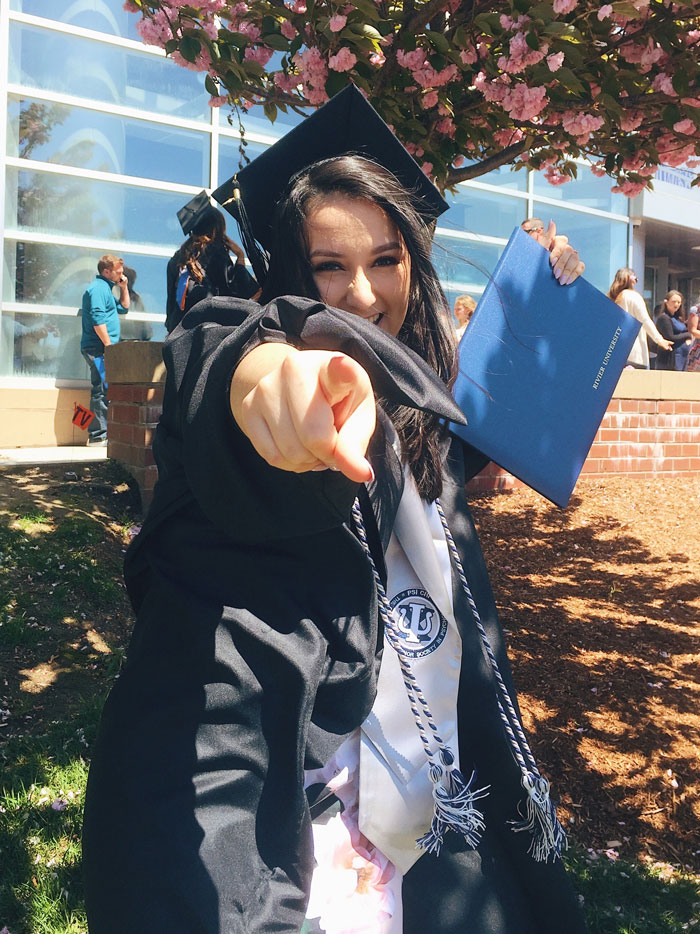 How have your roles changed at CCNH since you've been here?
I'm now a licensed clinical mental health counselor, and to get the license, I had to do 3000 hours, or roughly 2 years, of supervised clinical work here and complete the National Clinical Mental Health Counseling Examination, which I passed in September, 2021. Usually you have to pay a supervisor hourly to oversee you, but the benefit of being at Catholic Charities was that my supervisor was in-house, plus I was given time to study for the exam, with materials that Catholic Charities paid for, which was amazing and so helpful.
I have two degrees and a professional license now. Oh man, God is good. I had a 1.9 GPA as a senior in high school, I just never could have guessed that I would have even moved out of my home – let alone all of this.
What are your areas of specialty?
I provide psychotherapy services to individuals ages 12 and up. I especially like working with teens and families, particularly mothers and daughters or parents and teens, and people going through stressful life transitions. I am also a trauma-informed clinician and have a specialty of working with bi-cultural people and families.
How does your personal story impact your work – does it inspire your teen clients?
Yes! If it happened for me, I know it can happen for them! I don't share all the details of my life with my clients but I do tell them bits and pieces. I like to instill in them hope for their future and the idea that they have to dream beyond their wildest imaginations, even if they don't think they can do it. And if they feel that they can't, I want to be there to accompany them through that. That's what I needed and wanted when I was a teen.
Why do you do this type of work at CCNH?
For a few reasons – one, I'm passionate about the mission. Two, I always wanted to help people who could not afford or have access to professional help because that's the environment I grew up in, so I love that we offer a sliding scale to help people and families afford quality services. I also like that I can bring my language skills to the community. I'm one of two on our team that can speak Spanish fluently, so I am able to work with more people as well as help out with cases the immigration legal department refers to me – domestic violence survivors and families going through difficult transitions.
How do you think the Pandemic has affected Mental Health?
I would say we're in a bit of a mental health crisis in New Hampshire and nationally. Most people who call us are just thankful to get a call back. Someone who is struggling with their mental health may have finally made up their mind to get help and they are being courageous and calling office after office only to be told, maybe we can get you in next year. There are not enough providers and resources for the need that is present. The pandemic caused a lot of stress and isolation on people, especially young people. Previously, we only offered in-person services but we needed to move to telehealth since we couldn't see anyone in person. Now, we are in a hybrid situation – some clients come in-person and others attend sessions via telehealth. It was an adjustment for us as counselors to get used to seeing people on a screen and connecting with them as we would in-person. But telehealth also makes it possible to reach anybody in the state, which is really helpful to providing access to care.
What do you enjoy most about your work and helping those in need?
I don't know many other jobs where people invite you so deeply into their lives. I get to go to work and sit down with people and somebody can share with me something they've never shared with anyone ever before. They can cry freely, and I can offer them the safe space to do that, and they can leave saying "I feel so much better." You can't beat that – I just love when clients leave and they say 'wow, I feel lighter,' and they're smiling again and ready to face the world. Sometimes clients reach out a year or two after services and say, 'look at where I am and how great things are going,' and I am so thankful that they share that – it's so nice to see.
What is a common misperception about mental health counseling?
The biggest one, and I think it especially applies to the Hispanic-American community, is that you don't have to be 'crazy' to seek help. A person may be grieving or just struggling with life and I want those people to know that counseling can be a place to receive support and care.
The mission of CCNH is grounded in the life and ministry of Jesus Christ, responding to those in need with programs that heal, comfort and empower – what does this mean to you?
As a Christian, I exist to encounter Christ – to be transformed by His words, by His person, by His teaching. You don't have to be Catholic to come here for help or to work here. However, for me, I feel I get to live out my calling and my vocation in life by bringing that mission to the people and families I work with just by being there for them. Counseling is really about empowering people to move forward in their lives in joy and hope.
What do you enjoy doing outside of work? What are some of your hobbies?
I love going to the movies with my husband – AMC Theater on a weekday evening – we're big film people, so we see a lot of movies. I'm also a huge music lover, everything from Frank Sinatra to Todd Rundgren to Coldplay.
What is your all-time favorite movie?
My favorite movie is silly, but I've loved it since I was a teenager – it's Zoolander with Ben Stiller! I also love Three Amigos with Steve Martin, Martin Short and Chevy Chase. Those are my go-to's, I can watch them over and over, no matter how old I am.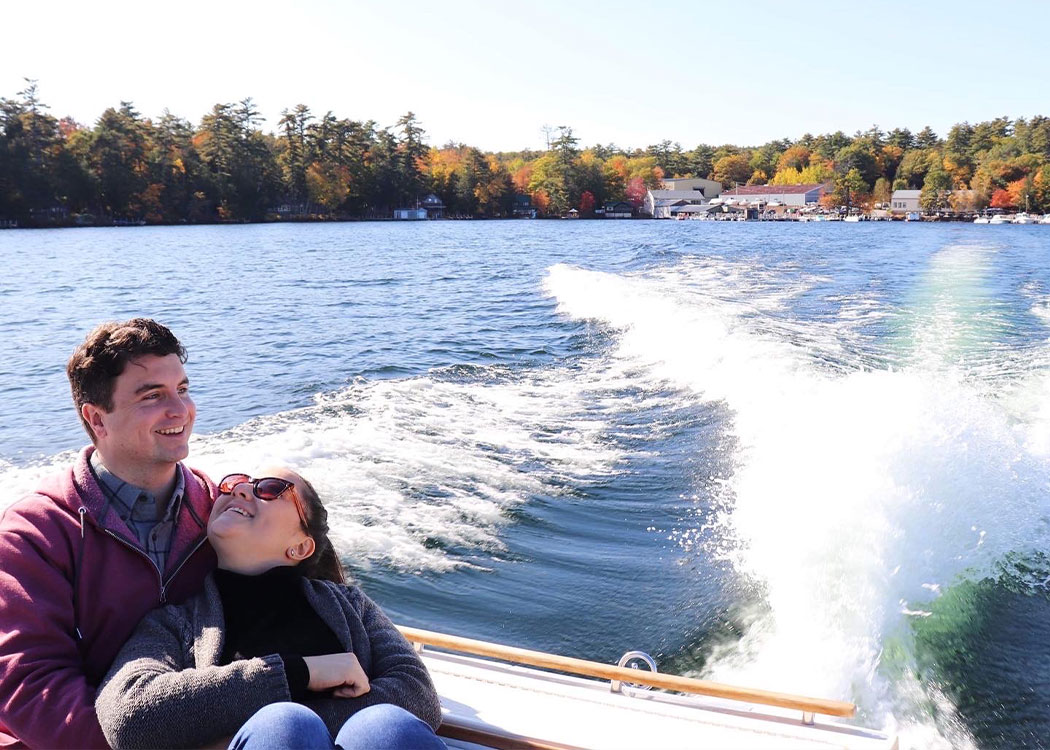 What do you love about New Hampshire?
I always thought I'd move back to California, but I met my husband here and stayed here. It took a while, but I love it – everywhere you go, there's greenery and beautiful views. I remember when I experienced the highways here for the very first time and thought, 'wait, no graffiti and billboards and buildings everywhere you look like in Los Angeles? No way!' Everything is so picturesque here.
What is your favorite motto or quote?
It's a quote that I apply to the ministry work I do at Church, to my professional counseling work and also to my life in general – and it's from St. Mother Teresa of Calcutta, "God has called us not to be successful, but to be faithful." I have to remind myself of that because so much is the world today is based on success – how many kids are coming to your youth ministry? How many lives are you changing and by how much? How much money are you making and where is your career headed? It's easy to get lost in all of that but that's not what life is supposed to be about.
If you were to write a book about yourself, what would you name it?
"You're not going to believe this, but…" My life has taken so many turns, I would never have guessed it would turn out the way it has. I also find that I say this to clients a lot. "You're not going to believe this, but… you are wonderful as you are…"
Are you interested in becoming a key part of our team and amazing culture, helping others while growing a rewarding career as Cindy has? Click here for our many openings in healthcare, social services, administration and more!