CCNH Difference Makers – Claire Posner
April 26, 2021
""Difference Makers" is a blog series highlighting many of the incredible employees at Catholic Charities NH, each making a positive and unique impact on the individuals, families and communities that we proudly serve. Today, meet Claire Posner, licensed practical nurse (LPN) and charge nurse at
St. Francis Rehabilitation and Nursing Center
in Laconia. For the past 22 years, she's selflessly served hundreds of residents who have come through the doors of St. Francis. When she isn't taking care of others, she's spending time with her husband enjoying nature or reading the latest self-help book. Let's get to know Claire!
What does your typical day look like?
When I get into work, I first check our floor calendar to see if there are any residents appointments and anything else going on for the day. Then, I get a verbal report from the 11-7-night nurse to see what activity happened on my floor before my shift. As the day goes on, I'm continually checking in on residents and activating doctors' orders. Some days I may have a care plan meeting or working on new admissions. I also have a unit manager and a medication nursing assistant (MNA), who are a tremendous help to me throughout the day.
Why is St. Francis a special place?
I've had six of my family members reside at St. Francis over the years, and it's personally become a special place to me. I'm also from Laconia, which is a tight-knit small city, and I've known many of our residents and their families from the community.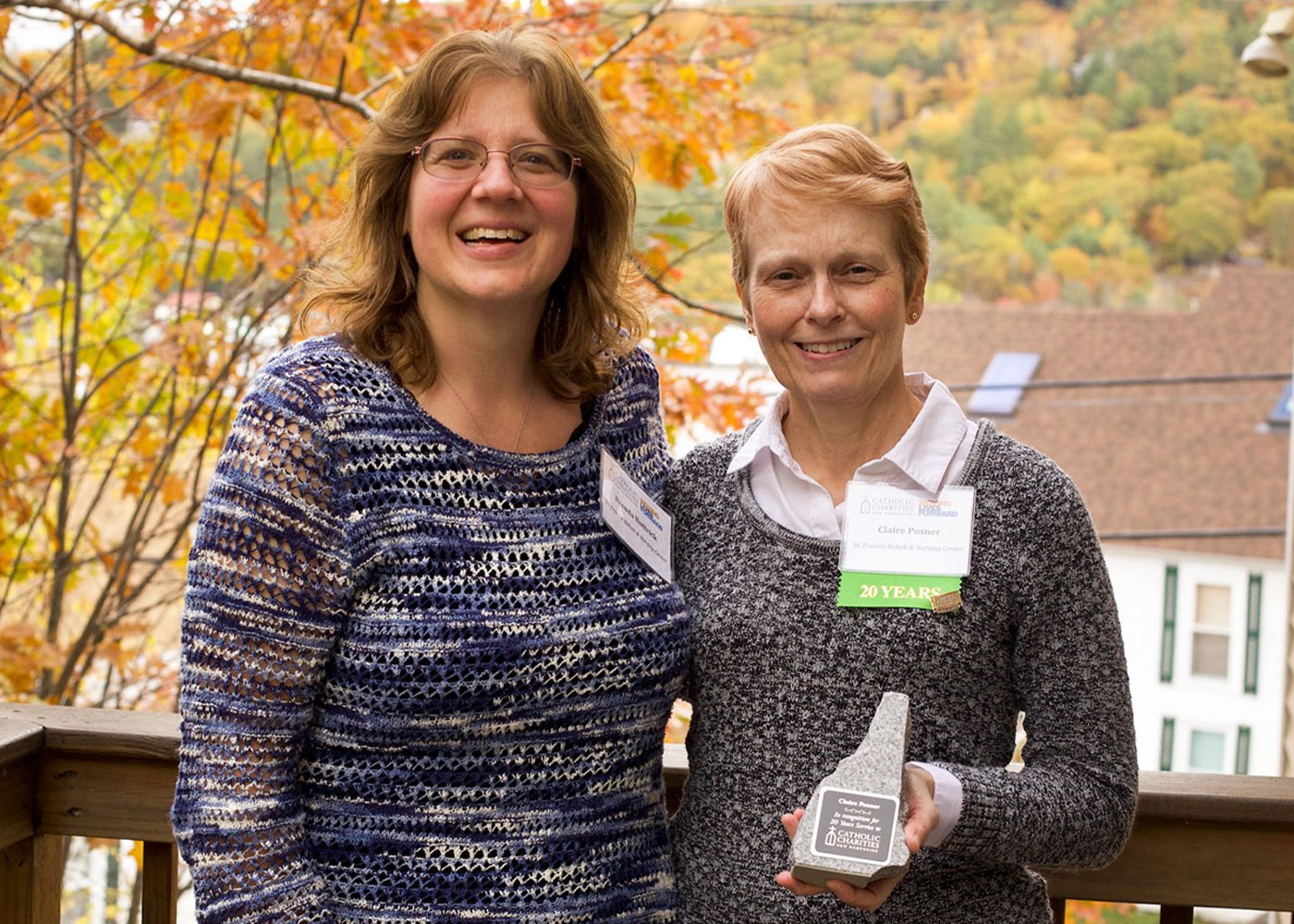 What is so unique about the Catholic Charities culture at St. Francis?
We provide care that is resident- and family-centered. We believe in treating the residents as a whole person and not just medically. Our work revolves around them, and we do our best to give them the care they deserve.
What is most rewarding about your work?
I work with many memory care residents, and if I can do anything – even the little things to make them happy – that's rewarding to me. Seeing them smile makes me smile.
Why do you love helping others?
It's part of who I am and how I was raised. Being brought up in a Catholic home taught me that my purpose here on Earth is to serve others and make it a better place.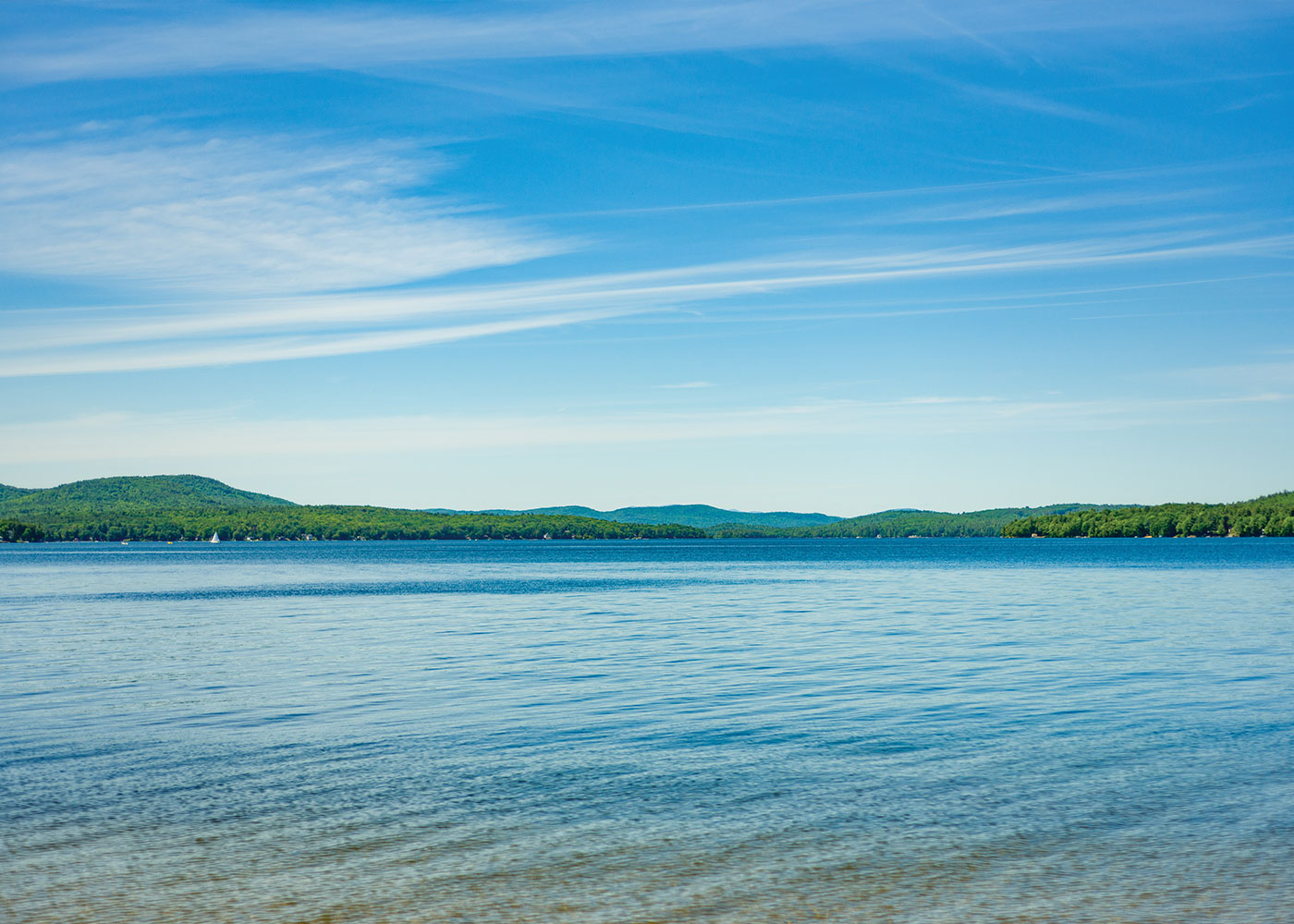 What is one of your favorite memories working at St. Francis?
A couple years ago, we had a cookout with staff, residents and their families. We were all outside enjoying the million-dollar view of Lake Winnisquam, with music playing and the grill going. It was a nice change of environment for everyone. It took a lot of work, but we had a fun time relaxing and getting to know the family members. I look forward to getting back to those days!
How has the COVID-19 crisis changed the appreciation you have for working at St. Francis and the team around you?
At the height of the pandemic, it felt like we were going through a battlefield. It was a novel experience – there were rough patches and we didn't know what to expect. We continued to give the residents the best possible care and pulled together as a team, bringing us closer. For me, the most challenging part was grieving those we lost.
Describe St. Francis in 3 words
Compassionate, customized (healthcare) and caring.
What do you enjoy doing outside of work? What are some of your hobbies?
I enjoy taking pictures of nature, exercising on the treadmill, reading and watching the Bruins and the Red Sox. When the weather is nice, my husband and I love to take scenic car rides up to the mountains.
What do you love about New Hampshire?
We have quick access to many different locations, like the ocean, mountains and Boston, which gives us countless things to do. Also, the seafood in New Hampshire is incredible; I love fried clams.
What is your favorite vacation spot?
One of my favorite places to go is Lake George, N.Y., for Americade, a weeklong motorcycle rally the first week of June (this year, it's the third week of September due to the pandemic). Bikers come from all over the country, and it's fun to watch the different events. The people are super friendly and the area is beautiful. My husband and I also like Tadoussac, Quebec. It's three hours north of Quebec City, and we love to go whale watching up there. They're known for their beluga whale sightings. It's one of the only places in Canada where you can see whales from the shore.
What is your favorite book?
I enjoy reading self-help books. Two of my favorites are:
The Four Agreements: A Practical Guide to Personal Freedom by Don Miguel Ruiz.; it's an easy, inspirational read.
Making the Shift: How to Live Your True Divine Purpose by Dr. Wayne Dyer; this book talks about how to live your life with true meaning and purpose.
Who is the person you'd most like to meet?
I'd love to meet Chris Evert, who is a former world champion tennis player. I played tennis when I was younger and looked up to her. She's calm, cool and collected when she plays, and I've always admired that.
If you were to write a book about yourself, what would you name it?
"Say It, Do It." I believe that when you say you're going to do something, you do it. I always try to live my most authentic life and be true to who I am.
What is one thing people might not know about you (or be surprised to find out)?
I was a Peace Corps volunteer as a public health coordinator in Zaire, Africa from 1984-1986. When I retire, I'd love to go back to Africa on a safari. Are you interested in becoming a key part of our team, helping others while growing your career as Claire has?
Click here
for our many openings in healthcare, social services, administration and more!