CCNH Difference Makers – Elaine Frenette
March 21, 2022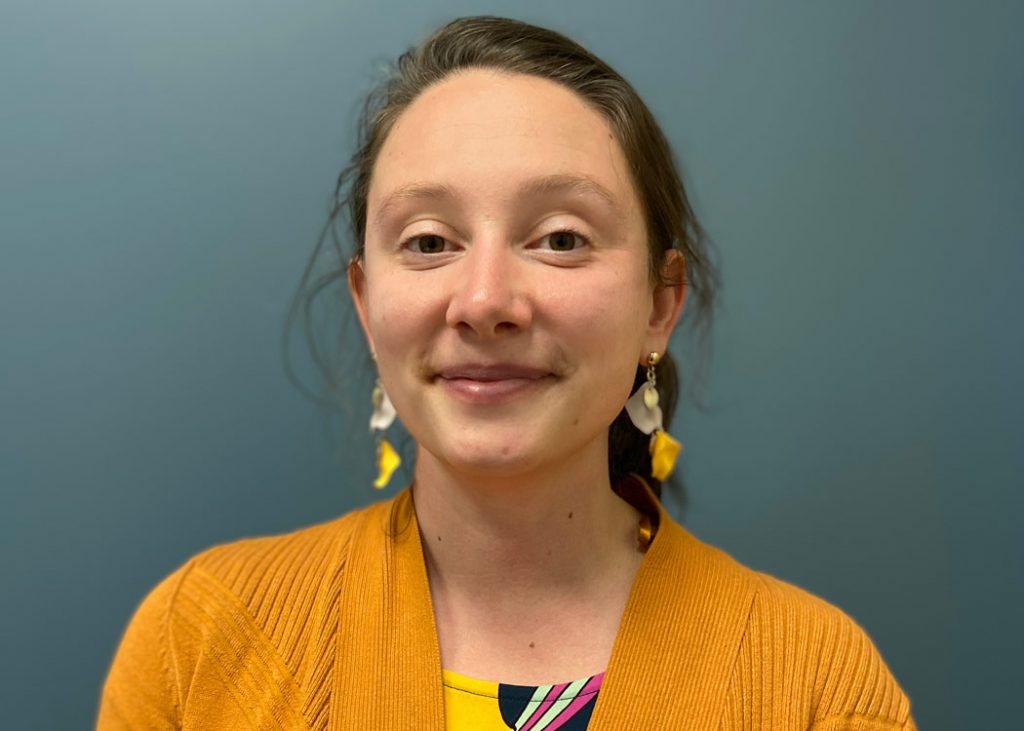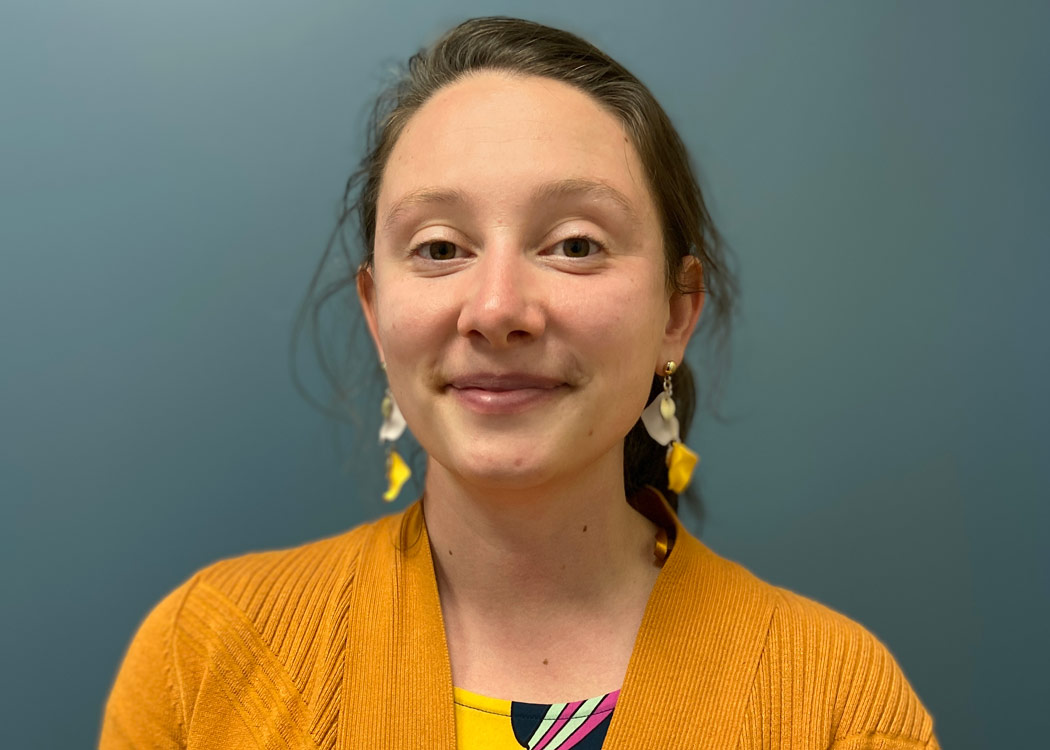 "Difference Makers" is a blog series highlighting many of the incredible employees at Catholic Charities NH, each making a positive and unique impact in helping individuals and families across New Hampshire move their lives forward. Today, we meet Elaine Frenette, a
Community Services
coordinator at our Littleton location. For those in need of support in the North Country, Elaine's friendly voice is often the first they hear, providing assistance and resources with compassion and care, all with the goal of bringing more stability to their lives. Now in her fourth year with Community Services, Elaine's love of helping others is readily apparent, as is her love for her native New Hampshire and the many activities she participates in outside of work. Let's get to know Elaine!
How long have you worked at Community Services/CCNH and how would you describe your roles during that time?
I started out as an intake coordinator, meaning that I would take calls from clients, understand their needs and evaluate if we are in a position to meet them. Oftentimes, I would connect them to resources in the community and make sure they're getting all the benefits that they're eligible for. Now, roles have been adjusted to meet the changing needs of pandemic and post-pandemic life, and we all do intake and case management work, which is good for a couple of reasons. Continuity of care is important because we build relationships with our clients and providing that consistency throughout is beneficial. It's also made our staff an even more cohesive team throughout the state. We have very capable and compassionate people that do this work and support those that are interested and invested in moving their lives forward.
What happens when someone contacts Community Services?
It depends on the situation someone is facing, which varies from person to person. If someone is calling seeking emergency assistance, we are diligent in ensuring they are aware of and have reached out to other agencies or community services that could also help meet their needs. We also determine if our actions will provide something they're going to need again in a month or if it is actually fixing a problem and making a difference next month, six months from now, and going forward. If they are a fit for our case management services, we work more closely with them. We have a lot of tools at our disposal, such as the Life Plan, which assesses them across a wide range of areas, including their access to food, housing, clothing and transportation; income and employment status; education levels; physical and mental health; personal relationships; and financial behaviors and habits. This allows us to gain a comprehensive understanding of someone's situation because a person may be presenting with one problem, but we might find a solution to another problem that's really going to help them in the long term. For example, maybe they're struggling to pay their electric bill but really the issue is they're qualified for food stamps and they aren't getting them, so if they had that extra income, they could pay the electric bill. Some of our clients want to dig deeper and seek longer-term solutions, but for those that don't, we plant a seed and sometimes we hear from them a few months later. Either way, every time somebody calls, we try to be as compassionate as we can to their situation and I think that is a strength of ours.
Can you share a success story you've been involved in?
My most recent case was actually pretty remarkable. A 78-year-old woman called me on a Monday, in tears and stressed out, and said her home was being foreclosed on that week. We were able to connect her to town welfare, but she needed to meet them in person and she didn't have transportation because her car had already been repossessed. So, I also put her in touch with a local ride service for seniors and they were able to get her to the town hall. The next day they paid her back mortgage so she could keep her home – it was amazing. When I spoke to her, she sounded like a totally different person – she was so relieved and very thankful. She said, "We can keep in touch, right?" I said, "Of course, I'll call you next week." A story like this illustrates that moving lives forward isn't all about financial assistance – it's listening to their needs, uncovering all of their options and guiding them to where they need to be to move their lives forward, whether it's direct assistance from us or finding the right community resources. Whenever you can help someone with something that gets that stress and anxiety off their plate, and run into gratitude like that, it's very rewarding.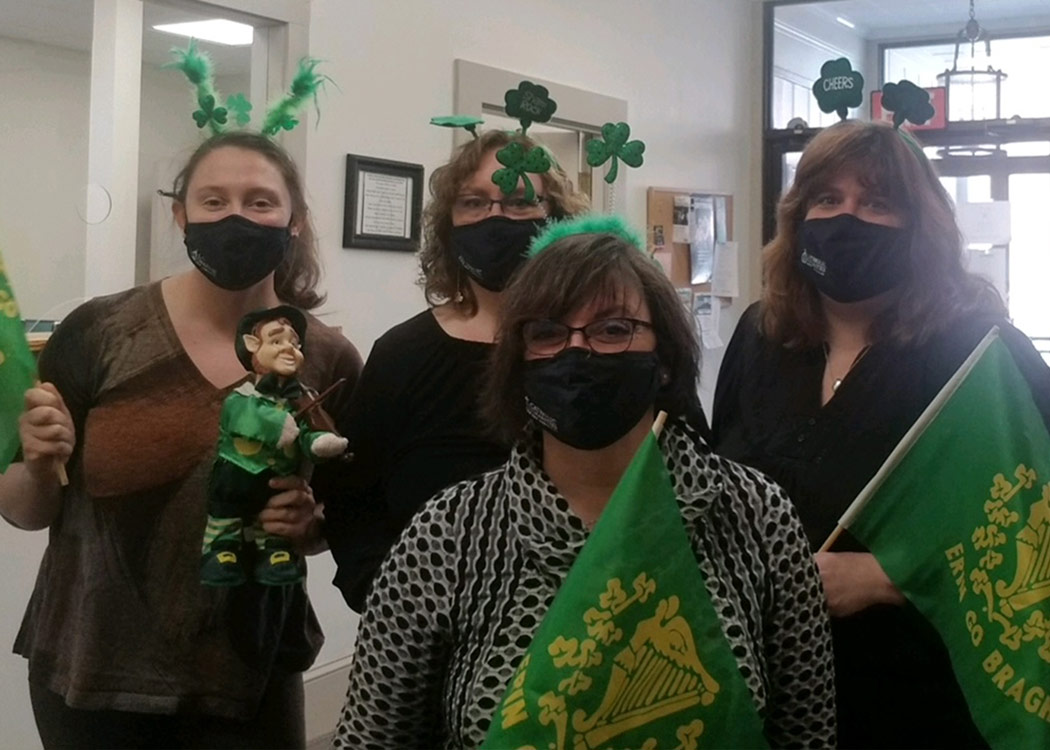 How has Community Services changed during your time there? How have those changes impacted you?
We're always evolving, and the pandemic certainly fueled positive change. Yes, it was a difficult time for all of us, but it really enabled us to expand our services to more residents statewide. We now provide services via Zoom or the phone, in addition to in-person, which means location is no longer an inhibitor. Prior to the pandemic, some individuals had to drive up to an hour to our nearest service location. Today, that's no longer necessary. We also started developing statewide support groups on Zoom, such as our well-attended bereavement and dementia groups, and also groups for coping with COVID, divorce and separation and unemployment. Adapting to COVID helped us maximize our capabilities, making us more effective as a result.
Why is Community Services special?
We're the department anybody can call, statewide – seniors, young families, people experiencing homelessness – anybody can be assisted by Community Services, so I think that makes us special. We're outward-facing for those who have immediate needs, and being part of Catholic Charities means we can refer them to several of our other programs, such as CareGivers for homebound seniors in need or rides or food delivery, Our Place for parents seeking to building nurturing homes for their children or Mental Health Counseling Services for those dealing with difficult life situations.
What does working here mean to you?
Working in social services in the North Country is important to me because I'm from Lancaster and my mom has always worked in EMS. I remember her telling me that we live in the most underserved and rural area in the state. I believe that is still true and to be able to serve my community means a lot to me.
What do you enjoy most about helping those in need?
When people call us, they're not just having a bad day – they're having bad month, they're having a bad year. Sometimes, they've been dealing with a recurring cycle of issues for years. My job is to assist them in some way that can relieve that on some level and make them feel supported and listened to. Seeing the change that can happen in someone over a few conversations – when they feel empowered to help themselves through resources or knowledge that they've gained – and are no longer so worried about the thing that was really nagging them is truly powerful.
The mission of CCNH is: Grounded in the life and ministry of Jesus Christ, Catholic Charities NH responds to those in need with programs that heal, comfort and empower – what does this mean to you?
The word empower is huge for our department – that is the ultimate goal with the work that we do. To empower people largely through the knowledge of resources, financial education and other forms of support is what we seek to do to help them improve their lives. We often use the term "Moving Lives Forward" and that's also important because it's always a big question we ask at the outset of everything we do – is this action that I'm taking helping someone to move their life forward or not?
How has being part of Catholic Charities impacted your work?
I'm a huge fan of Catholic Charities, not just for the work they do but as an organization. I think they treat their employees incredibly well, compared to anywhere else I've worked. Catholic Charities is very aware of maintaining a strong work/life balance, of supporting staff through benefits, as well as support for compassion fatigue and burnout – I especially saw this during the pandemic. I didn't know much about this side of the organization when I applied– it was more of a happy surprise.
What is one thing people may not know about Community Services?
I think a lot of people might have an impression of what we do but may not know that we try to provide wraparound services to address underlying causes of hardship, as opposed to being a place that just hands out money. Also, a lot of people think, 'I'm not Catholic so they can't help me,' and that's absolutely not true. We serve people of all faiths and backgrounds.
Describe Community Services in three words …
Knowledgeable. Compassionate. Dedicated.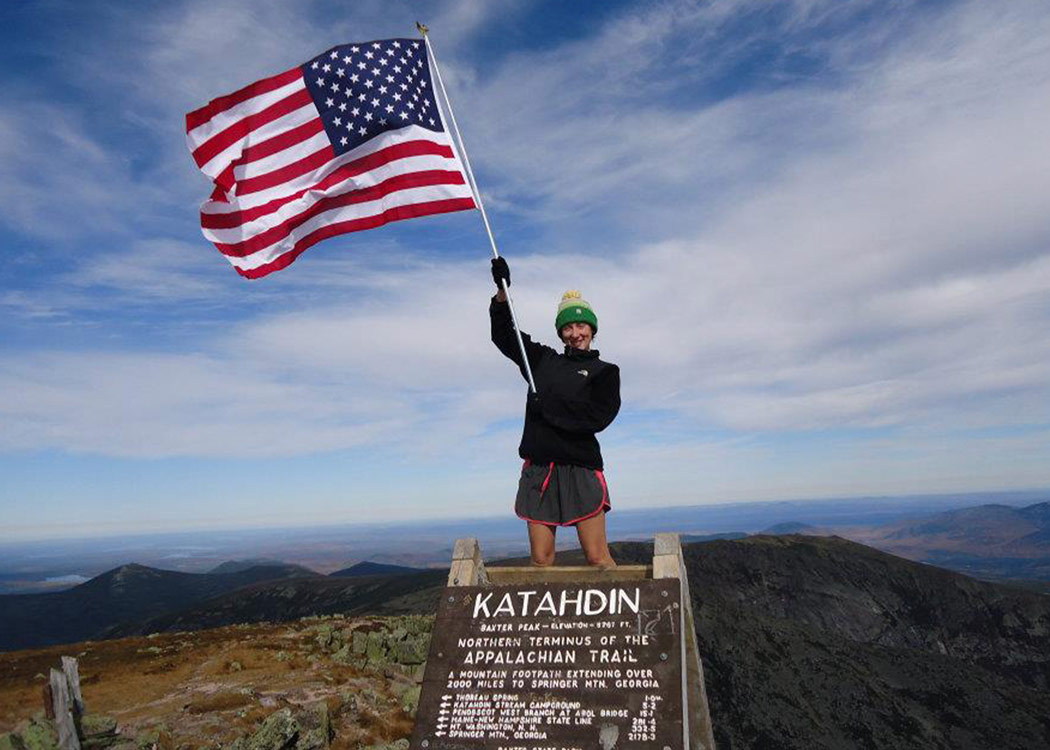 What do you enjoy doing outside of work? What are some of your hobbies?
I have a lot of interests and hobbies. I was a whitewater rafting guide for four years on the Androscoggin River. I do yoga, love to crochet, and love to bake and cook. I also do some furniture repair – I know how to cane chairs, which is fixing and repairing chair seats that are woven. Most of all, I love to hike. In 2011, I hiked the Appalachian Trail, from Georgia to Maine. I had climbed Mount Katahdin the first time when I was 15 and I saw three hikers finishing the trail and that was inspiring, so I really wanted to do it and eventually did. One thing you realize is you don't need stuff – I lived six months out of a backpack and the only thing you really need is socks. We also face so much advertising on a day to day basis – how you should feel, what you should have, where you should be in your life – and I realized all of that isn't reality, which was a huge perspective shift. I also found out how kind people can be to strangers – there is so much fear of people you don't know in this country and I was a 23-year-old female walking 2,000 miles and had nothing but positive experiences and never had an incident. People want to help you in any way that they can, there are just so many people who want to do good and it's never more apparent than when you're hiking.
What do you love about New Hampshire?
Besides its incredible natural beauty, I love New Hampshire because Yankee ingenuity is a real thing. We have wonderful examples of small business owners and people in general who really believe in themselves, more so than in other states where I've lived. If you want to build a deck, you build a deck. If you want to sell your vegetables at the farmer's market, you do. People just do what they like to do – they believe in their abilities and they get stuff done.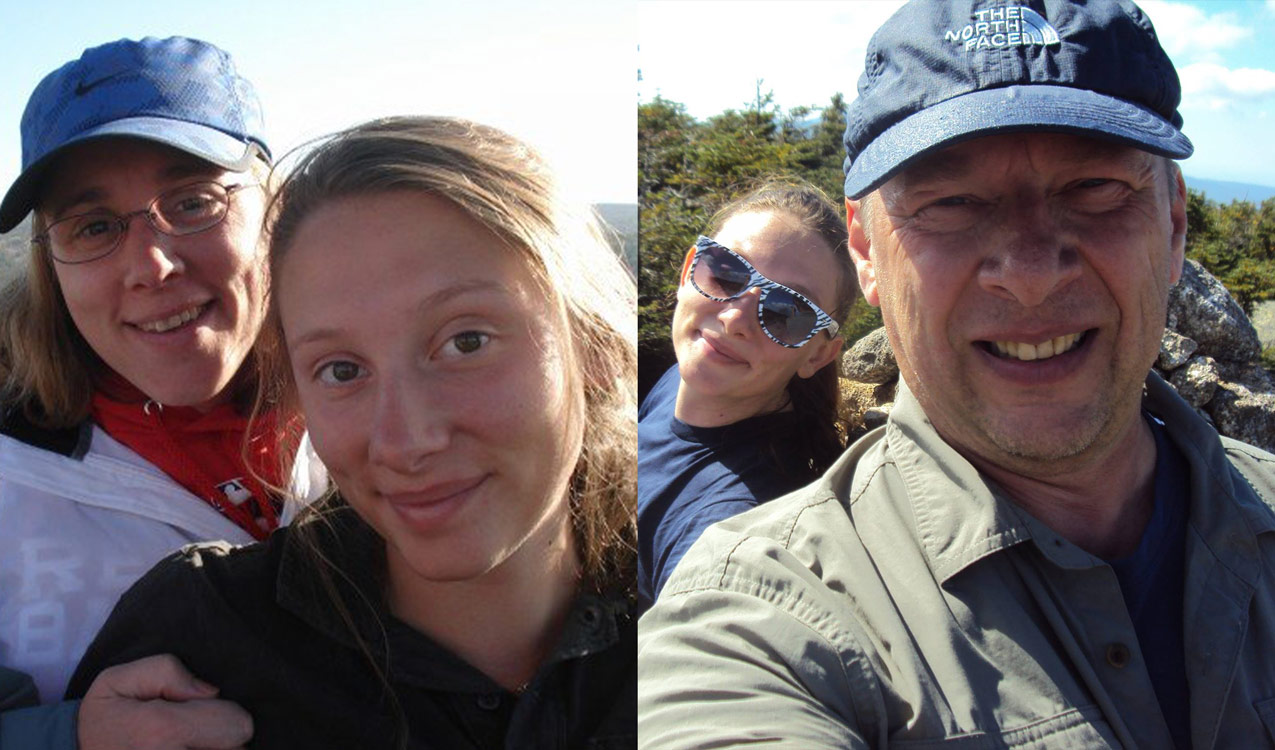 Who do you admire most?
Both of my parents. My mom is an incredible people person and her career has really been incredible to watch. She started out in local EMS and has such a love for emergency services and public health that led to where she is now – working for the federal government and the Medical Reserve Corps, managing public health reserves throughout the country. Her passion for her work has built an incredible career which is inspiring. My dad is the best hiking partner I've ever had. He has an incredible love for the outdoors, he's so funny and smart, and also has a talent for writing haikus! They will be married 35 years this August. I think I'm probably more like my dad, outdoorsy and more reserved than my mom, but I also share her passion for helping people.
If you were to write a book about yourself, what would you name it?
The title I came up with was "How to Bake Bread and Influence People." Baking was a pandemic development – I jumped in and did the sourdough thing like everybody else. I really came to love it and not only do I still do it, I sell the bread too. That's that Yankee Ingenuity I was talking about before!
What is one thing people might not know about you (or be surprised to find out)?
I like to throw axes! My last job was at a resort as the activities director and every day, we would teach guests how to throw axes and hosted competitions. We had these giant wooden targets and showed them how throw 2.5-foot long axes 20 feet to hit the target. The best thing ever was when I'd do my demo throw and hit a bullseye, and then just walk away like it was no big deal. Are you interested in becoming a key part of our mission-driven team and amazing culture, helping others while growing a rewarding career as Elaine has?
Click here for our many openings in healthcare, social services, administration and more!