CCNH Difference Makers – Elizabeth Hurst
June 16, 2021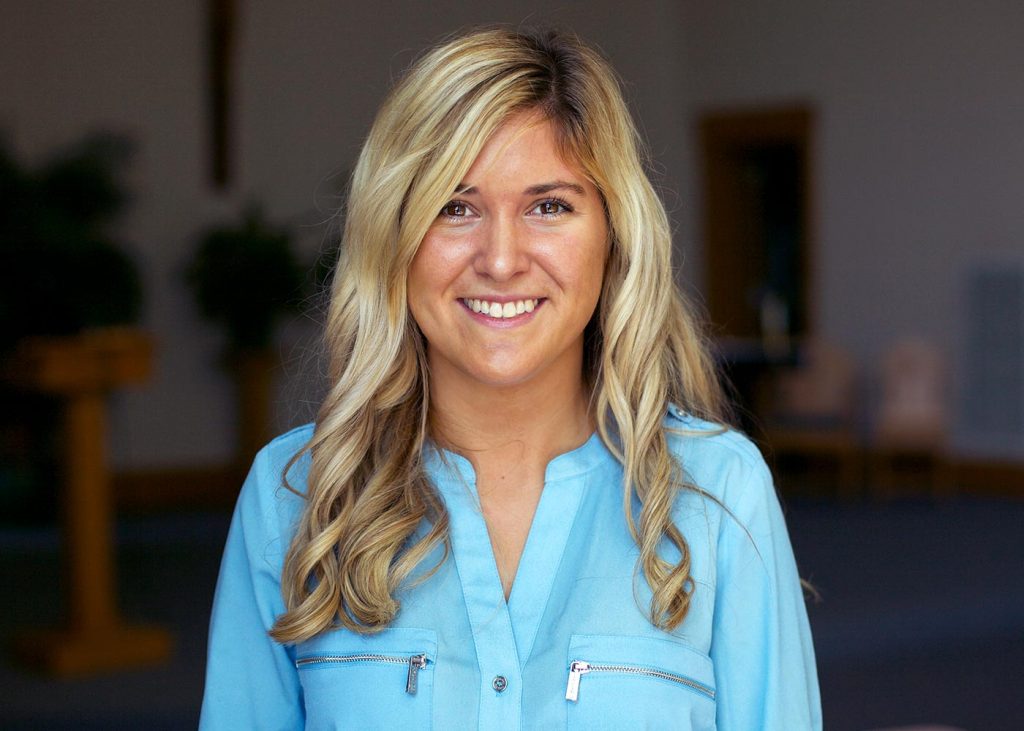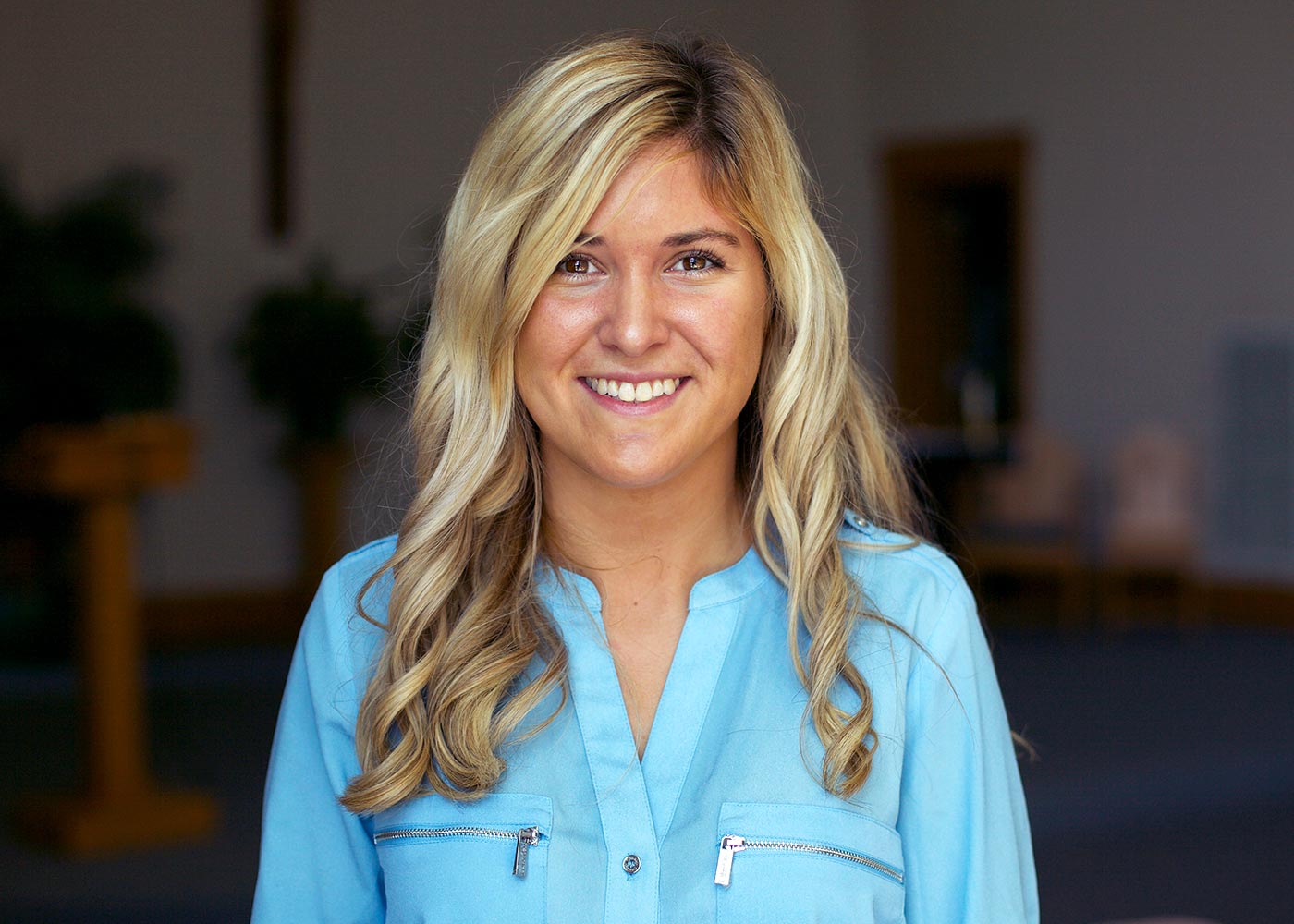 "Difference Makers" is a blog series highlighting many of the incredible employees at Catholic Charities NH, each making a positive and unique impact on the individuals, families and communities that we proudly serve. Today, meet Elizabeth Hurst, community program director at
Warde Senior Living
in Windham. Seven years ago, she started at Warde as a passionate licensed nursing assistant (LNA) and has advanced in her healthcare career to a director. Today, she manages the independent living apartments and activities throughout the campus. Elizabeth is known for her positive attitude and heart for serving others, which shines brightly every day in her work with the residents. Let's meet Elizabeth:
What does your typical day look like?
As Community Program Director, my day is spent balancing between managing the independent living apartments and coordinating the activities for residents. I start in independent living, running an exercise class for the tenants, then I help them with any issues going on with their apartments and catch up on emails and voicemails. I spend my afternoon in the assisted living and nursing home, visiting with the residents, doing activities and checking in with my activities staff.
What do you enjoy most about working at Warde Senior Living?
I enjoy spending time with the residents and getting to know each one of them as an individual. I love finding out where they grew up and what they did for work when they were younger. They love talking about their past.
Why is Warde Senior Living a special place?
The residents and staff are so wonderful here. I also love our history with the Sisters of Mercy. You can also see Searles Castle from our property. Our residents go for walks on the property, and it greatly adds to our environment.
What is so unique about the Catholic Charities culture at Warde Senior Living?
Our resident-centered care is unique. Everyone is passionate about providing the best quality care for the residents and making it feel like home for them.
What does working here mean to you?
It means coming to my second home and spending my day doing what I love most. I don't work for the paycheck; I work because I genuinely love being with our tenants and residents. That's why I've stayed here for the past seven years.
How has working at Warde Senior Living helped with your professional development?
I started at Warde as an LNA right after high school. A year later, I became a life enrichment assistant while still working as an LNA. Three years later, I got my activities director certification and became the life enrichment director for two and a half years, and now I've been the community program director for one year. I've had a lot of support from Warde and CCNH, especially Bret Pomeroy, our administrator, as I've grown in my career. While working here, I completed my bachelor's degree in healthcare administration. Management helped me balance going to school and working full-time. I wouldn't be where I am today without Catholic Charities.
What is most rewarding about your work?
Creating special moments for residents – I love seeing them laugh and enjoying themselves. We recently had an outdoor concert, where residents were dancing and having fun. Moments like that make my job rewarding.
Why do you love helping others?
I've always had a passion for helping others. As a kid, I loved fundraising and doing acts of service. In high school, I went on several mission trips within the United States. After my last trip, I decided I wanted to go down the career path of helping others.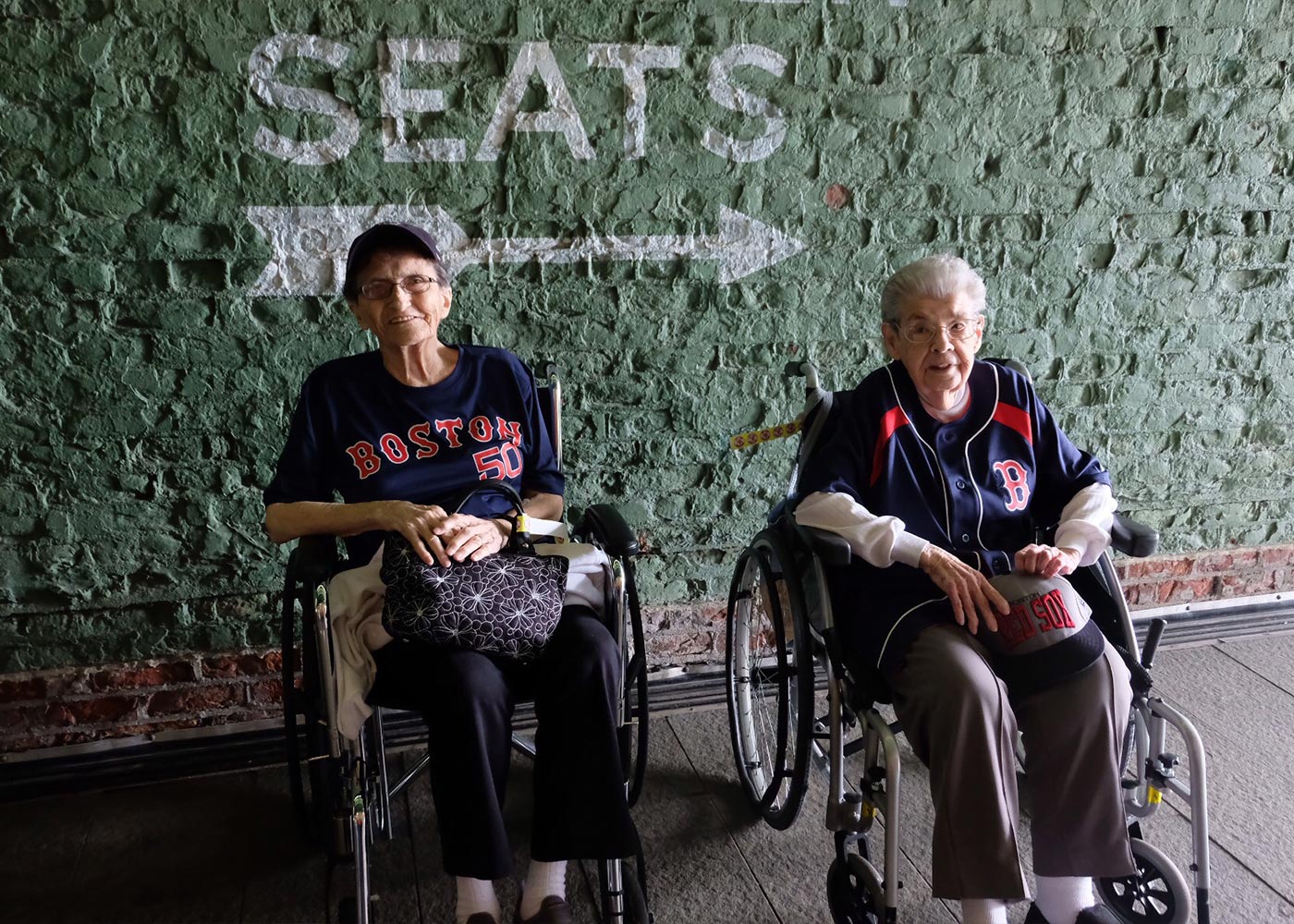 What is one of your favorite memories working at Warde Senior Living?
A memory that will always stand out to me is when we brought two sisters, Sister Thomas and Sister Barbra, down to Fenway Park for a tour. Sister Barbara was on hospice, and it was one of her last wishes to see Fenway Park. Decked out in our Red Sox jerseys and hats, we got picked up by a fancy private car that drove us into Boston. Both of the Sisters grew up in the city, and they had many memories and stories to tell. The sisters were huge Red Sox fans and were smiling ear-to-ear the entire time. They got to see the Red Sox Hall of Fame, went up to the Green Monster seats and the rooftop garden. It was the happiest I've ever seen residents. When we got back, Sister Thomas called every family member to tell them about it. It was a truly touching experience.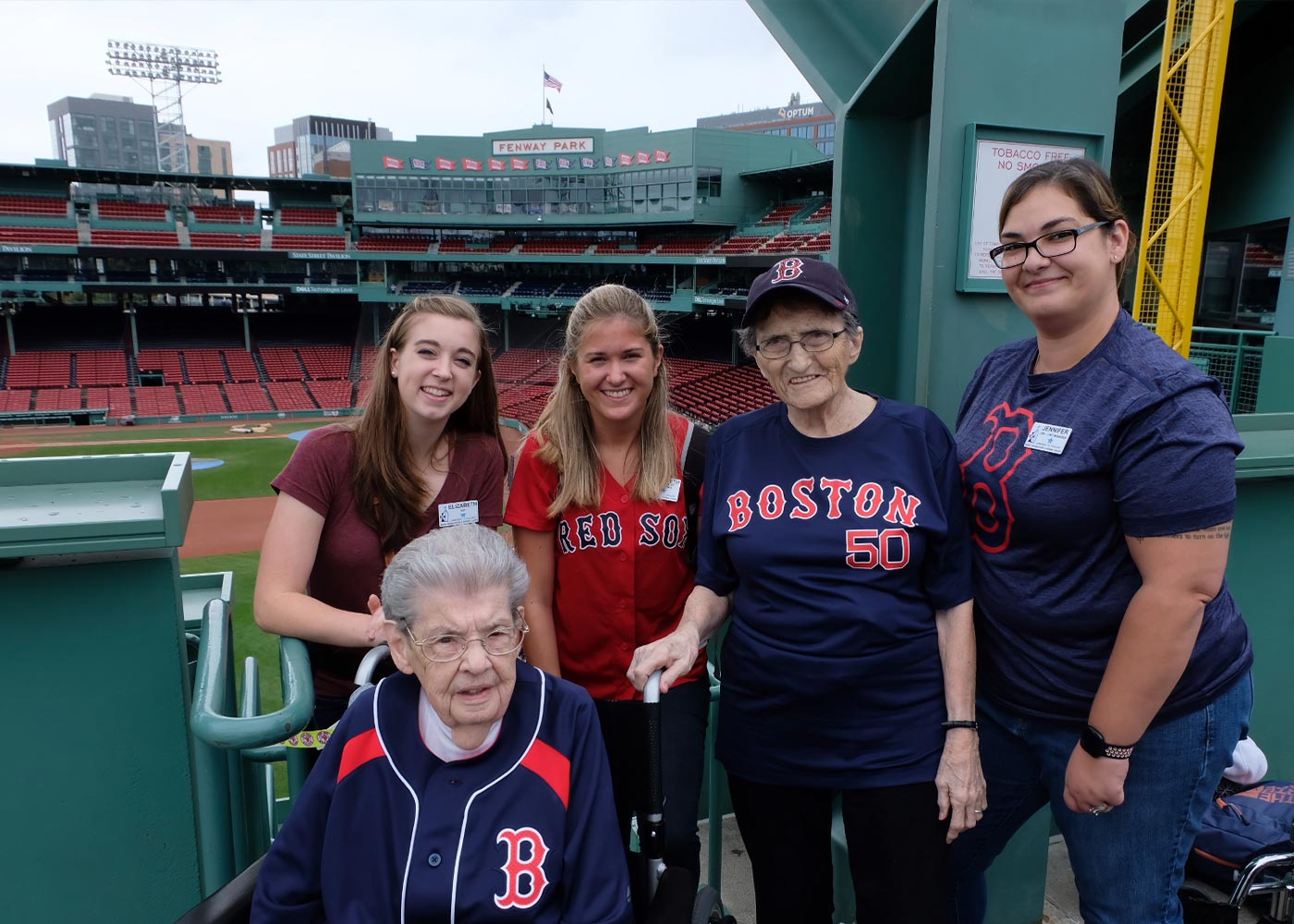 How has the COVID-19 crisis changed the appreciation you have for working at Warde Senior Living and the team around you?
It's been such a challenging year for everyone, but our team members stepped up and worked hard for our residents. During the most difficult days, staff came in with a smile on their face and a positive attitude. Especially during the outbreaks, our staff always wanted to project positivity and happiness so our residents wouldn't be afraid.
Describe Warde Senior Living in 3 words
Caring, home and compassion.
What do you enjoy doing outside of work? What are some of your hobbies?
I spend a lot of time with my family, especially with my two little nieces. I also love going golfing and hiking. I recently hiked Mt. Washington!
What do you love about New Hampshire?
I love that it's so close to the city, beach and mountains. They're all my favorite spots and within driving distance.
What is your favorite vacation spot?
Sanibel Island, Florida. My dad lives close by – it has some of the best shelling in the world and is a relaxing place to visit.
What is your favorite motto or quote?
"Be the change you wish to see in the world." – Mahatma Gandhi. That's how I try to live my life, acting in a way to help make the world a better place.
What is your favorite movie?
The Notebook – love stories are my favorite, and I like the time period the movie is set in.
Who is a person you admire most?
My Grandpa. He was a fighter pilot in World War II and was the first pilot to drop paratroopers on D-Day. After the war, he became an Episcopal pastor and started his own church. He's now nearing 100 years old and has such a positive attitude, and always keeps going. He rides his bike and swims in the pool every day!
Who is a person you'd most like to meet?
I would've loved to meet Audrey Hepburn. I like the Golden Age of Hollywood. Audrey did a lot of humanitarian work, and I admire her a lot.
If you were to write a book above yourself, what would you name it?
What Matters Most – I try to live my life according to what matters most to me: my family, friends, faith and health.
What is one thing people might not know about you (or be surprised to find out)?
I play the piano almost every day, and I love learning new pieces! I'm super shy about it, and most people don't know I can play. I'm currently learning the Pirates of the Caribbean theme song. Are you interested in becoming a key part of our team, helping others while growing your career as Elizabeth has?
Click here
for our many openings in healthcare, social services, administration and more!