CCNH Difference Makers – Erin Sylvester
September 29, 2020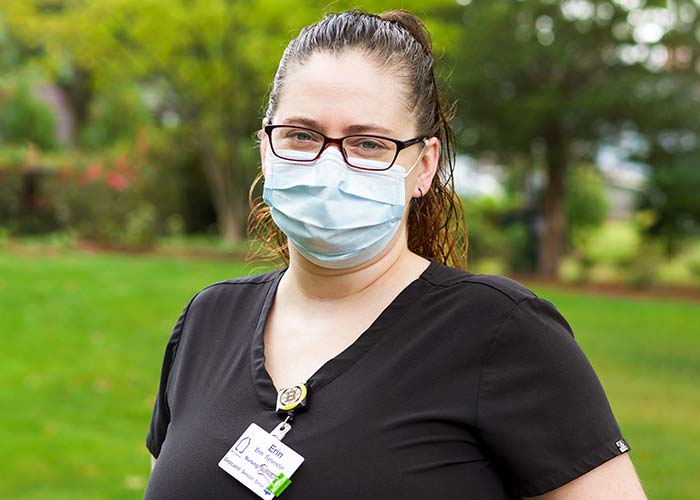 "Difference Makers" is a blog series highlighting many of the incredible employees at Catholic Charities NH, each making a positive and unique impact on the individuals, families, and communities that we proudly serve.
Today, meet Erin Sylvester, a nursing scheduler and licensed nursing assistant (LNA) at Mt. Carmel Rehabilitation and Nursing Center in Manchester. Erin is one of our incredible healthcare workers who has stepped up during the COVID-19 pandemic. Recently, when Mt. Carmel was short-staffed and needed to fill a nursing scheduler position, Erin saw the opportunity for a change in her career, and took on the challenge. She quickly transitioned from being an LNA, to a nursing scheduler. Let's learn more about Erin:
How long have you worked at Mt. Carmel?
I've been an LNA at Mt. Carmel for a year and a half, but I worked here a year prior through a staffing agency.
What does your typical day look like?
Every day is a bit different. I try to be out on the floor with my coworkers as much as possible, helping where I can. Some days I'm in the office doing administrative tasks like invoicing the agencies that we use for staffing.
What do you enjoy most about working at Mt. Carmel?
We have a fantastic team here at Mt. Carmel. Through the trying times of the pandemic, you see who is dedicated to their jobs and is a team player. Some days are hard, but we all work together and pick each other up.
Why is Mt. Carmel a special place?
Many things make Mt. Carmel special, but I'd have to say it's mostly our hardworking and compassionate staff and wonderful residents.
What is so unique about the Catholic Charities culture at Mt. Carmel?
As an LNA through a staffing agency, I had the opportunity to work at various nursing facilities, including Catholic Charities facilities such as St. Teresa, St. Joseph Residence and Mt. Carmel. I never thought I'd see the day where I'd leave an agency and come on staff somewhere. The feeling you get at Mt. Carmel and Catholic Charities is unmatched. It's inspiring to see how each skilled nursing facility is dedicated to helping its residents live their best lives. When I wake up each morning, I don't feel like I'm going to work. Through the difficult times, I can smile and laugh, which makes going to work so much better.
What does working here mean to you?
It's more than a job and having coworkers; it's family and feels like home. I have a great support system, especially from Rachel Lentine, our director of nursing, and Joe Bohunicky, our administrator. While working here, I've made wonderful friends with coworkers who genuinely care about me and how I'm doing, and are always there to help.
How has working at Mt. Carmel helped with your professional development?
I've come a long way in my career. I started out doing in-home care, which led me to become an LNA. Being at Mt. Carmel has allowed me to become a full-time nursing student. They give me a flexible schedule so I can balance work and also attend nursing school full-time. There's also the valuable on-the-job training – I look up to many of my coworkers as role models and it's incredibly valuable to watch them work and learn from them. Management has been encouraging in helping me achieve my professional goals.
Recently, taking on the role of nursing scheduler has been fun and exciting. It's given me a different perspective of what goes on in the administrative side of the home.
What is most rewarding about your work?
It's seeing the smiles on the residents' faces. If you can make them smile or give them comfort on a hard day, that's the best reward.
Why do you love helping others?
It gives meaning to my life. It's not about me or what's best for me. My enjoyment in life comes from helping others, especially when people are in their most vulnerable states, which our residents are. If I can do anything to improve their lives, it's all worth it.
What is one of your favorite memories working at Mt. Carmel?
That's a tough one – there are so many! Recently, it's seeing all of us come together during the COVID-19 crisis. We were short-staffed because of the pandemic, and we didn't know what would happen. As a team, we were committed to our residents and worked hard together to get through the hardships that we faced.
How has the COVID-19 crisis changed the appreciation you have for working at Mt. Carmel and the team around you?
It has strengthened my trust and respect for my coworkers, who continue to stay and fight through the pandemic.
Describe Mt. Carmel in 3 words
Compassionate, family and home.
What do you enjoy doing outside of work? What are some of your hobbies?
I love to be outside. I enjoy kayaking, playing hockey and working in my garden. I also love playing and listening to music.
What do you love about New Hampshire?
I love the four seasons! Being a hockey player, I enjoy winter. The people in New Hampshire are lovely as well.
What is your favorite vacation spot?
I'm a homebody – I love being home. When I go places, I'll go out to do stuff and then come back home.
What is your favorite motto or quote?
"What I have in my heart, I'll take to my grave." It's a lyric from a song by Hatebreed. At the end of your life, what matters is what you carry in your heart, not your possessions. It's the memories, experiences and the lessons you've learned that you take with you.
What is your favorite movie or book?
My favorite book and movie are "A Clockwork Orange" by Anthony Burgess. It's a hard book to read, but I always carry it with me. I've read it countless times. It dives into a person's psyche and why they do certain things. I love psychology and find the human brain fascinating.
Who is a person you admire most?
My grandmother – I had a rough childhood and would not be who I am or have overcome the challenges that I faced without her being there. She helped guide me through hard times in my life.
Who is a person you'd most like to meet?
Recently, it would have to be David Pastrňák; he plays for the Boston Bruins. I've followed him and his hockey career for years, and he has a great demeanor about him. He does a lot of charity work and is a down to earth guy who is always having fun and doing what's right.
What is one thing people might not know about you (or be surprised to find out)?
I love to learn, and the more I know, the happier I am. I love to work on things in my spare time, building vehicles, porches and steps. I can take an engine apart and put it back together.
Are you interested in becoming a key part of our team and helping others? Click here for our many openings in healthcare, social services, administration and more!