CCNH Difference Makers – Jeff Lacroix
December 18, 2019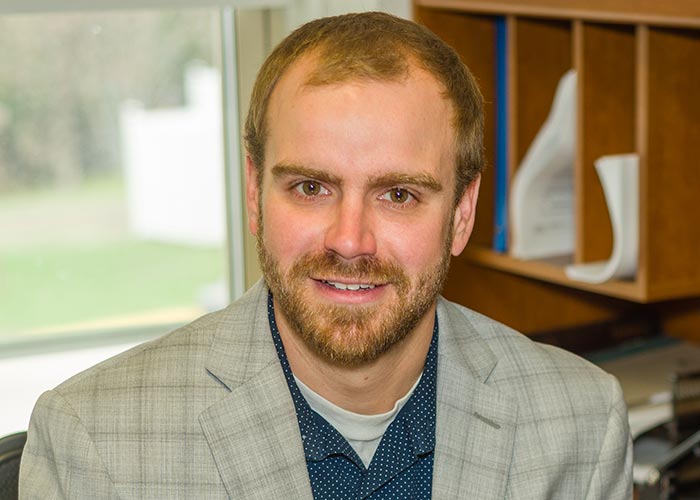 "Difference Makers" is a blog series highlighting some of the many amazing employees at Catholic Charities New Hampshire, each making a positive impact on the individuals, families and communities we serve, in their own unique ways.
Today, meet Jeff Lacroix, the administrator at St. Vincent Rehabilitation and Nursing Center in Berlin, New Hampshire. Jeff is one of seven hardworking and dedicated healthcare administrators we have here at Catholic Charities New Hampshire. When Jeff isn't at St. Vincent taking care of residents, he is climbing (or running up) one of New Hampshire's many mountains. Let's get to know Jeff:
How long have you worked at St. Vincent Rehabilitation and Nursing Center?
As of this past October, I have been the administrator at St. Vincent for two years and absolutely love it!
What does your typical day look like?
Every day is different, but I try to share time equally between doing my administrative work, spending time with residents and talking with staff on the floors. I want to be present and available to residents and staff as much as I can.
What do you enjoy most about working at St. Vincent Rehabilitation and Nursing Center?
The vast number of people I get to work and interact with every day. Everyone has a different story and getting to know the residents and having conversations with them is always enjoyable. They have lived full lives and we can learn so much from them.
Why is St. Vincent Rehabilitation and Nursing Center a special place?
Berlin, New Hampshire is a small community and people here genuinely care for their family and neighbors. This is the kind of culture we like to emulate at St. Vincent. "One heart, one home, one family" is our motto that we live out because St. Vincent is more than just a nursing home – it is a family.
What does working here mean to you?
It means having a unique opportunity to not only be the best I can be, but also help shape a positive work ethic and culture that brings out the most in our staff so they can best care for our residents.
How has working at St. Vincent Rehabilitation and Nursing Center helped with your professional development?
The healthcare industry is constantly changing from compliance regulations to how we do our billing, and I am constantly learning how to best adapt. Our healthcare team at Catholic Charities New Hampshire is excellent at providing the right resources and guidance. As individuals, I believe we all need to be continually learning and growing and that's something I see on a daily basis here.
What is most rewarding about your work?
Talking with the residents and their families is the most rewarding. Families are genuinely appreciative of the care provided to their loved ones. For me, a simple 'thank you' is the best reward you can get.
What is one of your favorite memories working at St. Vincent Rehabilitation and Nursing Center?
Every month we have a buffet breakfast where management and staff come together and make breakfast for everyone. Watching the interactions and smiles between staff members and our residents during this breakfast is fantastic. It is a special event we all look forward to.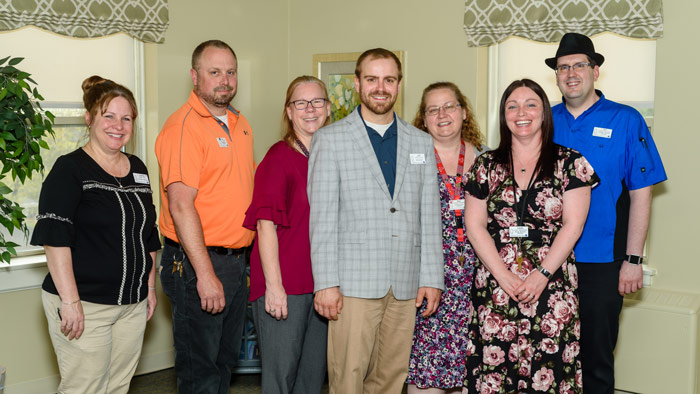 Describe St. Vincent Rehabilitation and Nursing Center in 3 words
It's more like four words – one heart, home, and family.
What do you enjoy doing outside of work? What are some of your hobbies?
I love hiking, camping, and obstacle course racing. This year I did seven Spartan Races and am currently training for a Spartan Ultra Race, which is a 50K with 65 obstacles. Part of my training right now is running up and down some of the White Mountains.
What do you love about New Hampshire?
The best part of living in New Hampshire are the mountains. To me, they provide a natural beauty and a sense of peace that feels like home.
What is your favorite vacation spot?
Primitive camping, which is a type of camping where you don't camp at a campsite – you set up camp in a more remote area, like near a river or a spot with a great view. I have one favorite location a couple of hundred feet off a trail on the ridge of the Presidential Mountain Range in New Hampshire. It has incredible views of the surrounding mountains and the valley below. There is no sign of human activity, such as a road or houses. At night, stars seem infinite and you feel absorbed in nature.
What is your favorite motto or quote?
It is a quote by Joe De Sena, CEO and founder of the Spartan Race: "Put one foot in front of the other, focus on the little goal right in front of you, and almost anything is possible."
What is your favorite movie?
I am a big fan of the Lord of the Rings trilogy. I went to the movie theater twelve times to see them.
What is your favorite book?
I actually have two favorite books. First is "The Fifth Vial" by Michael Palmer, one that keeps you on the edge of your seat. The second is a big classic, "Alice in Wonderland" by Lewis Carroll.
Who is a person you admire most?
Joe De Sena– he's inspirational and his goal is to push people beyond what they could imagine.
Who is a person you'd most like to meet?
If I could meet anyone, it would be Ted Williams. He mastered his skill and was and still is the greatest hitter in baseball history. I would love to talk to him about his passion for the game and how this translates into our everyday lives.
If you were to write a book above yourself, what would you name it?
"Living on the Edge", which is also a great song. I heard once, "If you aren't living on the edge then you are taking up too much space." That quote stuck with me.
What is one thing people might not know about you (or be surprised to find out)?
I've hiked Mount Washington 59 times and I've stood on its summit every month of the calendar year.
Are you interested in joining Jeff on our Catholic Charities New Hampshire team? Click here to discover your next opportunity.