CCNH Difference Makers – Kim George
May 17, 2021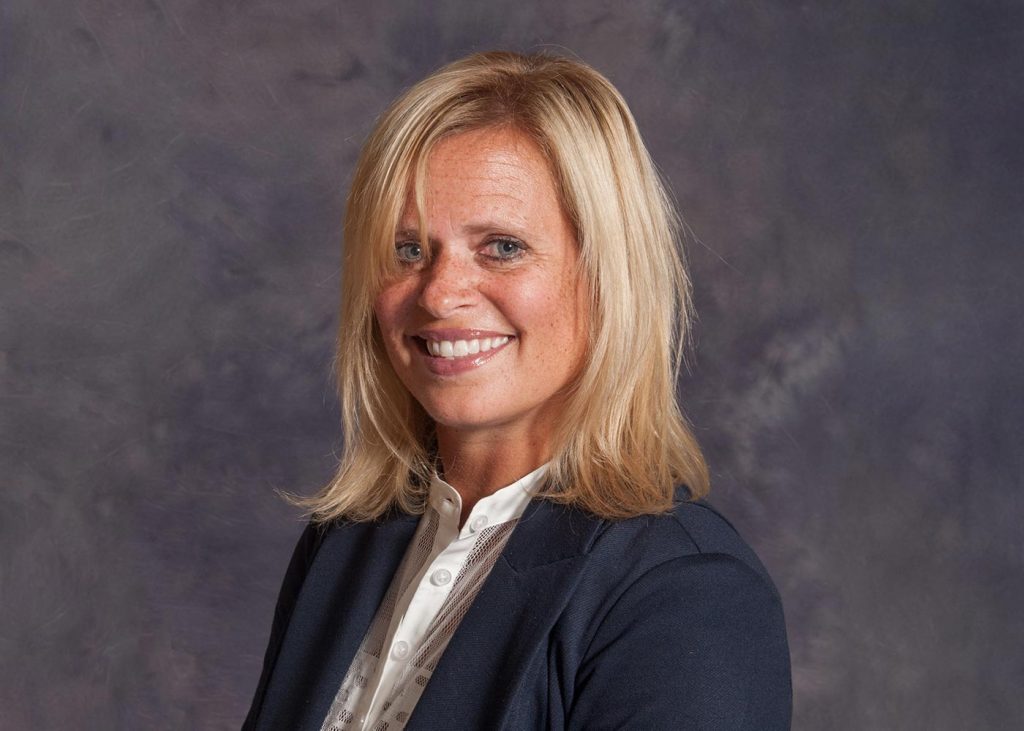 "Difference Makers" is a blog series highlighting many of the incredible employees at Catholic Charities NH, each making a positive and unique impact on the individuals, families and communities that we proudly serve.
Today, meet Kim George, managing attorney for our Immigration Legal Services program. She's been with Catholic Charities for 25 years and is known for her strong work ethic and dedication to her clients and staff. Every day, she lives out her faith in making a difference in the lives of vulnerable immigrants. Let's meet Kim:
What does your typical day look like?
My day is ever-changing and always busy. But I'll share what a typical Monday looks like for me: I start the day with a team meeting to discuss the week ahead, giving agency and legal updates. As the managing attorney, I'm responsible for providing support and oversight to all legal staff. Throughout the day, my team asks me legal questions or has me review their work. When we have any new staff or interns, I help with the onboarding process by teaching and training them. I manage the grants that our program receives, writing reports and providing statistics and information to our grant writers. I also work with our intake paralegal, fielding the daily calls and scheduling consultations with our attorneys. Some days, my job involves handling religious worker visas for international priests, which is my area of expertise within our department.
What do you enjoy most about working at Catholic Charities NH?
I enjoy the unique chance to put my faith into action and help promote social justice. I love helping make a difference in the lives of others.
What is so unique about the Catholic Charities culture?
Catholic Charities is like a second family to me. The staff and management genuinely care about each other. The culture is why I chose to work here over a big law firm and why I've stayed for 25 years. Catholic Charities has enabled me to have a healthy work and family balance; I can work in the law field and be a mom.
How has working at Catholic Charities NH helped with your professional development?
Throughout the years, Catholic Charities has provided me with the necessary support and training to help me continue to gain legal knowledge and become a good manager. Our department is unique; we are an affiliate member agency of Catholic Legal Immigration Network (CLINIC). They provide technical legal support and training to Catholic Charities agencies' immigration program staff throughout the country. This membership gives us technical support, like daily email updates of changes in the law, in person trainings and webinars. With immigration law constantly evolving, we especially need to have continuing legal education. A bulk of my training has been from CLINIC, and they've been a tremendous support.
What is most rewarding about your work?
We are making a difference in the lives of vulnerable immigrants. When I used to provide more direct legal services, it was extremely rewarding anytime I would win an asylum case. I was helping protect that person from a potentially life-threatening situation.
What is one of your favorite memories working at Catholic Charities NH?
A few years ago, I coordinated a staff department retreat. We went to Boston for the day, did an escape room, went out to eat and had a lot of fun. It was a great day of bonding, filled with many laughs. Our time together made us stronger as a team, and I'll never forget that day.
Describe Catholic Charities NH in 3 words
Compassion, hope and faith.
In your 25 years at Catholic Charities, how has Immigration Legal Services changed over the years?
I've noticed that New Hampshire has become more diversified. When I first started, there were many Vietnamese and Eastern European refugees resettling, and then many more African refugees began coming over. Now we see a lot of Central Americans. As things happen around the world and in other countries, you see the different groups come over. Through it all, as a department, we have grown to meet the increasing legal needs of immigrants.
What do you enjoy doing outside of work? What are some of your hobbies?
I like walking, hiking, exercising and watching my two teenage boys play baseball during the spring, summer, and fall. I also enjoy visiting with my parents and going to the beach in Cape Cod, Massachusetts.
What do you love about New Hampshire?
I love the beauty of the state, such as the mountains, lakes and Seacoast area. I also like that New Hampshire is a more relaxed state than Massachusetts, which is where I live.
What is your favorite vacation spot?
Kauai, Hawaii – that's where I met my husband. The island is beautiful, and I find the Hawaiian culture interesting. Fun fact, I'm admitted to Hawaii Bar since that's where I took my first bar exam.
What is your favorite motto or quote?
"When life gives you lemons, make lemonade." I always try to find the positive when faced with life's challenges. As my sons are growing and different obstacles come up, I try to encourage them to focus on the positive and take these moments to learn, grow and add perspective.
What is your favorite movie?
This past year I've become addicted to the Hallmark Channel movies. I enjoy them because they are a good distraction from the news and all that's going on in the world, and I love the lightheartedness.
What is your favorite book?
I enjoy all of John Grisham's books – he writes legal thrillers. Some of my favorites are The Pelican Brief, The Client and The Firm.
Who is a person you admire most?
Dominique Rust – my supervisor and Catholic Charities vice president and COO. For the past 25 years, I've watched her grow into a fierce leader of this agency. I admire her the most for how she leads with great compassion, integrity, knowledge, communication and gratitude.
What is one thing people might not know about you (or be surprised to find out)?
I used to be a competitive figure skater! I skated until college. It was a big part of my life. I used to skate all the time, before school and after school.
Are you interested in becoming a key part of our team, helping others while growing your career as Kim has? Click here for our many openings in healthcare, social services, administration and more!