CCNH Difference Makers – Luz Rodriguez
October 8, 2019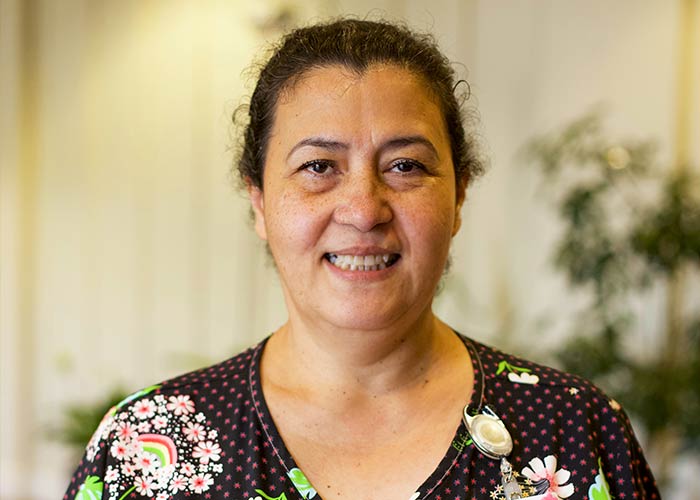 "Difference Makers" is a blog series highlighting some of the many amazing employees at Catholic Charities New Hampshire, each making a positive impact on the individuals, families and communities we serve, in their own unique ways.
On the third floor of Mt. Carmel Rehabilitation and Nursing Center in Manchester, you'll find the dedicated Memory Care Unit, a supportive community of care for individuals living with Alzheimer's, dementia, and other forms of memory loss. On most days, you'll find Luz, one of our LNAs (Licensed Nursing Assistant), patiently tending to a resident. She has been working in the Memory Care Unit for over 20 years. Let's learn more about Luz!
What does your typical day look like?
I come in at 7:00 a.m. and review the reports of my assigned residents from the previous night, so I can best attend to their needs in the morning. Then I will go and get them ready for breakfast and showers and help them start their daily routines. What I love is how each resident is different and has their own routines. Throughout the day, I am helping them achieve what they would be doing as if they were in their own homes.
What do you enjoy most about working at Mt. Carmel Rehabilitation and Nursing Center?
I enjoy helping the residents. They are kind and loving – and their smiles make my day.
Why is Mt. Carmel Rehabilitation and Nursing Center a special place?
The quality care here at Mt. Carmel is amazing. I see how everyone truly cares for the residents. The team is incredible, too – we all work together and help one another when needed. My last job, as an LNA in Cleveland, Ohio, it was a lot different. I feel appreciated here – a simple thank you means a lot.
What is so unique about the Catholic Charities culture at Mt. Carmel Rehabilitation and Nursing Center?
High values and good morals make this place one of a kind. Staff members are focused on providing quality care and appreciated for the work they do. On my floor, the environment is very welcoming for residents, families and staff. That is why I have stayed here for 20 years.
What does working here mean to you?
I love what I do here at Mt. Carmel. As an LNA, it feels rewarding and fulfilling taking care of my residents.
How has working at Mt. Carmel Rehabilitation and Nursing Center helped with your professional development?
Every day I am given the opportunity to practice and hone my nursing skills. I get more confident each day. I am continually learning how to better understand and respond to the daily needs of my residents.
What is most rewarding about your work?
The smiles of my residents and their families are the most rewarding part of my work. The families notice and appreciate the quality of care we provide for their loved ones.
Why do you love helping others?
It's my Puerto Rican culture – it's who I am!
What is one of your favorite memories working at Mt. Carmel Rehabilitation and Nursing Center?
I had a former resident who was in my unit and happy all the time. I remember once when I was helping her eat, I said a joke and she looked at me with the biggest smile. I will always fondly recall her laugh and her strong sense of joy.
Describe Mt. Carmel Rehabilitation and Nursing Center in 3 words.
Mt. Carmel is compassionate, loving and caring.
What do you enjoy doing outside of work? What are some of your hobbies?
My favorite thing to do when I get home is to watch movies. My favorite movie is the "Titanic!" I like the emotions and the love between Jack and Rose.
What do you love about New Hampshire?
I moved to New Hampshire from a busy city, so I appreciate how quiet it is here. The people are also incredibly friendly.
What is your favorite vacation spot?
I love going to Ontario, Canada and visiting Niagara Falls!
Who is the person you admire most?
My grandmother – she was a strong woman. I would go over to her house every Sunday to spend time with her and drink coffee. She made the best coffee in the world.
Who is a person you'd most like to meet?
Dwayne Johnson! I love "The Rock!"
If you were to write a book about yourself, what would you name it?
I could call it "Vida," which is "Life" in Spanish.
What is one thing people might not know about you (or be surprised to find out)?
Most people don't know that I am a grandmother and I have four grandchildren!
Are you interested in joining Luz on our Catholic Charities New Hampshire team? Click here to discover your next opportunity.