CCNH Difference Makers – Nicole Plourde
July 29, 2019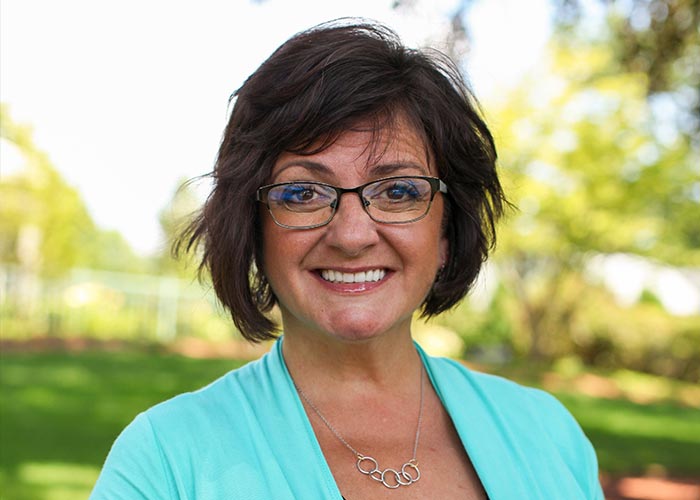 "Difference Makers" is a new blog series spotlighting some of the many amazing Catholic Charities New Hampshire employees making a profound difference for individuals and communities across the Granite State.
Today, meet Nicole Plourde, the Deputy Director of Parish & Community Services at Catholic Charities New Hampshire. Nicole works out of our Northern Regional Service Center in Berlin, NH.
How long have you worked at Catholic Charities New Hampshire?
I have been at Catholic Charities for 19 years, and I plan to be here for a while!
What do you enjoy most about working at Catholic Charities New Hampshire?
The many people I work with who have a heart of service. Our mission is to respond to those in need with programs that heal, comfort and empower. This continues to motivate me every day.
What do you enjoy most about helping those in need?
Seeing the hope that our work brings to people and making a meaningful difference in their lives. I get to journey with our clients through difficult times, and for many, see them advance on a path to success. It's hard work – but incredibly fulfilling to know that we're moving lives forward and instilling the hope in someone they never thought possible.
What is one thing people may not know about CCNH?
Many individuals don't recognize the pure vastness of our programs, from Counseling Services and Our Place to St. Charles School and Healthcare Services. We are living Christ's call from womb to tomb. We truly care for people along all stages of life – babies, children, adults and the elderly. To have that much of a reach is remarkable.
What do you love most about working in the Berlin community?
It's my heart and home – these are my people. My husband and I were born and raised here, and it's where we raised our kids. Berlin has a rich history and an amazing spirit of community. We have seen lots of challenges in the area, such as those related to education, budgeting problems, and lack of community resources. Through these issues, the community has come together and I have never been so proud.
What is your favorite memory of working at CCNH?
I have a lot of favorite memories. Most of these memories involve the stellar people I work with every day, who have walked through life with me for the past 19 years. If I had to choose a most recent memory though, it would be last September, when we moved into our new building – formerly known as the Holiday Center – in the heart of downtown Berlin!
What is a quote or motto you like to live by?
One my mom instilled in me – "Bloom where you are planted." This quote has served me well in my life.
What do you enjoy doing outside of work? What are some of your hobbies?
I love antiquing, camping, and knitting. On a hot summer's day, I would rather go to an antique auction than go swimming!
What do you love about New Hampshire?
I love mountains and the views. This is truly "God's country," and I'm proud to call it home.
What person do you admire most?
The first person that comes to mind is my mother, Therese Gagne. She was an amazing woman of faith and I aspire to be like her.
If you were to write a book about yourself, what would you name it?
I would name it, "Living the Dream." I am so grateful for the life I have.
What is one thing people might not know about you?
I love politics. I'll watch election results like people watch football! I am active in my own way and enjoy doing my part. I am currently the chair of the Berlin School Board.
To learn more about the work Nicole does through Parish & Community Services, click here. You may also reach her at nplourde@nh-cc.org.