CCNH Difference Makers – Roxanne Perry
January 19, 2021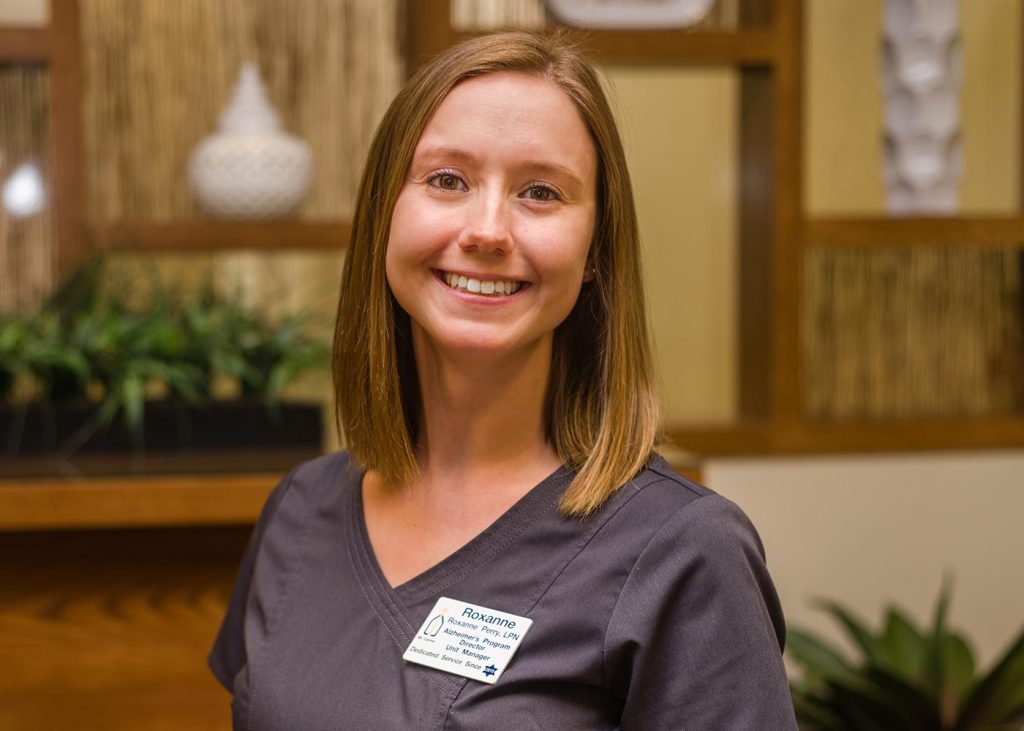 "Difference Makers" is a blog series highlighting many of the incredible employees at Catholic Charities NH, each making a positive and unique impact on the individuals, families, and communities that we proudly serve. Today, meet Roxanne Perry, assistant director of nursing at
Mt. Carmel Rehabilitation and Nursing Center
in Manchester. Roxanne is a strong and driven member of our team who's continually working hard to help everyone around her succeed. She started at Mt. Carmel as a licensed practical nurse six years ago and has worked her way up to where she is now. We can't wait for you to get to know her!
What does your typical day look like?
Since my primary function is supporting staff, residents and residents' families, no day is typical. Some days I'm supporting the needs of resident's loved ones; other days, I'm helping staff with professional development, or I'm with a resident by their bedside. Right now, in the pandemic, I'm focusing more on helping ensure that we have enough personal protective equipment (PPE) for our staff and making sure they're being used properly. I've also been doing COVID-19 reporting and updating to the state and the Center for Disease Control and Prevention (CDC). I report all the information around COVID-19 testing being done in the home on residents and staff.
What do you enjoy most about working at Mt. Carmel?
It's the people – the residents, their families and our fantastic staff. We have a great group of individuals who are passionate about the care we provide. They're the reason I come to work every day.
What is so unique about the Catholic Charities culture at Mt. Carmel?
We're fun – and that makes us different. We base our care on love and appreciation. We do our best to achieve better and do what's best for our residents. We make sure everyone is engaged and content, especially during the pandemic. We're always thinking of new ways to make our residents happy. Everyone is willing to go above and beyond and think outside of the box. We recently had fake tattoos brought in. The residents loved it and it brought up everyone's spirits. Residents were talking about days later. It's the little things like temporary tattoos that can make their day a little brighter.
How has working at Mt. Carmel helped with your professional development?
I wouldn't be where I am in my career without Mt. Carmel and Catholic Charities New Hampshire. Before working at Mt. Carmel, I was a licensed nursing assistant (LNA) at a local hospital where I didn't have a lot of room to grow. When I applied to Mt. Carmel, I knew it was different here. From day one, it was clear this was a place that would give me that chance to grow and provide me with opportunities to succeed in my career. The past six years has been a whirlwind that I wouldn't trade for anything. I came in as a licensed practical nurse (LPN). I then applied for the Memory Care Director position and got it. I later went on to get my Associate of Science in Nursing (ASN) and became a registered nurse (RN) through a scholarship program between Rivier University and Catholic Charities NH called Project Advance. Without Catholic Charities and Mt. Carmel, the RN degree – which I always dreamed of – would not have been possible. I don't see any other organization doing what Catholic Charities is doing. They're giving people opportunities to grow in their career, and you have no idea how that can change someone's life; just look at me. If I wasn't part of this organization, I don't know where I'd be.
Why do you love helping others?
I know what it feels like to struggle and feel powerless. That's why I love helping others to overcome adversity in whatever they're facing. If I can help someone feel less stressed or anxious about what they're going through, it's very fulfilling. For example, with a dementia patient who's having a hard time, I love empowering them and enabling them to make their own choices. When this happens, their eyes light up and it brings a smile to their face.
What is one of your favorite memories working at Mt. Carmel?
When I was the Memory Care Director, I admitted a resident coming in from another home where she was struggling. Her needs weren't being understood. When she came into our Memory Care Unit, she flourished. We listened to her wishes, helped her work through difficulties and gave her the space she wanted. It was like watching a baby bird leave the nest. This resident and I have a close relationship, and one day she introduced me to her family as her "daughter," which really touched me.
How has the COVID-19 crisis changed the appreciation you have for working at Mt. Carmel and the team around you?
My appreciation for Mt. Carmel and my team has grown immensely during the COVID-19 crisis. We've faced and continue to face adversity together. I'm thankful for my team and everything they do to protect our residents. The COVID-19 experience has changed the game for a lot of us, seeing it all first hand. When you're a long-term care nurse, you become familiar with the death and dying process. At one point, it was difficult having so many people being ill, and I just wanted to fix everything and everyone. My team was there and stepped up to the plate.
Describe Mt. Carmel in 3 words
Love, commitment and compassion.
What do you enjoy doing outside of work? What are some of your hobbies?
I'm an avid reader and recently took up writing. I enjoy any hobby I can do while my three kids are around.
What do you love about New Hampshire?
I love all the seasons! The green grass and blooms in the spring, summer with the warm sun and cool breeze, the colors in the fall and the snow-covered trees in the winter.
Where is your favorite vacation spot?
My fiancé is from England, and one summer, we were in Europe with his family and went to Moret-sur-Loing, France. It's now our all-time favorite vacation spot. It was a beautiful cobblestone town, with this historic 19th-century church.
What is your favorite motto or quote?
"I've learned that people will forget what you said, people will forget what you did, but people will never forget how you made them feel." – Maya Angelou I try to keep that mentality in me because I always want to leave people feeling better.
What is your favorite movie?
Grease
with John Travolta and Olivia Newton-John! I love when Sandy turns into a biker girl. She and Danny (the two main characters) loved each other so much that they changed themselves to be what the other wanted.
What is your favorite book?
Girl, Wash Your Face!
by Rachel Hollis, who's an author and motivational speaker. Her writing makes me feel motivated, as if I can achieve my goals, dreams and aspirations and that I have more to offer. Every time I listen to her, she pumps me up and sets a fire underneath me.
Who is the person you admire most?
I have two: My grandmother – she's been a dreamer her whole life. She started businesses, was strong and independent, but had that vulnerable side, and was really in tune with other people's emotions. My mother – she started out as a waitress and worked her way up to being the head of a company's finance department. She's driven, has goals and dreams and achieved a lot. She doesn't care what people think and goes for the things that she wants in life.
Who is the person you'd most like to meet?
Rachel Hollis – I want to hear more of her unfiltered stories and thoughts, have an honest conversation and know her real story.
If you were to write a book about yourself, what would you name it?
"Always Put Your Hat in the Ring." That's the only way I've been able to take advantage of opportunities and succeed. I don't put a limit on myself and what I can do. I'll always be learning and growing, no matter what.
What is one thing people might not know about you (or be surprised to find out)?
People would be surprised to find out that I'm starting to write a book! I recently started telling friends and family. I currently have three different book ideas, all focused on the various struggles of being human, using life experiences I've had, or of others close to me. I want people to be able to identify with these books. Are you interested in becoming a key part of our team, helping others while growing your career as Roxanne has?
Click here for our many openings
in healthcare, social services, administration and more!