CCNH Difference Makers – Sheila Meeker
March 24, 2020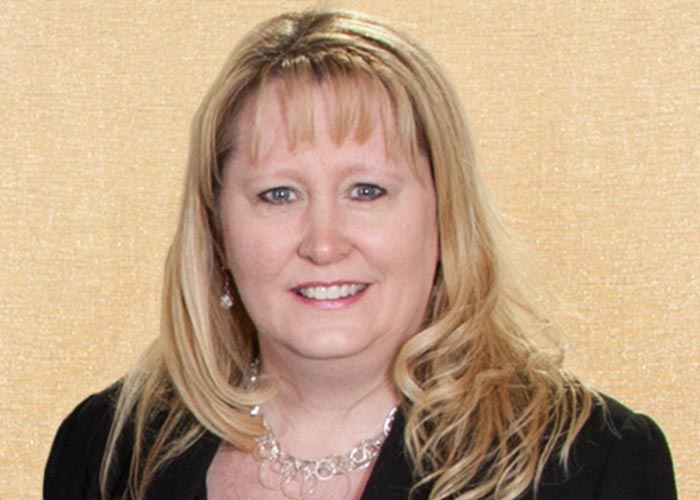 "Difference Makers" is a blog series highlighting many of the amazing employees at Catholic Charities New Hampshire, each making a positive and unique impact on the individuals, families and communities we proudly serve.
Today, meet Sheila Meeker, director of clinical reimbursement in our Healthcare Services department. Sheila is well-known among our nursing facilities for her caring heart and genuine smile. When she's not hard at work, you may find her front row at one of her children's sporting events. Let's learn more about Sheila!
How long have you worked at Catholic Charities NH?
I've worked at Catholic Charities for six and a half years!
What does your typical day look like?
In healthcare, every day is different. The first thing I do each morning is to check my email and go from there. I usually have some time-sensitive items that I need to take care of. A large portion of my job is managing and assisting the nurses in each facility who are responsible for the assessment process for Medicare and Medicaid billing. I oversee that each nurse is adhering to the CMS (Center for Medicare & Medicaid Services) regulations.
What do you enjoy most about working at Catholic Charities NH?
I enjoy my coworkers and the relationships that I have made at Catholic Charities NH. We are lucky to have so many hardworking and genuine people in our Healthcare Services department. It's a privilege to be working with the best nursing homes in New England.
Why is Catholic Charities NH a special place?
It's a special place because we are mission-driven, and our mission of serving others drives everything we do. This is seen in every aspect of our job.
What is so unique about the Catholic Charities culture?
We have a unique culture where we emphasize and practice person-centered care. We treat our nursing facilities as the resident's home, not just a place we work.
What have you gained from working at Catholic Charities NH?
More of an understanding of taking care of not only our resident's physical health, but their emotional, social and spiritual wellness.
What is most rewarding about your work?
Going home at the end of the day knowing that our residents are getting the best care possible. For me, that is true fulfillment.
What is one of your favorite memories working at Catholic Charities NH?
My favorite memory was when I attended an event put on by the NHHCA (New Hampshire Healthcare Association). The NHHCA had a contest in which residents could submit artwork to be displayed in the NHHCA's yearly calendar. Several of our residents submitted a piece of art and were invited to the event. They were allowed to showcase their piece and talk to any attendees/voters about it. One of our residents won the contest, and her artwork was displayed as a page in the NHHCA's yearly calendar! Seeing how proud and happy she was is something I'll always remember.
Describe Catholic Charities NH in 3 words
Caring. Compassion. Home.
What do you enjoy doing outside of work? What are some of your hobbies?
I enjoy watching my kids play sports throughout the year. They play lacrosse, ice hockey and field hockey. I also love getting outdoors with my family and our dog, Baxter.
What do you love about New Hampshire?
I love the scenery – the mountains, the lakes and the ocean. New Hampshire is a beautiful state.
Where is your favorite vacation spot?
My family and I love to visit North Conway, New Hampshire – there is so much to do for all ages. During the different seasons, you can go hiking, skiing, swimming and shopping. In the summer, we rent a house on a lake and enjoy time as a family.
What is your favorite motto or quote?
"Let's do this" – I'm all about rolling up my sleeves and getting things done.
What is your favorite movie?
One of my favorite films has to be "The Shawshank Redemption." It has a wonderful story of hope, friendship and redemption.
What is your favorite book?
If I had to pick a book, it would be "The Secret" by Rhonda Byrne. It's a book that I continually find myself going back to at different points in my life. I am a strong believer in the power of positive thinking.
Who is a person you admire most?
My father Jack Nestor – he is a great example of a good parent and a good human being. He served time in the Army and always provided for my family. At one point, he was on the school committee in our town, coached my brother's baseball teams, and chaperoned field trips. He was very involved in our lives growing up and was always there for us. He was recently honored as the oldest veteran in my hometown of Littleton, Massachusetts. He is 94, and despite some limitations due to his arthritis, he is doing great. He is a true inspiration to those around him.
Who is a person you'd most like to meet?
I'd love to meet Ellen DeGeneres – she's funny and loves to give back to people. She has a heart of gold.
If you were to write a book above yourself, what would you name it?
"The Bargain Hunter" because I'm excellent at finding great deals and coupons!
What is one thing people might not know about you (or be surprised to find out)?
I've been working with elders in nursing homes since I was 16 years old. I have always found working with the elders to be the most fulfilling work.
Are you interested in becoming a key part of our team and helping others, like Sheila is? Click here for our job openings across New Hampshire!