Crisis Fund in Action: An Unexpected Turn in a Mother's Journey
September 29, 2020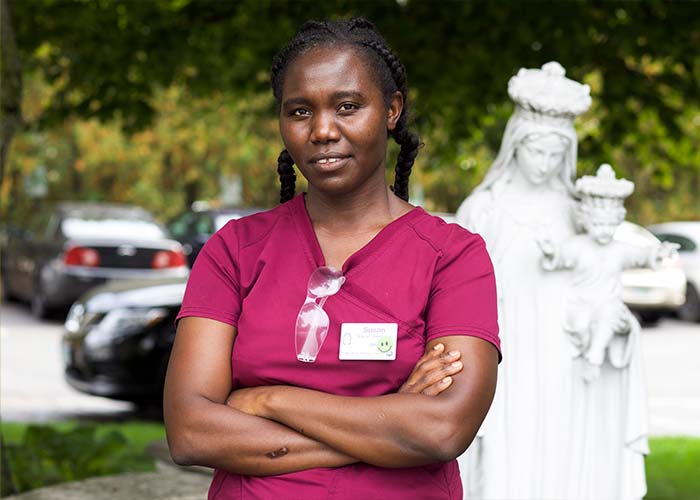 Susan came to Manchester, New Hampshire late last year in search of a better life for her and her three children. But little did she know that she was about to embark on what she calls the "scariest" time of her life. Susan is a licensed nursing assistant at
Mt. Carmel Rehabilitation & Nursing Center
in Manchester and a single mother of two boys (ages 13 and 11) and one girl (age 4). She beams with pride when talking about her kids, "My 13-year-old wants to be a doctor. The 11-year-old wants to be a pastor." "They have hearts of gold," she said. "I come home from a long day at work and they always ask how my day was, help me cook and do chores around the apartment," Susan said. "They are always happy and have such a positive outlook."
A New Beginning
Living in Kenya, Susan always wanted to immigrate to the United States. First and foremost, she wanted her kids to get a great education and build a better life. Susan also viewed it as an opportunity to pursue a career in healthcare that she was unable to have in Kenya. In her words, "I really want to serve and help people who can't help themselves." This strong ambition started the day she was born. The nurse taking care of Susan's mother in the maternity ward at the hospital was named Susan. Susan was named in honor of her. While her Mom has passed on, Susan knew that being a nurse would make her proud. Their journey here began in September 2019, after being selected for the Diversity Visa (DV) program lottery, in which 55,000 Kenyans are awarded immigrant visas. Less than two months later, Susan and her three children arrived in Manchester. Her brother lives nearby, so for her, the extra support system was huge, especially in a place where she didn't know anyone else. Within two months of arriving in New Hampshire, Susan was taking classes to become a licensed nurse assistant (LNA). She completed the class in December, then got her first job as an LNA at Mt. Carmel Rehabilitation & Nursing Center (part of Catholic Charities NH) in January, working in the memory care unit. She loved her job. She enjoyed her colleagues and instantly bonded with her residents. It was going better than she could have ever expected. Two months later, it all changed. The coronavirus pandemic came to the United States, bearing down on the nursing home industry like a tornado that gives no warning. Her life, both at work and home, was flipped upside down. Susan worked longer hours while her children were in daycare. Anxiety and confusion set in. TV and newspapers continued to highlight how nursing homes were basically ground zero for COVID 19 outbreaks. She constantly worried, "will I get sick? What about my residents?"
Support Families like Susan's Today
At work, the activities both she and her residents loved went away. She was screened for symptoms daily and limited those she saw outside of work. She would essentially go from work, straight home, to work the next day then back home, with nothing in between. Grocery stores or other errands were off-limits, as were visits with her brother. While Mt. Carmel was able to stay ahead of the virus the first two months of the pandemic – due to strict safety measures and incredible work of dedicated staff like Susan – the unpredictable nature of the virus eventually took hold. In May, there was an outbreak. 31 residents and seven staff members tested positive. Susan was one of them. She had to stay home and quarantine for 14 days. Thankfully, her symptoms were mild and she and her kids were okay. But her mind remained with her residents, "were they okay?" The answer to that question would have to wait. Due to state requirements, since her children were exposed to Susan, they could not return to daycare when Susan's 14 days were up. She now had to be out of work for an additional 14 days.
A Knock on the Door
In total, Susan was out of work for one month. While she still maintained an income, it was not as much as she would have received if she had worked that entire month. She quickly fell behind on rent and was running out of food.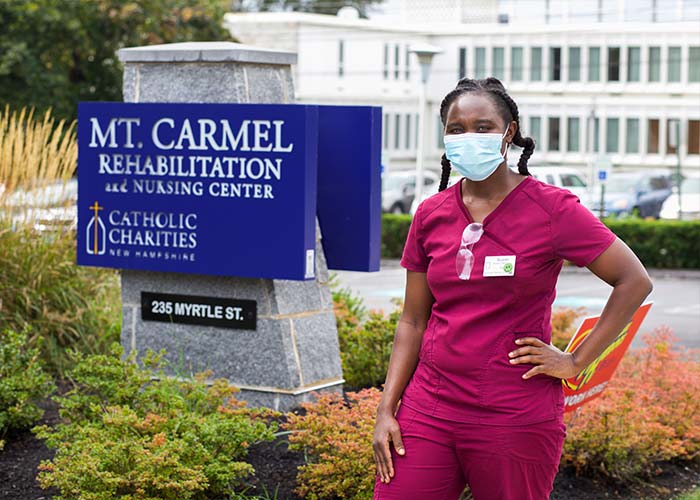 She didn't know what to do next, so she shared her challenges with the leadership at Mt. Carmel. Within a day, there was a knock on her apartment door. It was a culinary staff member at Mt. Carmel, with boxes of food in tow. Through the Catholic Charities NH Crisis Fund, Susan also received a gift card for food for and assistance to pay for daycare. This freed her up to pay the rent. "I am blessed to be part of a team that genuinely cares about you," Susan shares. "They were incredibly helpful at a time when I didn't know what to do next." When Susan was able to return to work, the emotional toll intensified. She learned that some of the residents she had cared for every day – and grown to love – were not there anymore. They were among the few who had passed away. "It was very difficult," she recounts. "I remember sitting down and crying, for a long time." Susan sought counseling through the Employee Assistance Program (EAP) offered by Mt. Carmel. She credits that to helping her cope with the grief and loss that she continues to feel today and brings her perspective for moving forward. It has been a time of sacrifices on the home front, too. "Being a single mother is tough," she shares. "I'm exhausted when I get home, but I need to help cook, make sure that I have enough time to hear about my children's days and what's on their mind, and then help them get to bed. There's less time to do all of that." But Susan is a faithful woman, and she's confident that faith will carry her and her family forward. Her two older kids are doing remote learning from home. When she's at work, a neighbor watches them. She's still searching for a permanent solution moving forward. While things have calmed down at Mt. Carmel for the time being, Susan remains focused on her residents, doing all she can as an LNA to keep them safe. And when the pandemic is over, she'll focus on the future and her goal of pursuing a nursing degree. Until then, she's taking it day by day while being grateful for the support she received through the Crisis Fund. Her message to Catholic Charities NH donors: "Thank you from the bottom of my heart. This assistance has given me peace of mind, both in ensuring there will be food on the table for my kids and allowing me to focus on the job I love so much. You impacted our lives in such a positive way. You're the best." You can support families like Susan's with a gift to CCNH.
Click here to help others facing crisis.