Faith In Action: 2023 Catholic Charities NH Annual Gathering
September 28, 2023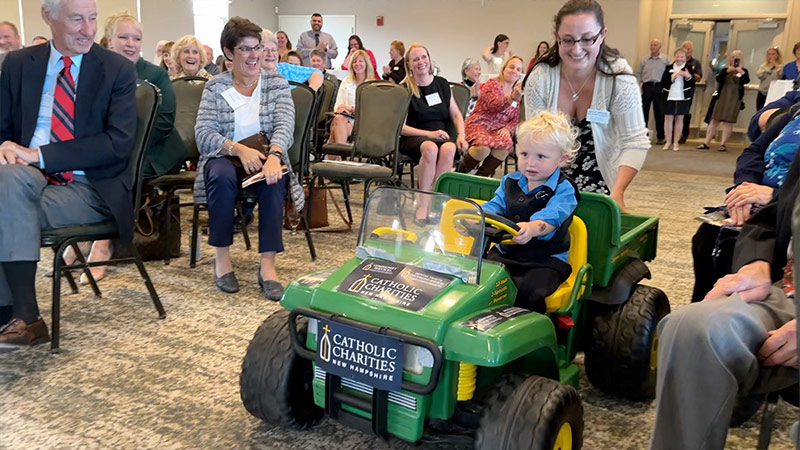 "Faith in Action" is a phrase that finds expression in various ways in our daily work at Catholic Charities NH. It is a concept intricately woven with the core tenets of our faith – belief in God, in each other, and in the common good of all.
"Faith in Action" was the fitting theme of Catholic Charities NH's 2023 Annual Gathering on September 27. Catholic Charities donors, staff and community members came together to celebrate CCNH's work, celebrate recent successes, and explore how this living faith is the driving force behind our mission: providing programs that heal, comfort, and empower our most vulnerable neighbors.
"I'm humbled by the impact we've collectively made – transforming lives and spreading hope to those facing incredibly challenging times," said Tom Blonski, president and CEO to attendees. "Your commitment to our work catalyzes our every endeavor, manifests our faith in action and fulfills our vision of building a just and compassionate society.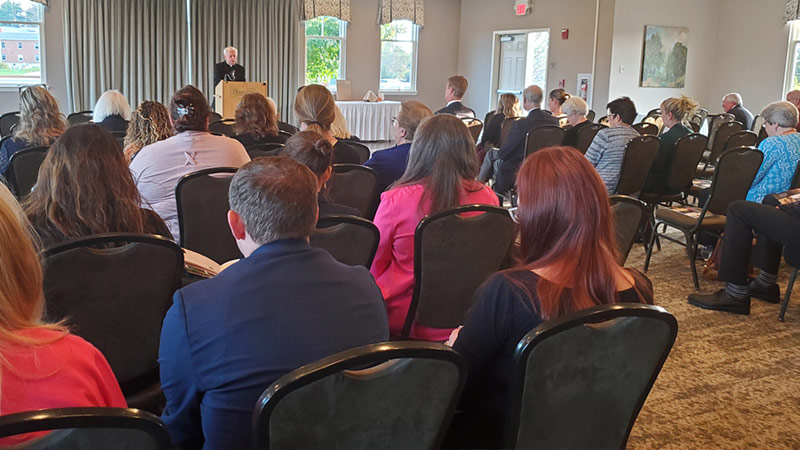 Responding to Increasing Community Needs
Blonski reflected on how this year posed unprecedented challenges for Catholic Charities NH, but it also imparted invaluable lessons. "I can't recall a time in our organizational history where our faith has been put to the test as it was this past year," he shared. "However, our history of resilience and adaptability has taught us how to purposefully leverage these challenging experiences to learn and drive change that upholds human dignity and propels lives forward."
He shared that, over the past year, Catholic Charities NH social services program served 25% more clients. Key milestones included:
Blonski also celebrated the excellence demonstrated by Catholic Charities NH's skilled nursing facilities, all of which received the nationally renowned Pinnacle Quality Insights Award for customer satisfaction. Additionally, he shared the organization's vision for the upcoming year, with a specific focus on addressing workforce housing challenges.
"Together, we'll continue to build a future where love and compassion prevail, and where the most vulnerable among us find solace, support and pathways back toward wholeness," he added.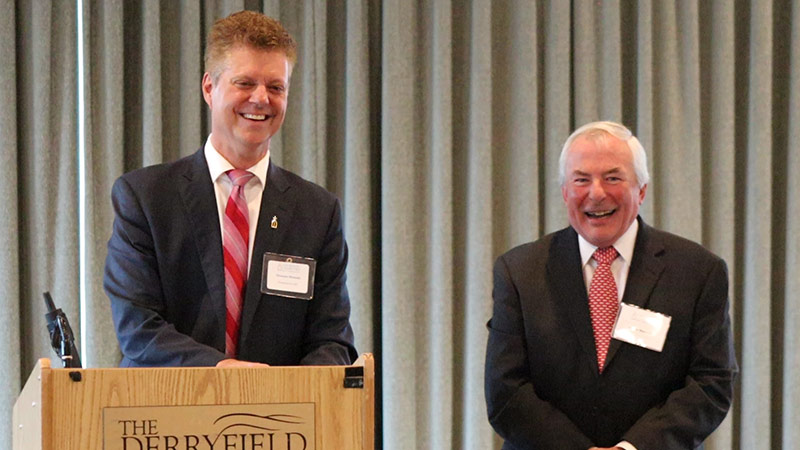 Guardian Angel Award: Kevin Barrett
Outgoing Board of Trustee Kevin Barrett was honored with the Guardian Angel Award, which recognizes exceptional dedication and commitment to the betterment of Catholic Charities NH. A resident of Holderness and a retired senior partner with Deloitte, Barrett served on the Catholic Charities Board for seven years, including two years as Treasurer. He has also contributed to the organization by serving on Catholic Charities New Hampshire's audit and investment committees since 2014.
"A servant leader is a person who enriches the lives of individuals, including the least privileged in society, by ensuring that others' needs are met before their own, and Kevin is the perfect example of that," shared Blonski. "He's helped us for many years to think more strategically and move forward as we developed into a more nimble & responsive organization. Kevin's servant, philanthropic and magnanimous heart goes way beyond what he's done for Catholic Charites NH."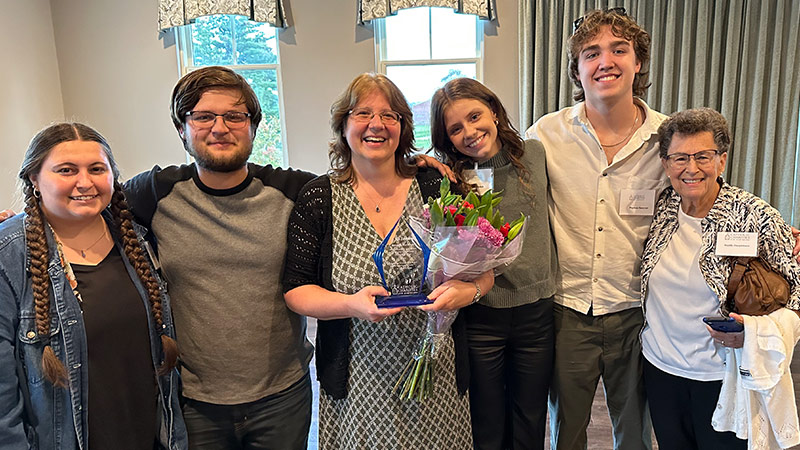 In His Footsteps: Brenda Buttrick
Brenda Buttrick, administrator of St. Francis Rehabilitation & Nursing Center in Laconia, was honored with the In His Footsteps Award. The honor recognizes a Catholic Charities NH employee who exemplifies the core values of Catholic Charities: collaboration, honor, optimism, integrity, compassion, excellence and service.
"For Brenda, it's more important to lead by example and to empower those around her," said Alain Bernard, assistant vice president of healthcare services for Catholic Charities NH. "She is a person who is always giving and taking care of others. She will help in any way needed, whether it's putting on a hair net and washing dishes, serving meals, or giving all the time needed to families or co-workers. She just exudes a natural joy for the world around her."
The evening featured a cocktail hour, appetizers and introductory remarks from Bishop Peter Libasci.
A big thanks to all who came out to make this a memorable evening, and for sharing in our mission to bring healing, comfort and empowerment to those in need.