Hand-in-Hand – Special Program Making a Difference in the North Country
July 16, 2018
If you drove through the North Country during the third week of June, you may have seen tourists flocking to local restaurants, kayakers setting out for local streams and rivers and hikers readying to summit the region's vast landscape of mountains.
What also might have caught your attention was a group of high school students, applying fresh coats of paint and helping local homeowners on a variety of tasks.
These aren't your average landscaping or home improvement jobs either. It was a special group of volunteers with one goal in mind: lending a helping hand to many local residents that really needed one – or normally couldn't find one elsewhere.
June 18 to 22 marked the sixth annual Hand-in-Hand program, hosted by Catholic Charities New Hampshire, connecting high school volunteers, 20 in total, with community members in search of assistance with a wide range of home projects. This particular program was organized by Christina Bertin, parish and community outreach coordinator at Catholic Charities' Littleton district office.
With students from area high schools and youth groups including Davenport School in Jefferson, Littleton High School, Profile Senior High School in Bethlehem, and Youth Movement 360, a youth group based in Littleton, the program successfully assisted five homeowners this year in towns from Landaff to Bath to Littleton.
Willing to Do Anything and Do It Well
These homeowners include Carol Wharton of Landaff. Wharton primarily cares for her husband who has Alzheimer's Disease. They both have health limitations that prevent them from doing many simple tasks around the home.
This is Wharton's second year participating in the program. Last year, volunteers cleaned out her garage, moving items too heavy for Carol or her husband to lift. This year, the volunteers came ready to move wood the Whartons will use to heat their home in the winter months ahead.
"The volunteers moved an entire cord of wood into our basement. That would have taken weeks for us to do by ourselves," Wharton says. "This type of work is often too small for professionals to tackle, and that alone makes these volunteers invaluable."
But Hand-in-Hand is more than just helping homeowners.
"The volunteers learn they can make a difference," Bertin explains. "Although they are in high school, they are old enough to understand the profound impact they are making on many lives. It's a really great way to give back to the community, learn new skills and be moved in ways many can't imagine."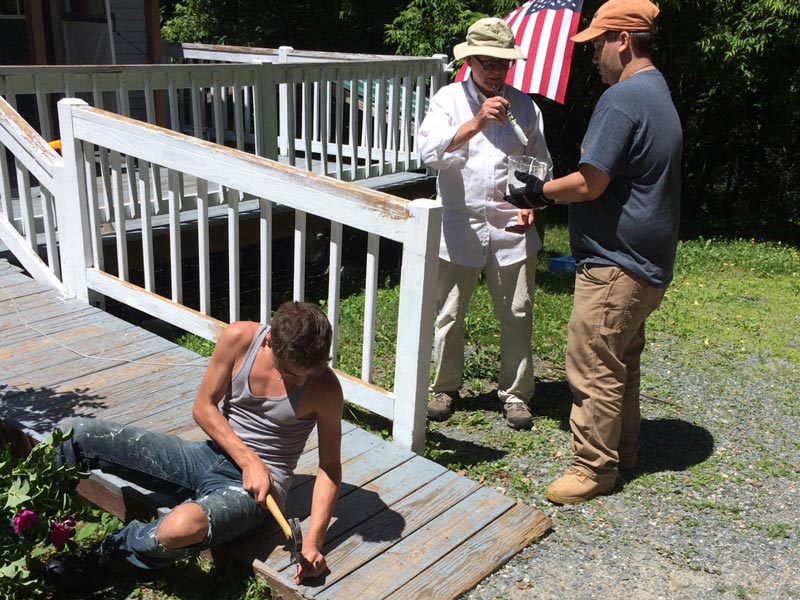 Another Way to Assist New Hampshire Neighbors in Need
Homeowners are selected for Hand-in-Hand through Catholic Charities New Hampshire's Parish & Community Services staff. They identify those that need a little extra help as these individuals often have physical limitations that prevent them from doing home projects themselves. That's where volunteers come in, completing anything from small home repairs to yard work, keeping homes in good condition and looking well-kept.
Homeowners apply if they wish to participate in the program, and from there, John Izzo – a project manager from Presby Construction in Littleton – will do a site evaluation to match the appropriate volunteers with the need.
"The homeowners are extremely satisfied with the work of our volunteers," says Bertin of the program. "It goes a long way in helping them retain a sense of pride about their home."
Interacting with and helping fellow residents teaches these young volunteers about community and the strength in building ties to one's neighbors.
"It's all about community building," Bertin says. "We're teaching a new generation about the value in volunteering – and that lesson is priceless."
For more information on Hand-in-Hand, or to inquire about 2019, please contact Christina Bertin at 603-444-7727 or cbertin@nh-cc.org.