Kassandra: Resilient and Tenacious
November 29, 2018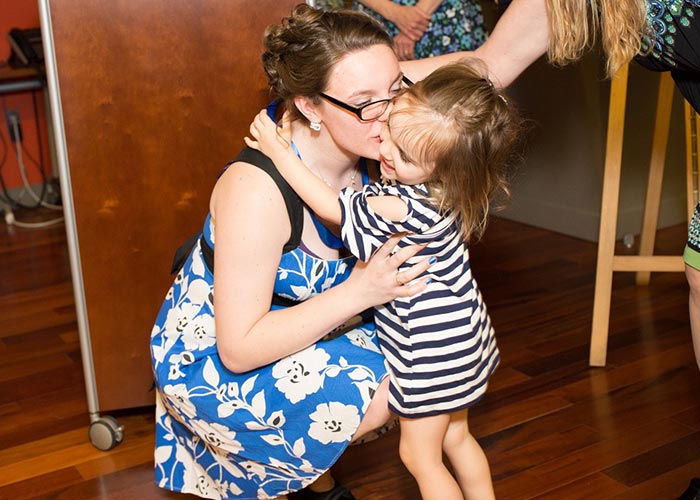 Ever since Kassandra was a little girl, she wanted to be a nurse. After all, it's a natural fit for her – she's that type of loving, caring and selfless person who regularly puts others' needs before her own.
But like many dreams, there is often a long, challenging road standing in the way. For Kassandra, it was a road on which she never thought she would get to the end.
Rewind five years ago. Kassandra thought she was doing everything right, but she was still nowhere close to answering the question that continually went through her head – "How am I going to be able to afford and complete nursing school?"
Kassandra had completed a year and a half of general education credits at Plymouth State thanks to scholarships. Her employer at the time even gave her the flexibility she needed to attend class at Lakes Region Community College, but the scholarships ran out all too quickly. Even then, Kassandra fought on. She and her boyfriend purchased their own mobile home in Plymouth when they found out they were expecting.  When her daughter arrived, Kassandra applied for food stamps and Medicaid through the Department of Health and Human Services to try and ease the burden.
But when her daughter was six months old, something clicked for Kassandra, and her drive to become a nurse burned hotter.
"I recognized that even though I didn't know how to balance school, caring for my daughter, and still managing life and work that I needed to go back to school and I needed to now," Kassandra remembers. "No more ifs, ands or buts because I had to give my daughter the best life I could."
One day, while at the offices of the Department of Health and Human Services in 2016, she first saw the poster about financial fitness.
"It was on the wall, basically speaking out to me," she recalls about seeing that poster. "You can always get better with money and I figured I had nothing to lose."
She called the number on the poster. On the other end was Leonard Campbell, community outreach coordinator at Catholic Charities New Hampshire's district office in Laconia.
Leonard first met with Kassandra and her boyfriend at a coffee shop near their home in Plymouth. He went through their monthly expenses with them and taught them how to use a spreadsheet to assess expenses and opportunities for savings. Once they had a better picture of their spending and savings, Leonard gave them guidance on how to better handle their money given their situation.
"I came to realize we were basically super broke," Kassandra remembers now with a self-deprecating laugh that only too clearly tells of the stressful situation she and her boyfriend found themselves in at the time. "Leonard taught us how to track our expenses and figure out even more that we could cut."
Nursing school – her dream – was becoming a reality.
"Without the help of Catholic Charities, I wouldn't have made it through school," Kassandra says.
"The challenges that Kassandra faced are the same as anyone else," Leonard says of working with Kassandra. "The difference is she persevered. She's resilient and tenacious. She did the work."
Kassandra graduated from the nursing program this year without the detrimental weight of student loans. She's now a registered nurse at a hospital in the North Country and is at that point where she can balance work, being a mother and owning a home. But that hasn't stopped her from tracking her expenses in the spreadsheet like Leonard taught her.
"While I make more money now, I still need to be smarter about how I spend it," she says. "That's an invaluable lesson I would not have gained without the support of Leonard and Catholic Charities.
A part of this is making renovations to her home, and maybe soon, purchasing a single family home where her daughter will be able to stay in one school district through to graduation.
And when it comes to school, Kassandra is still not finished. Thanks to Leonard's counseling, there's no hefty student loan bill weighing her down every month, so she's pursuing her bachelor's degree.
"Mine and my daughter's life will forever be different now," she says about working with Catholic Charities New Hampshire. "If a donor ever wonders if their contribution makes a difference, let me assure you, it certainly does."