Marc Cousineau Named Director
February 5, 2016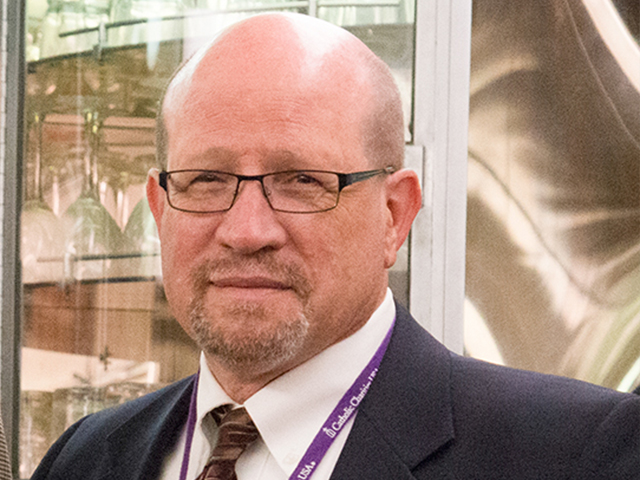 Catholic Charities New Hampshire did not have to look long or far to find its new Director of Parish & Community Services.
Marc Cousineau, who has been the director of the Lebanon District Office for nearly 32 years, was selected to be the third Director of Parish & Community Services in nearly 40 years. He replaces Tony Poekert, who retires this month.
"We are fortunate to have such continuity within our Parish & Community Services," says Thomas E. Blonski, President and CEO of Catholic Charities New Hampshire. "People like Marc and Tony have allowed us to successfully reach thousands of people with the help that they need."
Cousineau and Poekert were hired by Dick Shannon, a previous, long-time Director of Parish & Community Services. Cousineau and Poekert both started their careers with Catholic Charities New Hampshire on the same day – June 25, 1984 after responding to the same ad Catholic Charities posted in the National Catholic Reporter. Poekert, who was the director of the Littleton District Office, replaced Shannon as Director of Parish & Community Services two years ago.
"When Tony took the position, he looked at me and said `you're next.' And it made sense," Cousineau says. "What I learned from Tony and Dick Shannon is that you need some experience in the field to do this job well.  I can offer my experience."
Cousineau joined Catholic Charities after graduating with a Master's of Arts in Pastoral Studies from Seattle University. The California native had family ties to New England, but had not lived in New Hampshire before taking the job in Lebanon. He said he promised Shannon to stay with Catholic Charities for two years, but said he knew it would be longer. He just didn't know it would be this long.
"I sort of left that up to a little bit of luck and lot of Providence, and it's worked out," Cousineau says.
Cousineau can point proudly to programs that he helped implement in his district, including the Loaves and Fishes ministry that is staffed by volunteers and funded by parishioners of Our Lady of Fatima and Immaculate Conception Churches to assist those in need, as well as the Knitting Co-Op.
"People have a need for meaning and community in their lives," Cousineau says.
Poekert says it is "a natural transition," for Cousineau to succeed him.
"We may have very different personalities, but Marc brings some wonderful gifts in terms of community development," Poekert says.