Moriah: The Recipe for Success
August 13, 2019
It's a Tuesday in late July. Moriah Webster and a half dozen students from the New Hampshire Food Bank Culinary Job Training Program are preparing one of their largest catering orders of the year. It involves 350 pounds of chicken, a precise plan and high expectations.
One of the students appears nervous at the tall task ahead of them – but Moriah isn't worried. She's been there before.
As long as you have a plan, you can set yourself up for success," she tells the student.
That's one of the many lessons instilled in her through her experiences with Catholic Charities New Hampshire, first as a client – and now an employee.
A New Mother
Rewind nearly 12 years ago. Moriah was expecting her first child. The second half of her pregnancy was difficult – she was nauseous and getting headaches every day. With a pending move, her anxiety was building. "I was terrified," she shares.
While she credits her family for their firm support, Moriah knew she needed even more help to ease her worries and find her path. She found a local Lamaze childbirth class but didn't have the proper insurance coverage. Then her husband recommended the two words that carry special meaning for her today – Our Place – the pregnancy and parenting education program at Catholic Charities New Hampshire. A week later, she entered Our Place's doors on Oak St. in Manchester for the first time.
"I admit I didn't know the first thing about being a parent at the time," she recalls, but she was motivated and determined to learn. "It mattered that they were willing to help me."
"From the first time she came in, Moriah was eager to learn as much as possible," said Michele Cote, a parent educator at Our Place.
Moriah worked with the Our Place team to help cope with the discomforts and emotions she was experiencing. They also answered her many questions and helped her understand what to expect with labor and delivery.
Moriah enrolled in Our Place in early July 2007. Her daughter, Madisyn, was born in late August. Moriah was still anxious, but also eager and excited for the new phase of her life as a mother. But her work with Our Place didn't end there. It was just beginning.
Moriah views the Our Place team as her beacon and saving grace in the early days of Madisyn's life. In the midst of unpacking, breastfeeding difficulties, and the "baby blues," she was finding it difficult to deal with the regular lifestyle adjustments that come with parenting.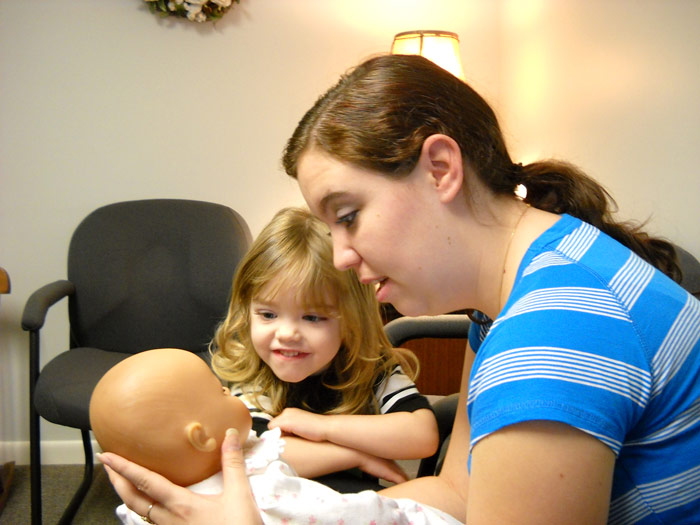 As she moved on to the parenting piece of the program's curriculum, combined with the weekly hour-long conversations with Michele, she began to find herself. She also credits Sue Willant, Our Place's former nurse educator, who "was always a phone call away" for helping her through her initial challenges with breastfeeding.
Our Place made sure she was not only taking care of Madisyn but also taking the time to take care of herself. At first, Madisyn would be up many times during the night. Moriah felt more and more like she was running on energy reserves. The Our Place team taught her about sleep scheduling and the importance of routines for her daughter.
"Having someone support you like Our Place did – and explain what you should be doing and looking for – is priceless," Moriah says. "They gave me the confidence to know that everything was going to be okay, and I could do it."
Before Madisyn turned one, she was reaching milestones earlier than expected, sitting up and holding items. That is when Moriah started seeing the profound impact Our Place was not only having on her – but her daughter as well.
Moriah looks back to when Madisyn was around two years old. Her daughter would have the type of tantrums that are normal for a child that age, yet were still difficult to manage. Moriah drew from the discipline techniques she acquired at Our Place. She also shared this information with her family, so they would have consistent parenting strategies and forge a stronger family unit.
"I learned the key was being consistent," she shares. "You have to hold yourself accountable. It's hard, but if you have practice and patience with the lessons they provide, things will fall into place."
Madisyn is almost 12 years old now, and Moriah couldn't be more proud of her. They have their "mother/daughter time" playing Board games frequently (their favorite is Life). She gets straight A's in school and never complains about doing homework. "She knows it's her job and responsibility," Moriah says, as it becomes clear the lessons she herself learned from Our Place are carrying on to her daughter.
Think before you act or speak. Don't let your emotions get the better of you. Never be afraid to speak your mind, as long as you do it in a non-confrontational way. Accountability, consistency and structure are critical.
Before bedtime every night, the two go over Madisyn's plan for the next day. As long as you have a plan, you can set yourself up for success.
While Our Place provided the tools to build a loving, caring and safe home for Madisyn, what Moriah didn't know yet was it would open the doors to the next phase of her life – her career.
The Recipe Takes Shape
Moriah is now the production assistant for the Recipe for Success Culinary Job Training at the New Hampshire Food Bank, a program of Catholic Charities New Hampshire. The eight-week course helps unemployed individuals gain the culinary and job skills to seek employment in the food services industry. For many of those students, Moriah – along with Chef Instructor Jayson McCarter and Production Chef Paul Morrison – are not only viewed as instructors. They are mentors.
Moriah has worked with more than 80 students in her two years at the program. She was once in their shoes.
While at Our Place, Moriah took part in a six-week Cooking Matters program, learning how to prepare healthy and affordable meals for her family. It's where she first met McCarter, who mentioned Recipe for Success. With Madisyn about to enroll in kindergarten, Moriah felt this could be her chance to start building a career and provide even more support for her family.
She jumped at the opportunity to interview for the program and was accepted. After graduating, Moriah got a job as a cook, working at a couple of local restaurants and then as a chef supervisor at another job training program, where she gained more hands-on skills and guided culinary students to achieve their own goals, just as hers continued to unfold.
Several months later, her phone rang. It was McCarter. He was seeking a Recipe for Success production assistant. Having worked with Moriah in the past, he knew she would be the perfect fit.
"Within one week, I knew this was the job I always dreamed of," Moriah recalls. "Even if you're hard at work making 3,000 meals a week or feeling incredibly overwhelmed, knowing you're making a difference in the lives of our students is what matters most."
"Moriah isn't just a great person and incredible worker, she's the line that connects the dots of what all of our services represent," said McCarter. "There isn't a better example of outcome and effort to showcase to our students that success is available to all of us."
It only takes a few moments watching her interact with the students to know she's thoughtful, calm and patient, though firm and honest when needed. "I want them to come in every day to learn, ask a hundred questions and not be afraid to fail, because if they fail, they can get right back up, work harder and do it again," she adds.
She credits the Our Place experience as she sets a positive example for her students. If a student is having a difficult time, she will pull them aside and share one of her favorite pieces of advice from Michele. Everyone has a bad day. And just because one bad thing happens doesn't mean your day is ruined. Sometimes you need to lean and rely on someone.
"When you have a teammate like Michele was to me, and I strive to be to my students, it builds confidence," Moriah reflects. "Our Place taught me to be accountable and believe in myself. At the end of the day, it's your responsibility to take control of what you want. It's the lesson that keeps on teaching."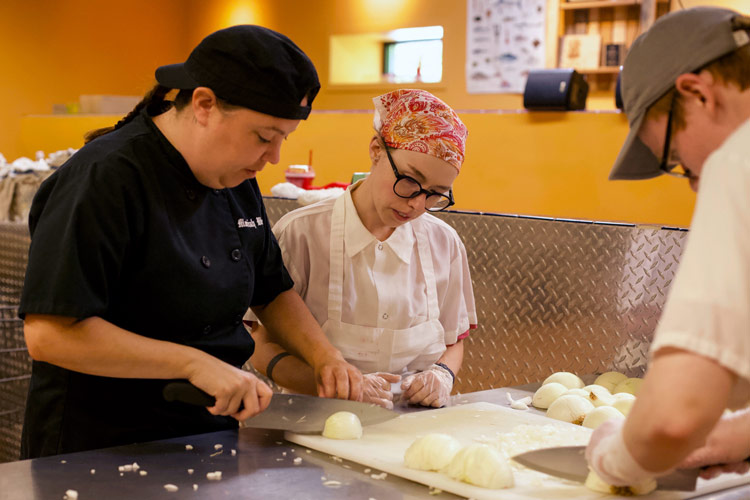 Giving Back.
Moriah is still very much involved in Our Place, and now Madisyn is too. They regularly volunteer for the program's seasonal holiday parties – Christmas, Easter and Halloween – at its Nashua office. This past fall, she and Madisyn were the photographers at the Halloween party for the second straight year.
"Our Place is a huge part of me growing into the mother and responsible adult that I am," Moriah shares. "If I volunteered for them at every party for the rest of my life, it still won't feel like enough."
"Working with Moriah and her daughter Madisyn over the years was pure joy," Michele says. "We both learned so much from each other. I couldn't be more proud of the caring, loving and giving person she has become. She is truly one of a kind."
"It has been both a pleasure and honor to see this bright and caring young woman make the most of her experiences with two Catholic Charities programs, both which had a profound difference in her and her daughter's lives," said Karen Munsell, supervisor of Our Place. "Our tagline at Catholic Charities is 'Moving Lives Forward,' and Moriah is the perfect example of that."
Moriah has a message to Catholic Charities New Hampshire donors.
"Thank you from the bottom of my heart. Without you, people wouldn't have the opportunity to do better things. There would be no Our Place, and I would not be a successful parent or have the career path I have today.
Everything that I am today is because of hard work and utilizing the resources that Catholic Charities offers. They are proof that if you need help, someone will be ready and eager to steer you in the right direction."