Mt. Carmel: A Collaboration of Overtones
February 20, 2019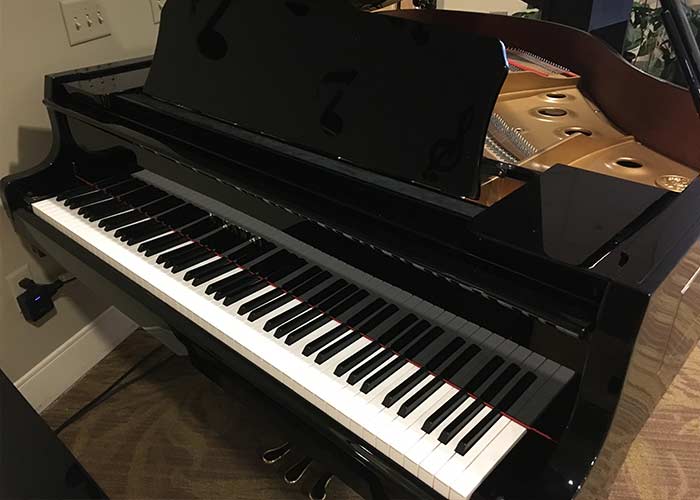 Laura and her daughter, Katie, didn't know Bob before they started volunteering at Mt. Carmel Rehabilitation and Nursing Center in Manchester.
Laura and Katie are members of The National Charity League – Southern New Hampshire Chapter, a mother-daughter organization committed to fostering socially responsible community leaders while strengthening the mother-daughter bond. As a part of this experience, Laura and Katie began visiting residents at Mt. Carmel, touting an electric keyboard.
Katie, who is an avid musician, would play for the residents in common areas, or even bedside for those who were unable to leave their rooms easily due to medical issues. Having music brought to them was an unbelievable blessing.
Bob was one of those residents.
Bob is confined to a wheelchair and has less easy opportunity to interact with residents and staff. In their first visit, he drew Katie by surprise.
"He lit up and asked her to back up a few measures," Laura recalls, the smile clear in her voice. "It became clear that he knew more about music than he let on."
Bob was once a music educator and despite his current physical limitations, his mind was still active and sharp, as evidenced by his growing enthusiasm and interaction with Katie's piano playing.
"It became a regular Friday activity," Laura says with a laugh. "Bob still has so much to give, and it was clear the effect music had on him."
Laura and Katie visited with Bob every Friday, Katie still hauling the electric keyboard along. With each visit, Bob and Katie developed a growing relationship as teacher/mentor, student and friend through the weekly lesson.
More Than a Piano
Then Laura heard through Megan Cairns, the NCL liaison with Mt. Carmel, that Kathy Dager, ADNS at Mt. Carmel, was hopeful about getting a piano for the lobby.
This is not just a piano. It's a grand Kawai in polished ebony that would make its home on the main floor of Mt. Carmel for all residents to enjoy, and also be a critical addition to Mt. Carmel's "NH Memories," a Music and Memory Program that uses the power of music to improve the lives of those affected by Alzheimer's, dementia and other forms of memory impairment.
"Kathy had seen a similar piano at a facility in Connecticut," Joe Bohunicky, administrator at Mt. Carmel says. "And I knew our residents had to have it."
Such a piano comes equipped with a computer that allows the piano to play itself while syncing with another computer that projects the lyrics of songs on a screen for residents to sing along. The computer contains thousands of songs from every era, ensuring there's always something a resident would remember. This is where NH Memories comes in.
"We wanted to engage the residents in every way possible through music because of the studied benefits, and this is the perfect instrument for that to happen," said Bohunicky.
But while the benefits were invaluable, the cost was prohibitive. Kawai pianos are built in Japan and shipped to the United States. In the case of a computerized player Kawai, the piano is then outfitted with a specialized computer to allow the piano to play on its own while syncing with lyrics on an external computer. All of this adds up.
Thanks to the generosity of some amazing donors, the cost didn't stop the piano from happening.
"This was an idea that everyone got behind," Bohunicky recalls, a big smile spread across his face. "It was the ultimate collaboration."
The National Charity League – Southern New Hampshire Chapter designated Mt. Carmel and specifically the piano project as the recipient of its annual fundraiser, raising $4,500 in support of the effort.
But it didn't just stop there.
Coming Together to Make It Happen
Others had heard about the piano, and more importantly, knew about Laura and Katie's musical visits to Mt. Carmel.
That's how Ray Truncellito and his wife, Barbara, got involved. Barbara is a resident at Mt. Carmel and loves music. Ray knew he had to do this for his wife. Not only did he put forth his own funds to support the piano effort, but he also connected Mt. Carmel with The Frederick Smyth Institute of Music, which gave a generous grant toward the piano.
"It was incredible how everyone came together to make this happen," Laura says.
Finally – thanks to the National Charity League – Southern New Hampshire Chapter, the Truncellito's and The Frederick Smyth Institute of Music – the piano was a reality.
"This special gift is perfect," Joe says now, standing next to the piano that has already impacted so many lives in such a short time.
But none, more so than Bob.
Now Katie and Bob spend their Friday afternoons at the Kawai.
"There's such a change in him," Laura says with excitement. "I notice a real difference because he's engaging again in a way that allows him to relate to his passion in music and teaching. At the same time, Katie and I have benefited from Bob's knowledge and generosity mentoring Katie. Who would have known all this would come from a simple volunteering effort. It's truly moving."