Mt. Carmel Finishes $5m renovation
June 5, 2014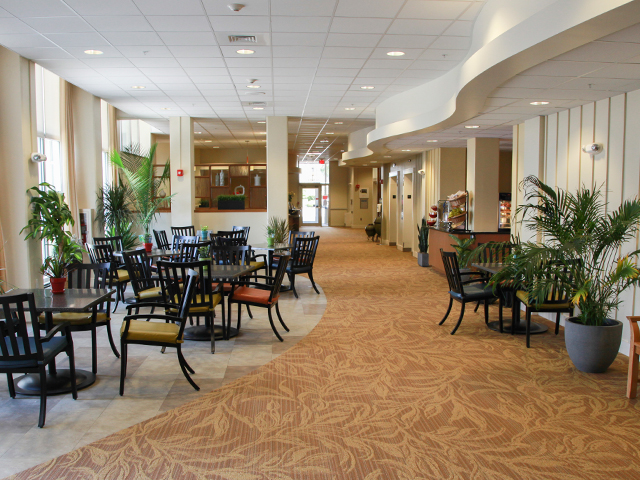 Catholic Charities New Hampshire has completed a $5 million renovation of the Mount Carmel Rehabilitation & Nursing Center in Manchester, N.H. The renovation upgrades Mount Carmel's facilities and allows the center to provide greater service to its patients and residents.
The main focus of the renovation project was improving short-term patient service and care by constructing a new short-term rehab unit consisting of 19 private rooms, a rehab gym and a residential-style kitchen and bathroom, which act as occupational therapy resources.
As part of the renovation, six "Small House" concept "neighborhoods" were constructed, each with their own kitchen, dining area and other amenities. The center now has 96 private rooms out of 120 licensed beds, and the fully-renovated ground floor offers a café, beauty salon, educational area and multi-purpose activity room.
CCNH President and CEO Thomas Blonski stated: "Mount Carmel is our flagship rehabilitation and nursing facility. These renovations have made the building an ideal place for our person-centered care approach to flourish and move our resident's lives forward with love and dignity."
A ribbon-cutting ceremony was held to mark the completion of the Mount Carmel renovation. Attendants included Bishop Peter A. Libasci from the Diocese of Manchester, CCNH Staff, Mount Carmel residents, staff and family members. Mount Carmel is now in the process of redesigning its exterior courtyard into a healing garden which will provide patients and residents with a therapeutic outdoor space.