Mt. Carmel Opens New Entrance
January 27, 2017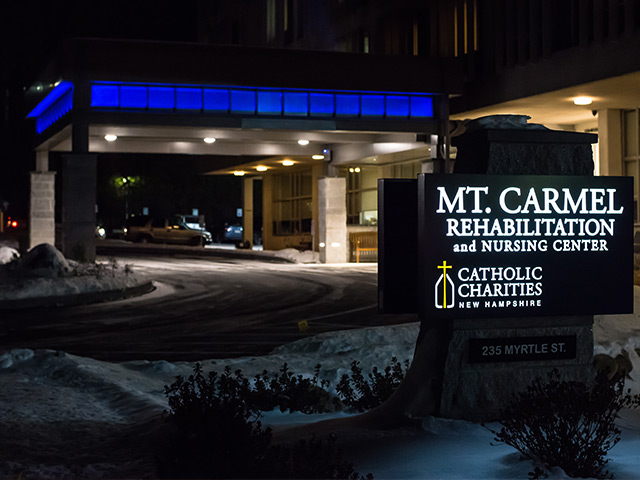 Other centers slated for upgrades in 2017
Seeing blue? The raised awning in front of Mt. Carmel Rehabilitation and Nursing Center is subtly lit in cobalt blue – creating a sense of safety, beauty and serenity at the Manchester site.
It is part of the new portico that stands at the entrance to the 235 Myrtle St. facility. Fresh landscaping enhances the front lawn and the semi-circular driveway that passes beneath the portico.
"It gives visitors and residents an area that is protected from the elements so they can be dropped off right at the entrance," Mt. Carmel administrator Joe Bohunicky said.
Construction on the new entrance began in September. It formally opened the week before Thanksgiving. The final touch will be to rim the driveway with ground lights.
This year will see major renovations undertaken at Warde Rehabilitation and Nursing Center in Windham and St. Francis Rehabilitation and Nursing Center in Laconia, said Michael Takesian, assistant vice-president of Healthcare Services at Catholic Charities.
Both expansion projects are slated to begin by early spring and will enhance current services and improve the layout of the buildings, he explained.
In addition, a wing at St. Ann Rehabilitation and Nursing Center in Dover is undergoing renovation and refurbishment. That work should be done by spring.