Responding to COVID-19: Immigration Legal Services
December 9, 2020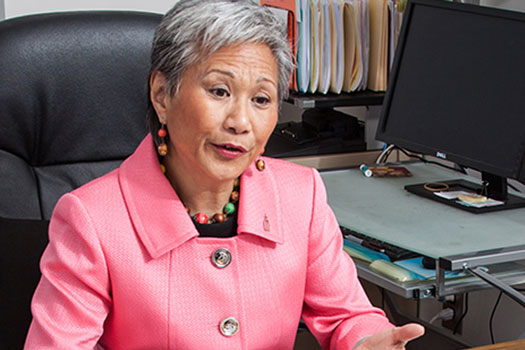 For the hundreds of New Hampshire residents in need that we proudly serve, the financial and emotional fallout of the COVID-19 pandemic has been more devastating than most can imagine. This includes the many individuals and families served through our
Immigration Legal Services
program, which provides legal consultation and representation for a wide range of immigration needs. To learn how the program is adapting to the growing demand for its services – and a look at the road ahead – we spoke with the program's Managing Attorney, Kimberly George.
How would you characterize your program over the past year?
We've had to innovate and adapt to how we continue to meet the needs of immigrant communities across New Hampshire. The most significant change was a complete shift to virtual platforms, such as Zoom or the phone, to meet with clients and share key information and policy changes with various immigrant communities. We've also conducted various presentations online and created an informational video on the new Public Charge rule, which was a major change in the processing of family-based green card cases. In all, while the way we do our work is much different than this time last year, it's been a fairly seamless transition.
How are the struggles that your clients face different right now vs. this time last year?
Generally, our clients are facing more direct financial difficulties because of the crisis. Fortunately, we received a $25,000 grant from the Eastern Bank Charitable Foundation, which has been extremely helpful in covering legal fees for those who otherwise wouldn't be able to afford it. Food insecurity and access to basic necessities are also growing issues. Bruno Soares, one of our legal representatives, has done an excellent job recognizing the need and going above and beyond. He's worked with the NH Food Bank to secure and personally deliver food to many of our elderly clients. This dedication and commitment to our clients have been incredible to witness.
As we move into the new year, what worries you most about the next few months? Where do you see the most significant needs among your clients?
The financial and emotional impact of the pandemic, especially as we enter the winter months. Many are struggling to get by, literally on a day-to-day basis. We expect the financial challenges to persist, as well as the increasing demand for assistance around mental health, access to food and other essential needs, especially if there's another stay-at-home order. Domestic violence also sadly rose during the pandemic, as families are spending more time at home. Our Victims of Crime Grant legal team (Attorneys Basra Mohamed and Vivian Karian) have seen a rise in these cases over the past few months and anticipate this trend to continue. And because of the traumatic crimes committed against them, most will require extensive support beyond legal assistance. We'll be here, ready to do all that we can to help them escape devastating cycles of abuse.
Why is donor support (which funds programs like yours) even more critical this year?
Donor support ensures that vulnerable and low-income immigrants will continue to receive critical services in these uncertain times. Our clients are experiencing much more than immigration needs; they also need financial, mental health and family-based support, among other areas. Because of donors, we able are able to more holistically address their challenges through both immigration legal services and referrals to other Catholic Charities NH programs, creating more successful paths forward for them.
Are there any particular moments/client interactions that you are most proud of over the past year?
I'm incredibly proud of our team. They worked remotely for the first five months of the crisis, serving our existing clients and taking on a steady stream of new clients. They've done a tremendous job recognizing the needs of each client, and when needed, facilitate the connections to services – either within Catholic Charities or outside in the community – that many desperately need at this time. To learn more about our Immigration Legal Services program,
click here
. To help support the program and extend its reach to more New Hampshire residents in need,
click here
.