St. Teresa: Bonding Over Baseball
September 6, 2018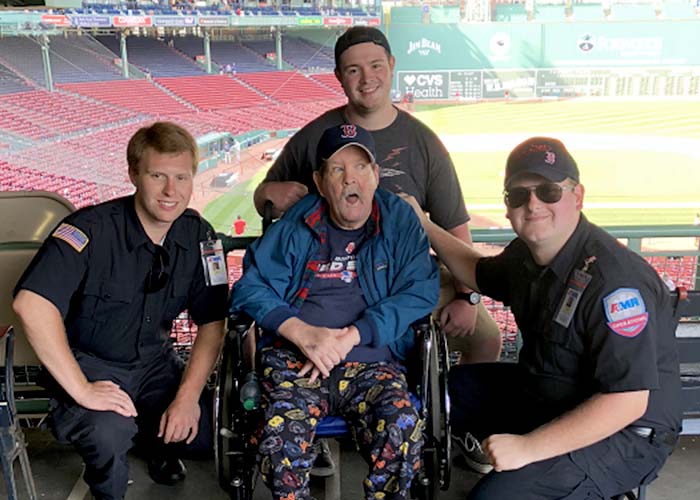 When Scott and Tyler pick up Jack, they always make sure to have the Red Sox game on the radio.
Jack, who grew up a few miles from the storied Fenway Park, has been a die-hard Red Sox fan since he was a kid going to the games at Fenway. He recounts stories about his favorite player, the great Carl Yastrzemski. And everywhere he goes, he takes his beloved Red Sox hat.
"I don't know what he looks like without the hat," Scott jokes, bringing a smile to Jack's face.
Scott and Tyler pick up Jack three times a week. They've been doing it for about a year now.
Jack is a resident at St. Teresa Rehabilitation and Nursing Center in Manchester, and he receives dialysis treatments three times a week at a facility downtown. Scott and Tyler, drivers with American Medical Response (AMR) in Manchester, transport him because Jack uses a wheelchair.
It's hard to miss Jack's love of the Red Sox, and seeing someone three times a week builds a bond over baseball very quickly. Jack doesn't say much, but when he does, you can bet it's something about the Red Sox. That's how Tyler came up with the idea to take Jack to a game. He hadn't been in over 30 years.
"We should make this happen," Tyler recalls when asked how the idea started.
From there, he forged ahead with a plan to get Jack to Fenway. It was going to take a lot of moving parts and quite a bit of effort, but Tyler was determined. He wanted Jack to be part of this historic Red Sox season. There wasn't an option to fail.
Tyler went to Luanne Rogers, NHA, administrator at St. Teresa, first.
"Every time I hear or see about the Red Sox, I think of Jack," said Luanne. "There aren't many bigger fans than him. He never misses a game on television."
"Just coming up with the idea shows an amazing generosity," Luanne says about Tyler's effort. "This is another example of how we – our staff, residents and all those around us – are truly a family here."
"Tyler and Scott went above and beyond with the idea itself. "It's all about relationships and family here at St. Teresa. You learn the residents' dreams. This was Jack's."
Scott and Tyler never let him miss one either, always keeping the game on the radio in the transport van. It was time to make Jack's dream come true and return to Fenway even when it seemed impossible.
With Luanne's approval, Tyler then went to his boss, Rocco. Tyler would need special transport to get Jack to Fenway, and that would mean a wheelchair van from AMR. Rocco was only too happy to give the thumbs up and arrange for the approval from the regional manager.
Scott and Tyler picked three dates that coincided with their days off from work and confirmed those would work with Jack.
Luanne, meanwhile, had secured a licensed nursing assistant, also a Red Sox fan, to accompany Jack. All of the pieces were in place.
"I'm surprised at how quickly it all came together," Scott recalls about Tyler's initiative.
It was the day before the game when the news came through. The Red Sox gave them two tickets for Jack and his aide, and Tyler and Scott quickly bought two more tickets with their own money to sit right behind Jack.
But to Jack, no surprise was needed. The entire idea was so baffling to him; he couldn't even believe it when Luanne told him.
"We went in that very morning, and said Jack, 'you're going to a game,' and in his usual joking manner, he said 'no, I can't right now," Luanne recalls with a smile.
But when Scott and Tyler arrived to pick him up, Jack was ready to go.
The seats were perfect, with a nice view of the diamond from right field. The likes of J.D. Martinez, Andrew Benintendi and Mookie Betts were right in front of them.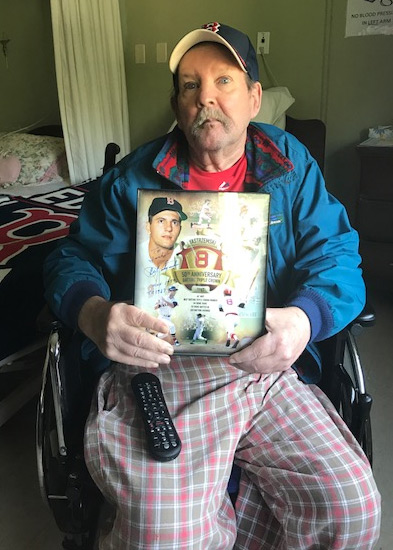 As for Jack, "He was in the zone," Scott remembers, his face bright with a smile.
The day couldn't have gone more perfectly, and for Jack it really was a dream come true to be back at Fenway.
When asked about the day, Jack said only one word, a slow smile coming to his face, "Happy."
It didn't end there. Tyler wanted to make sure his friend would always remember their day at the ball park, so he pulled a few strings as he's proven he's quite good at doing. He got Jack a photo of his favorite player, and what's even better, it's signed by the legend himself, Carl Yastrzemski, with a special note – "To Jack."
"It now hangs in his room," Luanne explains with a smile.
The perfect memory of the perfect day.