The Art and Craft of Volunteering
April 16, 2018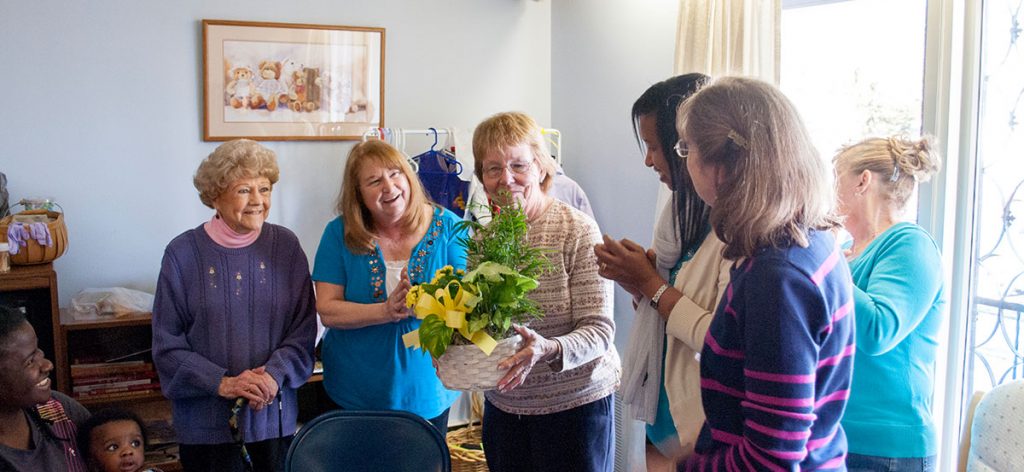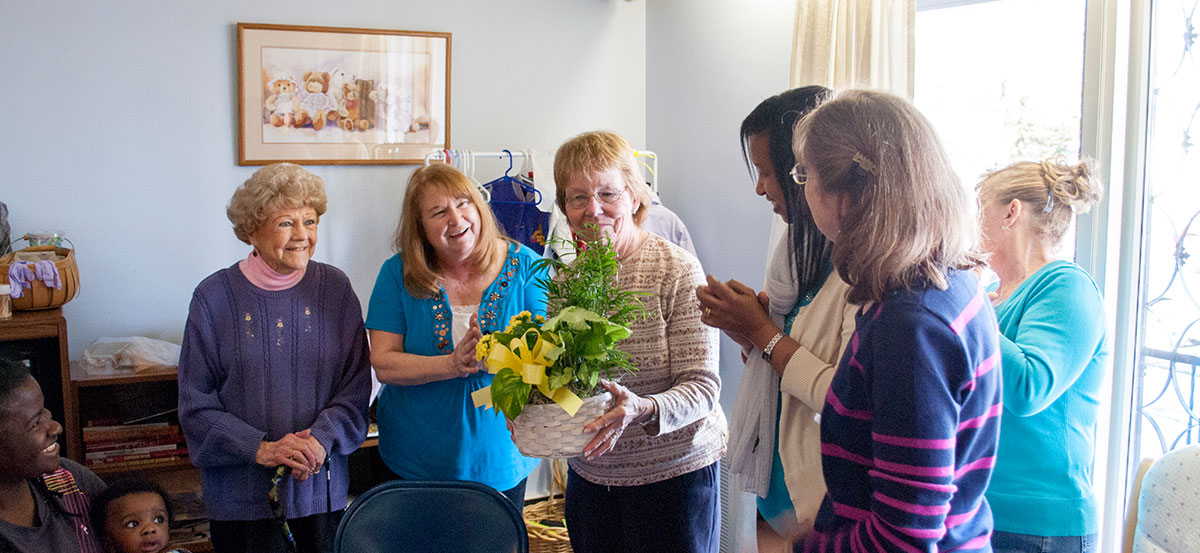 Two children are sitting at the table intently focused on the arts and crafts project. They're creating animal figures from Air-Dry Clay.
"This is hard!" one of the youngsters proclaims. The other nods her head in agreement.
Mary Lizie, the 76-year-old grandmother of three, comes to the rescue. She patiently walks the young girl through rolling the clay and placing it into the mold. Seconds later, the white bird appears.
It's late March and the day of the Easter Party at Our Place, Catholic Charities New Hampshire's pregnancy and parenting education program that's been a staple in the Manchester community since 1982, most of which Mary has been part of.
Look around the room, and you'll see several children with their parents. These are the parents who first came to OUR PLACE scared and staring in the face of poverty – and today, they are proud and confident parents. You'll also find OUR PLACE's staff of social workers and nurse educators, who provided these young families with the parenting skills, education and knowledge to raise their children in loving and secure homes.
Then there's Mary, the retired nurse who lives a few blocks away from the ranch-style home on the corner of Oak Street and Orange Street in Manchester. In fact, she has technically been here the longest, volunteering her time and passion for the arts over the past 20 years, while bringing joy and smiles to countless parents and children.
Rooted in Manchester
Mary grew up in Manchester, the daughter of a stay-at-home mother and a mill worker. She graduated from the Our Lady of Perpetual Help Grammar School and St. Joseph Girls High School in Manchester before becoming a student nurse at Sacred Heart Hospital, which was founded by one of Mary's cousins. She eventually moved to Boston to work at Massachusetts General Hospital, saving up enough money to go to college – at the University of New Hampshire – to study Biology. It's there she met Arthur, her husband.
Mary and Arthur have been married for 51 years, with two children and three grandchildren. They have traveled to 64 countries, and according to her, "have walked every single street in Manchester together."
Mary went on to have a successful 29-year career as a health educator at Memorial High School in Manchester before retiring at the age of 59.
Carrying on a Father's Passion
Mary's long-standing service to OUR PLACE and Catholic Charities New Hampshire started with her father. "His big saying was that all you need is food, shelter, clothing and love," she reflected. "The rest is gravy."
"Much of our gravy went to Catholic Charities New Hampshire," said Mary. "My father was a big advocate for the work they do. The passion for this organization – and its mission – is in my blood."
Upon retirement, Mary knew there were many chapters left in her book. She wanted to try something new. "When I retired, I discovered there were tons of things you could do," she said. "But you have to narrow them down."
This led Mary to the New Hampshire Institute of Art, where she discovered a passion for the arts. "There I was, a retiree taking college courses aside people over 35 years younger than me!" Mary said. "While others were enrolled to get credits, I was doing it for fun."
While at the New Hampshire Institute of Art, Mary took notice of a small house down Concord Street with the white Catholic Charities New Hampshire sign out front. It was the former home of OUR PLACE. One day, she knocked on the door, sharing a bit about her father's love for Catholic Charities, her experiences in art school – and an idea that would translate into a role at OUR PLACE. 20 years later, she remains an arts and crafts volunteer.
"I love kids and I love art, so this was the perfect fit," said Mary. "Dedicating my time to OUR PLACE not only affords me the opportunity to share my experiences and education with others, but it's also a chance to give back to the community I grew up in."
Having seen hundreds of young mothers and children pass through these doors, Mary knows OUR PLACE is a special place.
That's even the case for Arthur too, who often accompanies Mary to parties like this, which they host around Christmas, Halloween and Easter.
"Mention the word OUR PLACE and Mary lights up. She loves being a volunteer," Arthur says. "Even if the next party or event is a few weeks out, she gets excited, gathering all the materials well beforehand to ensure the children have more than enough to work with. It's quite the sight."
"The charitable impact of Catholic Charities is unmatched," Mary said. "If someone likes to volunteer and you adore children, OUR PLACE is the place for you."
"OUR PLACE wouldn't be what it is without people like Mary," said Karen Munsell, supervisor of OUR PLACE. "She is one of a kind and brings so much passion and enthusiasm to her role as a volunteer. She truly enjoys creating memories for the children."
On a recent home visit with one of her clients, something on a shelf caught Munsell's attention. Displayed front and center was a child's piece of art, from a holiday party a few years back.
These memories last – all thanks to Mary.
Volunteering with Catholic Charities
Discover how you can move lives forward on our volunteering page.