The Feeling of Home – Family Photos
June 13, 2018
Walk down the halls of Mt. Carmel Rehabilitation and Nursing Center in Manchester, and you'll see something you likely never have before. Clusters of photos in ornate frames adorn the walls. There is a photo of smiling newlyweds. Another of two children posing next to a snowman. And one of two sisters enjoying a precious summer moment.
Upon closer inspection, you'll soon learn these are photos of the residents. They speak to years of beloved memories and time with loved ones. Each one tells of a cherished memory from one of the residents, and often includes a saying to go with the story. The sayings on the wall remind one of family, hope and joy.
"It's their home," Joe Bohunicky, administrator for Mt. Carmel says about the residents. "One of the first things you see in your home is photos. So that's what we want them to see first here."
The effect is powerful. In a special way, it emulates the feeling you have inside of a home.
"The residents love it," Joe goes on. "They'll find themselves in the photos and laugh and say 'that's me!' And then other residents will ask them who is in the picture with them. They feel honored to be asked to have a photo on the wall," Joe says with a humble smile.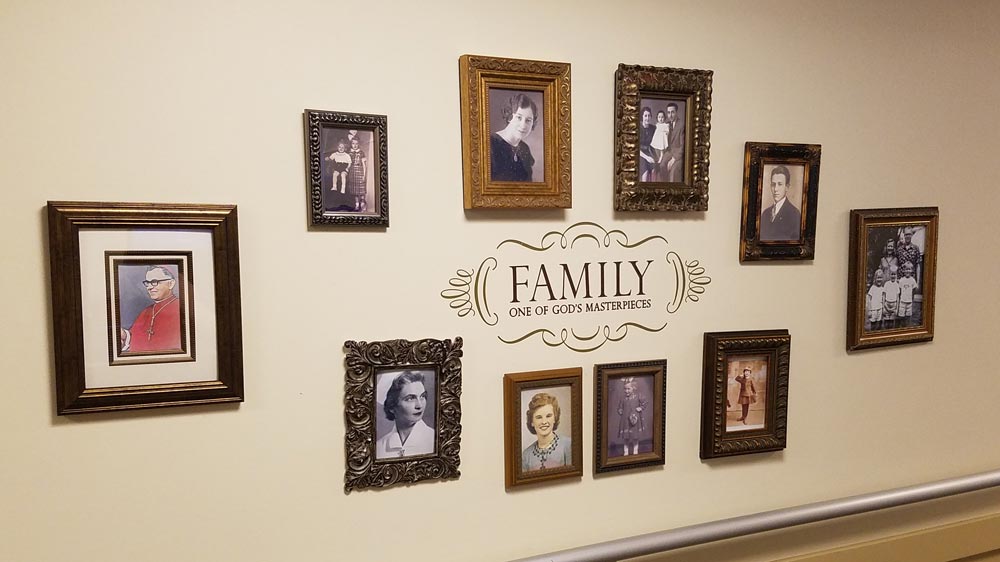 It's About Family
Joe Bohunicky, NHA has been with Catholic Charities Healthcare Services for more than thirteen years. The idea for the family photos actually stemmed from his time at St. Teresa Rehabilitation and Nursing Center, another Catholic Charities facility, about ten years ago.
"We are all about person-centered care," Joe affirms. "Everything that we do is for the residents, first and foremost."
That is clear when hearing about how the photos have come to be on the walls. Joe spent more than six months curating the photos, having them resized and copied, and finding just the right matching frames and corresponding sayings for the walls.
"The idea is to center on the resident feeling at home. I wanted to make sure we got it right," Joe says.
The family photos have become so much more than Joe could have ever guessed.
"When touring our facilities, it's one of the first things families and prospective residents notice," Joe says, joy evident in his expression.
And Family Always Comes First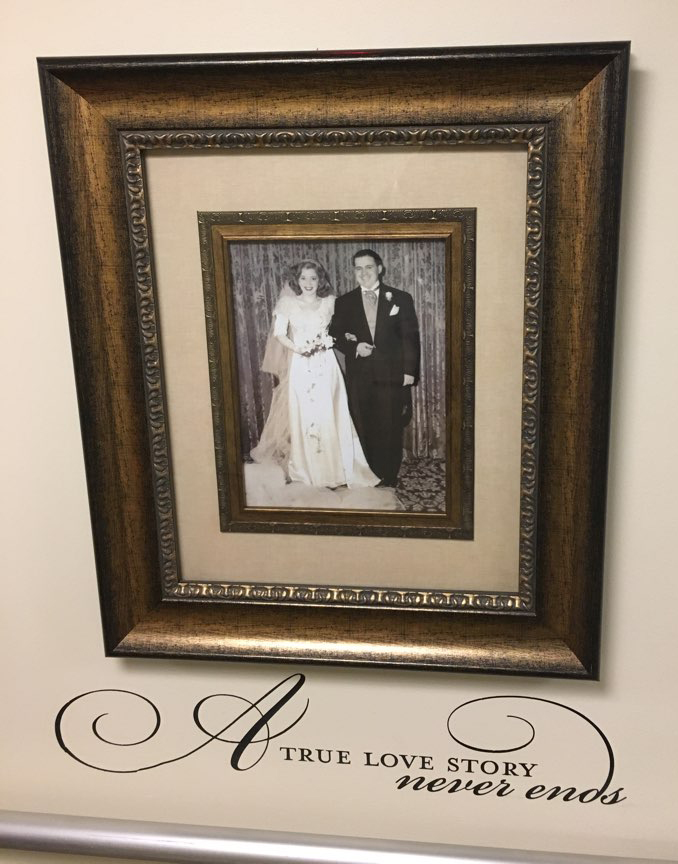 What started out as a good idea more than ten years ago at St. Teresa has turned into a treasured part of living at Mt. Carmel.
That is never more evident than in the story of a man whose wife was a resident in Mt. Carmel's dementia care unit. Joe asked the man for a photo from their wedding. The husband happily agreed, but he never expected what Joe would do with it.
Joe had the photo enlarged and framed, and he put it up in a place of honor on the wife's floor. The husband, who visited every day, came onto the floor to see his wife and saw the photo. He started crying.
"He couldn't believe we would do something like that for him," Joe recalls.
But for Joe and Catholic Charities Healthcare Services, the idea was obvious.
As Joe says, "The resident always comes first. Everything else is secondary."