Twists and Turns: A New Mom Navigates a Pandemic
June 3, 2021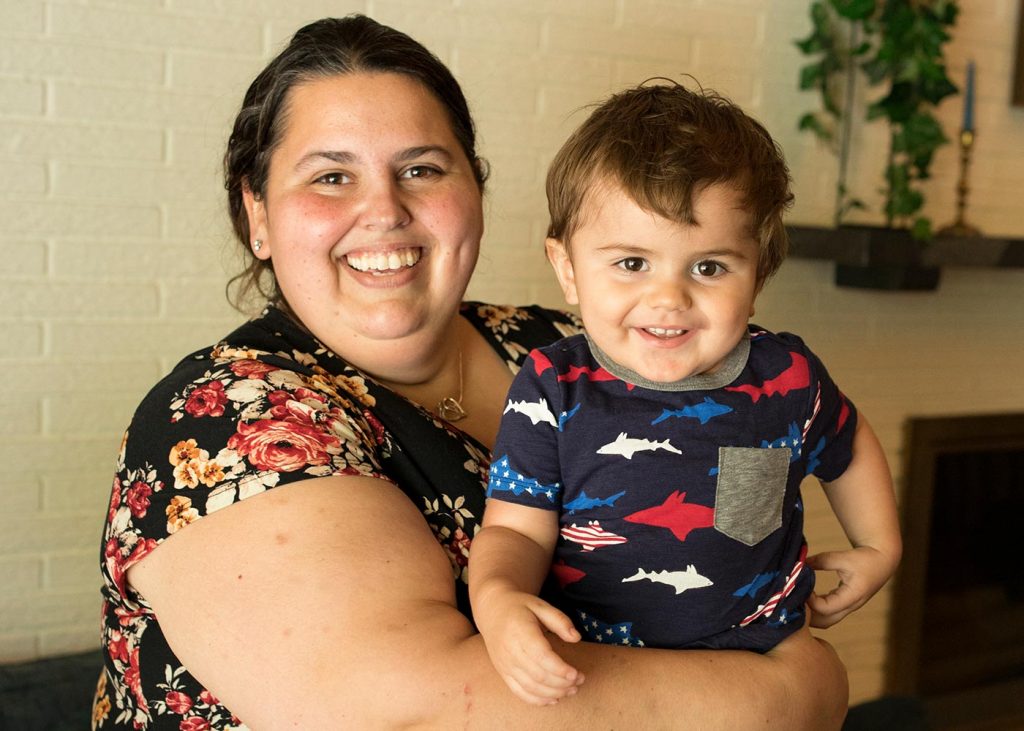 As her fingers hit the keyboard, Rebecca was anxious but hopeful. Googling "baby charities New Hampshire" was something she never imagined doing. But with so much uncertainty filling her life, the first-time mother didn't see any other choice. She was focused on what mattered most – building the best life possible for her young son.
As she would soon find out, that search led her to the support she needed – and what she now proudly calls her "second family" at Our Place, a program of Catholic Charities NH.
A Series of Life Changes
Rebecca grew up in Weare, graduating from Southern New Hampshire University with a culinary arts degree. She began her career at a local bakery and loved using her creativity, especially when it came time to make wedding cakes. But after developing a chronic case of carpal tunnel syndrome, a surgeon told her that if she wanted to maintain use of her hand, she would need to do something different.
As someone known for her kindness and passion for helping others, Rebecca didn't have to look too far to find her new calling. She soon got a job at a local nonprofit providing direct care for individuals with disabilities.
Soon after that, she met Kyle. The two connected instantly. There was no doubt that he was the love of her life. The relationship grew and a year later, they found out they were expecting. In October 2019, Kyle Jr. (KJ) was born – a beautiful, healthy nine-pound baby with a full head of dark brown hair, his daddy's nose and mommy's dimples and toes.
While she loved being a new mom, it required some adjustment. She was struggling with breastfeeding and managing the physical and emotional demands. "There's no manual for being a parent," Rebecca shared. "There's so much to do – going to doctor appointments, learning to provide for your children and making sure you do what your doctors tell you to do. While I wouldn't ever change a second of it, it can be incredibly challenging."
One of those challenges was the increased financial responsibility of raising a child. Rebecca knew sacrifices had to be made. She loved her job but didn't see a path for advancement. In January of 2020, she began a new position as a clinical services coordinator for a nonprofit providing programs and services for individuals with developmental disabilities. For her, it was the perfect fit with plenty of growth opportunities.
But still, the increasing costs of diapers, clothing and other essentials started to eat more out of her and Kyle's budget. They knew they couldn't do it alone. That's what brought Rebecca to that Google search that she calls fate.
(Our) Place for Support
Our Place and Catholic Charities NH came up on her screen. She connected with Karen Munsell, the program's supervisor, who walked through the various resources and educational programs Our Place offered.
"Rebecca was highly motivated right from the start.," said Munsell. "She was eager to learn all that she could about being the best mother she could be."
Rebecca started attending 1:1 parenting sessions with the Our Place team, acquiring tools to better manage the many responsibilities of parenthood and how to plan for the future. Munsell helped her understand KJ's different milestones and how he was progressing. At one point, KJ was going through a rough sleep pattern, so Munsell shared strategies she could use to get him back into a routine. Rebecca also worked with Jean Ann St. Pierre, the program's nurse educator, for breastfeeding support. She also learned ways to keep KJ safe from the added risks children face in warmer weather. "They help you stay one step ahead, troubleshooting before trouble happens," she shared. "They help me understand things that you don't think of until you are in that moment."
She and Kyle also participated in the program's support groups, where she loved to get together with other new moms, share advice and serve as sounding boards for each other. "It was nice to meet and be around others facing similar challenges," she said.
The World Changes Overnight
Five months after KJ was born, the COVID-19 pandemic began. And it left Rebecca with even more worry and doubt.
She was only three months into her new job and transitioned from working in an office 40 hours a week to being exclusively remote. Fortunately, Kyle was also able to keep his job doing carpet and flooring installation, but there was the constant threat of COVID exposure and whether or not he would bring it home to Rebecca and his son. Her mother, who had been providing daycare, could no longer risk being around the family because of potential exposure.
Rebecca found herself doing the seemingly impossible balancing act that so many parents and families did last Spring – work, childcare, ensuring the house remained standing. She credits her employer for allowing her to flex her hours as needed, and planned her meetings around KJ's nap time or on Kyle's days off to help balance the heavy lifting.
But despite that, there still was the frequent anxiety of navigating the pandemic. "Social media made it seem like it was the end of the world; that hyped up a lot of people," she shares. "There were so many questions of 'what if.'"
Was her job secure? Would they be able to make it financially? With the added costs of having a newborn – and their budget stretched thin – Rebecca worried about how she would be able to afford resources like food and diapers. She knew where to turn.
Our Place provided her with assistance with diapers, wipes and other items. Rebecca recalls how Munsell and the Our Place team were always a phone call away and willing to go the extra mile. Munsell referred her to mobile food pantries set up by the New Hampshire Food Bank (a program of Catholic Charities NH). She also connected Rebecca to the local diaper pantry in Manchester, who could assist them if they needed more. And thanks to the support of Manchester-based Wadleigh Starr & Peters PLLC, they received a Thanksgiving basket of food and gift cards to help them around the holiday.
She and Kyle continued Our Place's parenting education curriculum and support groups remotely via Zoom. They learned more about developmental milestones, sleep regression, baby proofing, safety awareness, and health and wellness. Rebecca also worked on a Life Plan, a series of goals designed not only to make her a better parent but also foster more stability for her family. Her first goal was saving enough money to set up a savings account. Her next was paying off her credit card debt, which she says is going well.
"Never could I have imagined raising a child in a pandemic, but Our Place has been instrumental in helping us better manage these uncertain times," she shares. "They connect parents and children with others who are experiencing the same struggles and continue to be there for us. They are always willing to help out and find a solution to whatever challenge you're facing. It's because of them we've been able to stay safe and healthy over the past year."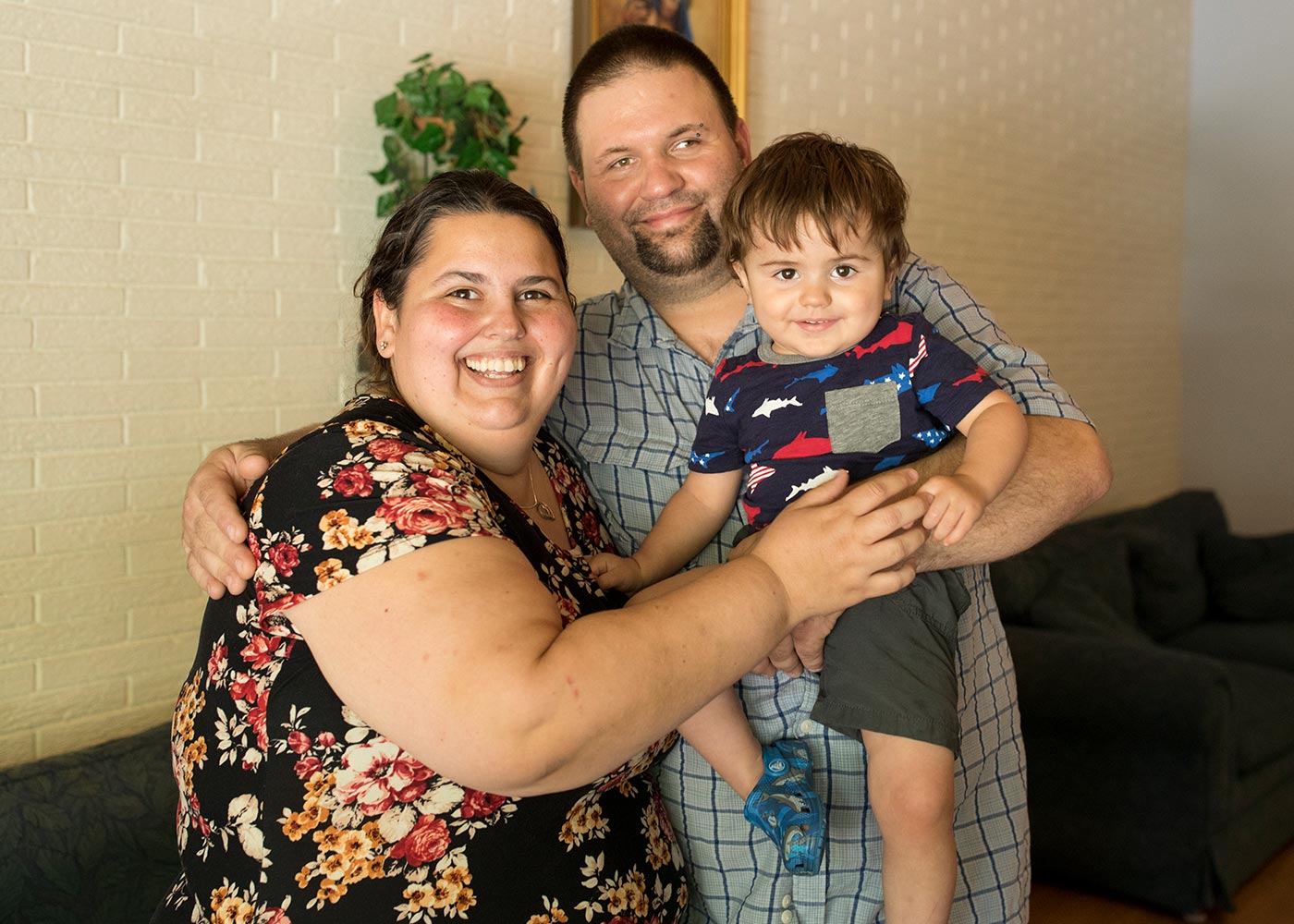 "It's Paying Off"
For Rebecca, there's no doubt that Our Place has made her the best parent she can be.
"Our Place has given me and Kyle the knowledge, resources and courage to keep on trucking along and remain positive," she said. "They've instilled the confidence and reassurance to know that we are doing the right things for KJ and everything will be okay."
Rebecca can't say more great things about Our Place. She shares what she learns with others, including her parents and grandparents, as things have changed so much since they raised children. She is active in mom groups in the blogosphere and shares insight and recommendations with other mothers around the lessons she picked up at Our Place – like how singing can really help calm and center a child, and how having patience can turn negatives into positives. And there's her favorite advice she picked up from St. Pierre, Our Place's nurse educator. "There's no such thing as a dumb question. If you don't know the answer, never be afraid to ask."
Her message to donors that make the work Our Place does possible? "You are making a positive impact on my life and the lives of so many others in the community. And we're not talking about helping us find the luxuries in life. You're providing families – your own neighbors – with everyday knowledge and necessities. You're turning real rough spots into more manageable situations."
Like the past year, she knows there is still some uncertainty and work ahead of her. But the future looks bright for Rebecca. She remains focused on continuing to be there for KJ, who is now 19-months old, with a smile and giggles that light up any room.
She's even looking forward to her next Life Plan goal – saving enough money to buy a house.
Until then, she's grateful to be part of the Our Place program. "They have become a second family for me. I want to be able to give back and provide someone the opportunities that I was provided with."
To learn about the Our Place pregnancy and parenting education program, click here.
To make a gift and help directly support families like Rebecca and KJ's, click here.