Volunteering: Going the Extra Miles at CareGivers
October 5, 2023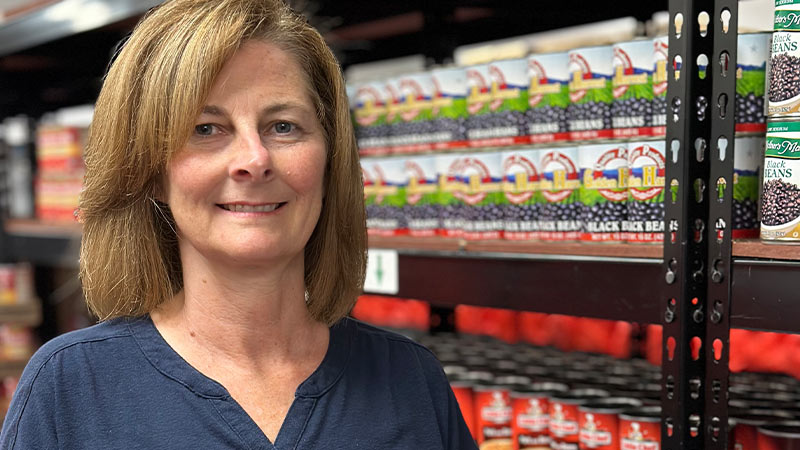 Throughout her 37 years as an accomplished physical therapist, Mary Boland often worked with senior-aged patients who had trouble getting to their appointments. She and her co-workers would say, "When I quit working, I'm going to drive older people around to help them get to their appointments." Now retired, she's making good on the pledge.
Mary is one of the many volunteers who are the lifeblood of CCNH's CareGivers program, helping homebound seniors avoid isolation and live independently in their homes.
In what ways do you help CareGivers as a volunteer?
I knew I wanted to help people with rides to medical appointments through Caring Rides, so I started there and usually do those once a week. I soon found out there were many other ways to help – I now pack produce in the warehouse for the monthly Caring Cupboard grocery deliveries, and make calls to 8-10 seniors each month to check in and see how they're doing.
How do the rides work, and why are these important?
Each week, CareGivers posts an online list of people who need rides and I match myself with a senior during a time that works for me. I then call the person to let them know I'm coming and verify the time, day and where we will be going. I give a lot of rides to doctor and dentist appointments, as well as to the grocery store and pharmacy.
I think this is valuable because if they didn't have a ride, particularly to medical appointments, it would have adverse consequences for their health. So, it's really important that we have enough volunteers available to give these rides. We're not just driving them to appointments – we're helping maintain their physical and mental well-being. It's very rewarding and impactful!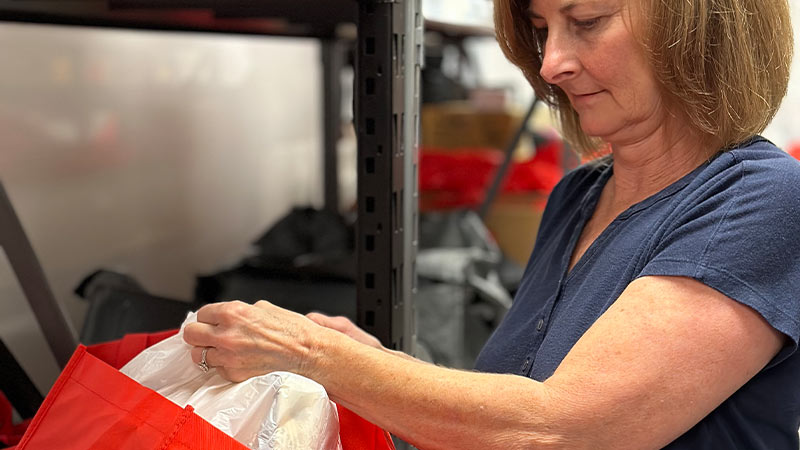 What draws you to helping this senior population?
Even during my time in physical therapy, I loved treating seniors. We owe them that respect and dignity, but I also enjoy being with them. When I give rides, I'm always amazed at how many things we talk about. I hear about their lives and about their kids and grandkids, and they share stories with such joy and pride. It's wonderful. They don't normally have a lot of interactions, so it's a great social outlet for them. You can hear the appreciation in their voices.
How does it make you feel to be able to help?
It's nice to know you've done something that makes a fundamental difference in someone else's life. Many of the seniors we work with live on fixed incomes or face food insecurity regularly. And with limited family or other support nearby, they rely on these volunteer services. Whether it's providing rides, making the calls or packing food, it's amazing how such little effort goes a long way to making a difference to people in need.
What would you say to someone considering volunteering with CareGivers?
Volunteering at CareGivers gives you a chance to really help people. CareGivers works with you to fit your schedule so you don't become overwhelmed and they have a variety of ways to help. They are very flexible and you can volunteer as much or as little as you want, depending on your schedule. Whether you're retired and seeking a worthwhile activity, or are willing to help out after work, there are opportunities for you. You will meet some great people – both clients and volunteers – and you'll be part of something that is truly worthwhile.
Volunteer at Catholic Charities NH
Volunteering at Catholic Charities NH is the perfect opportunity to give back to your community in a meaningful way, and support our programs that create hope and opportunity for our NH neighbors facing some of their most difficult moments.