6 Big Advantages of Working in Senior Care
July 1, 2023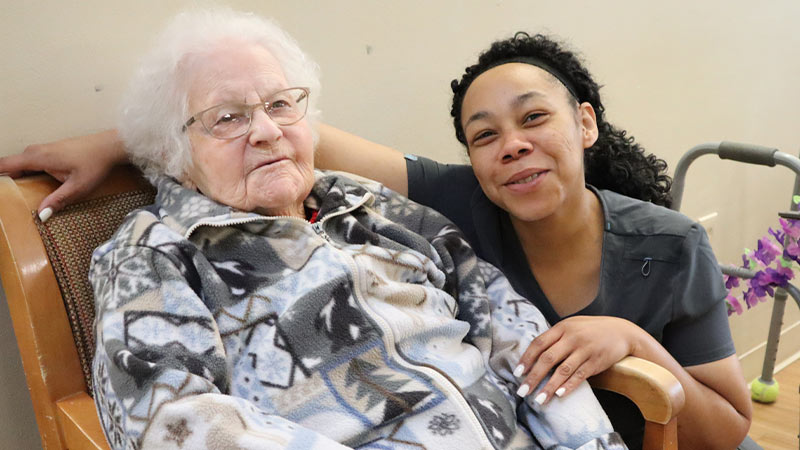 Are you exploring a career in healthcare here in New Hampshire? Or searching for a more rewarding and fulfilling work environment by changing roles?
First off – thank you.
Caring for our neighbors in need – whether in a senior living community, major or rural hospital or through home care – is as admirable as it gets. While it can be hard work, you won't find many other professions as rewarding or fulfilling as working in healthcare.
Finding the ideal healthcare opportunity can be a challenge as it's never a "one-size-fits-all" approach. While working in hospital and home care settings absolutely have its benefits, working in senior care at a skilled nursing facility offers some pretty interesting advantages.
Here are six benefits to consider when weighing your options.
The opportunity for more personalized care:

Working in a skilled nursing facility allows you to build meaningful relationships with the residents and their families. Compared to hospitals, there is a lower rate of resident turnover, providing you with more opportunities to consistently care for the same individuals. This regular and continued contact fosters a deeper understanding and connection between you and the resident. You can spend more time with them, hearing their personal histories, life experiences, and the wisdom they have accumulated over the years, which can be incredibly moving and inspiring.

More time to collaborate:

Senior care communities are often smaller and more intimate in size, meaning you are rarely a "small fish in a big pond." Working in senior care allows you the unique advantage of collaborating closely with a dedicated team of healthcare professionals, including nurses, administration, social workers and more. You also consistently gain more valuable on-the-job learning and experiences, as well as opportunities to shape the decision-making process, especially compared with larger settings.

Opportunities for professional growth:

Many skilled nursing facilities offer opportunities for continuing education and professional development while you work. At Catholic Charities NH skilled nursing facilities, for instance, we offer continuing education and scholarships for unit aides seeking to become LNAs, LNAs pursuing their LPN license, and LPNs seeking their RN degree, through our unique Pathways program.

More stability and job security:

While hospital settings may have to fluctuate patient volumes and home care settings may involve more travel, skilled nursing facilities offer a more stable work environment. As New Hampshire's population continues to age (second in the US) in the coming years, there will be an even higher demand for employees within senior care, meaning you will play an even more valuable role.

More flexibles schedule:

Those who work in senior communities typically have more predictable schedules compared to those who work in hospitals or home care. This can make it easier to plan their work schedules around personal and family activities.

An authentic purpose:

Working in senior care can impact provide a deep sense of purpose and fulfillment. You have the opportunity to make a meaningful in the lives of residents and their families every single day, through comfort, support, and compassionate care.
If you're interested in pursuing a career in senior care, Catholic Charities NH's skilled nursing facilities may be the perfect fit for you. Click here to learn more and view our openings!