CCNH Holds (Virtual) 2020 Annual Gathering
September 30, 2020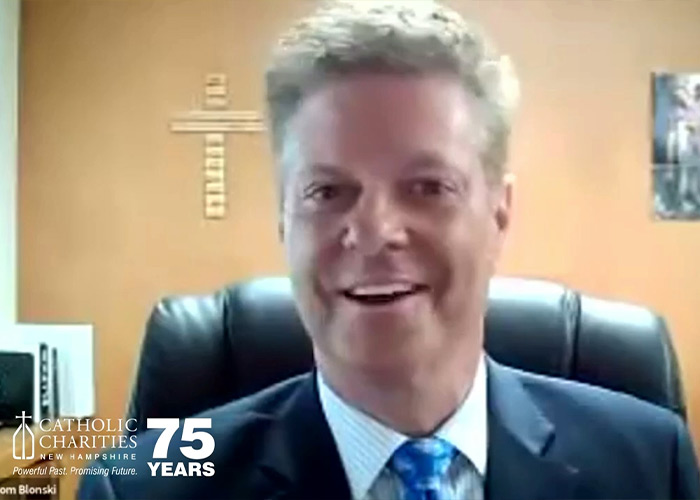 While this year is unlike any other, that did not stop Catholic Charities NH from hosting its 2020 Annual Gathering – even if it meant moving from the regular in-person celebration and reception to a unique virtual gathering. The afternoon included remarks from Tom Blonski, president and CEO of Catholic Charities NH, who looked back over the past year in what he referred to as "the best of times, and the worst of times" – starting with the Ice Ball, a celebration of Catholic Charities NH's 75th anniversary of serving the needy and vulnerable across New Hampshire, followed by one of its biggest challenges yet with the coronavirus pandemic.
"We were thoughtful, resolute, creative, nimble and compassionate in how we responded (to the crisis)," said Blonski. "It was amazing to see the inner-heroes rise to the surface among our many staff who looked adversity in the eye and were unwavering in their commitment to help."
Blonski shared several highlights among Catholic Charities social services programs:
Blonski also talked about
Healthcare Services
' incredible response in keeping residents and staff safe across the organization's seven skilled nursing facilities. "Since the onset of the pandemic, we've worked diligently," said Blonski. "Words never can truly describe the extraordinary effort by staff to secure adequate personal protective equipment, maintain stable and sufficient staffing levels and ensure residents were given extra care and opportunities to communicate with their families."
"One thing I know for sure is that Catholic Charities staff are always thinking, always adapting, always creating, always serving, always holding others up," he added.
Blonski's closing message to the Catholic Charities NH community: "I deeply appreciate your self-sacrifice and your contributions to help edify, stabilize, nurture and heal those in need. There are many heroes among us – like our direct care staff, our nurses, social services employees and those providing back-office services all across our organization to help keep the trains running on time. There's also our phenomenal Board members, committee members, our Bishop, volunteers and our many benefactors who continue to believe in us and the tremendous value and impact of our work. The work that we do is only possible because of you. You all make me so proud and continually humbled by your courage, resilience, resourcefulness, and how you've adapted and responded in this untenable time." Blonski was followed by Bishop Peter Libasci, who shared his perspectives.
"Each one of us is sharing this moment that recognizes that the gift of life is fragile, and therefore it is intended by God to be a life that is shared," said Libasci. "We know that someone has to be there when we're down and out, someone willing to know it, someone who is willing to say, 'I'm here and I can help.'"
Blonski also honored three outgoing Catholic Charities NH Board of Trustees members – Robert Gossett, Brian Grip and Michael Gilbert, MD – for their dedicated leadership and extensive contributions to the organization over the past several years. View the full video of the Annual Gathering
here
.