From LNA to LPN: Berlin Resident Proves She Can Do Anything
December 9, 2020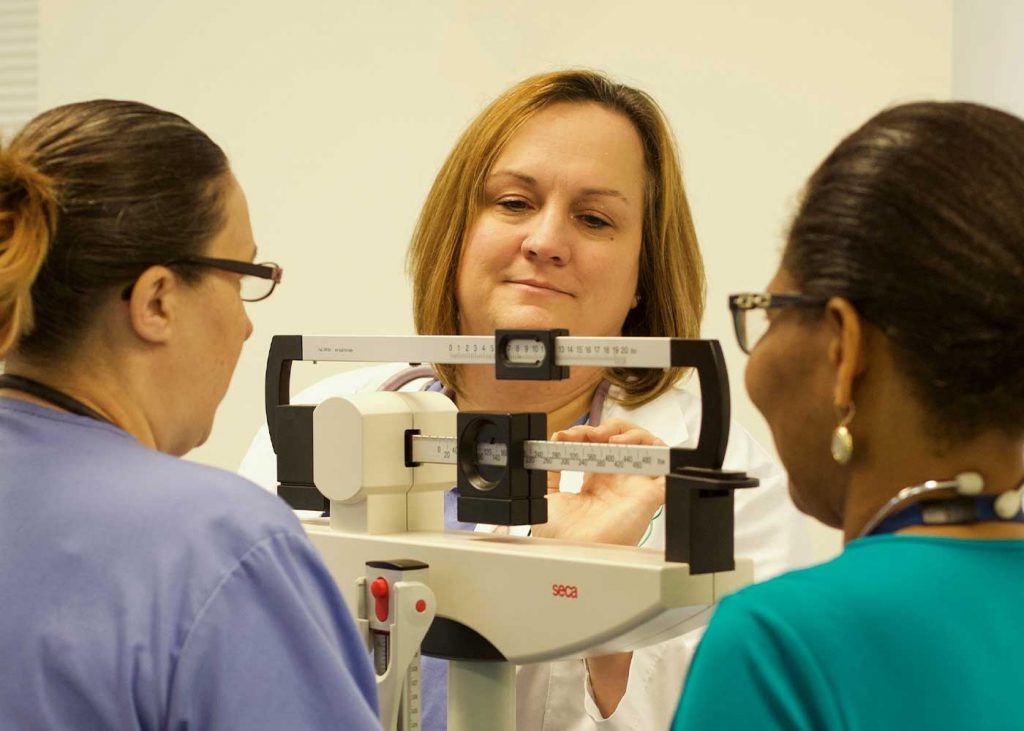 It was a bright spring day as Cynthia Bisson got out of her car, 150 miles away from home, for her first day of school to get her licensed practical nurse (LPN) degree. If you told her two years ago that she would be doing this, she'd likely shake her head and maybe crack a few jokes. But even if she didn't realize it, this moment was one in the making for a long time. For Cynthia, it wasn't only about going back to school. It was about a new beginning – and a chance to prove to herself that she could achieve what she didn't think it was capable of. Cynthia's story starts in Berlin, New Hampshire, where she was born, raised and still lives today. Her family has deep roots in the "Paper City" dating back several generations. While many family members – including her three siblings and parents – have since moved away, Cynthia proudly remains in the northern New Hampshire city. Back in high school in the 1980s, Cynthia's friends would head home, play sports or hang out with each other after school, the average stuff teenagers may do. But for Cynthia, the final bell marked the start of the second part of her day, working the 3-9 p.m. shift at a local nursing home. At the time, it was more of a way of life versus looking to start a career. Money was tight in her household, and she needed to work the 30 hours/week to help make ends meet for her family. Soon after she graduated, she left her job at the nursing home and took some time off. But she recalls her father kept pushing her to get a more permanent job. Her grandfather was a resident at
St. Vincent de Paul Rehabilitation and Nursing Center
in Berlin years ago and her father came across an LNA opening there. With a little prod, Cynthia applied and took the position. That was 31 years ago – and she remains at St. Vincent today. For her, it's home. She considers the residents and staff as part of her family. Although people may come and go, the bonds she's formed live on. And it's been a great way for her, as a single mother, to raise her daughter and support their family. Like most LNAs, Cynthia was motivated to build a career in the healthcare field. In 2007, she became a Licensed Medication Nursing Assistant (LMNA), which added more responsibility to her work. The thought of nursing school and becoming an LPN or Registered Nurse (RN) crossed her mind, but she found reasons to put it off. "I lacked confidence growing up and really didn't do well in school," Cynthia shares. "Even hearing about the workload in nursing school was overwhelming. I always thought I would have to spend every waking second studying just to pass the entrance exam. Couple that with the fact I was a single mother with limited financial resources, and it didn't seem entirely practical." While Cynthia admits she's one who likes to stay comfortable, she knows that life sometimes presents situations that challenge you to get outside your comfort zone – and take a chance. She says that moment usually happens every 15 years. 30 years ago, she got her job at St. Vincent. Nearly 15 years ago, she became an LMNA. Little did she know it, but her next opportunity was right around the corner. And it was going to be her biggest change yet.
The Pathway Forward
In early 2019, Catholic Charities NH, which owns and operates St. Vincent and six other skilled nursing facilities statewide,
created its inaugural scholarship program for LNAs
seeking to advance their nursing careers through LPN degrees. Over the next 18 months, Catholic Charities NH would provide full-tuition scholarships for nine LNAs employed at Catholic Charities NH facilities to attend Harmony Health Care Institute in Merrimack. When Cynthia first heard about the program, her lack of confidence was telling her it was over her head. But her fellow staff were saying otherwise. Cynthia recalls an LPN at St. Vincent who encouraged her, "If I can do this, you absolutely can. You would be a great nurse." But Cynthia still wasn't convinced. She had to apply for the scholarship, go through an interview process and pass the entrance exam (Test of Essential Academic Skills). Plus, the classes were four days a week, two and a half hours away. It would require her to leave Berlin for the first time in her life. But Cynthia felt this was too rare of an opportunity and made a promise to herself: If she got accepted and passed the entrance exam, she would do it. As she said, "I was going to let the circumstances around me decide what I was going to do."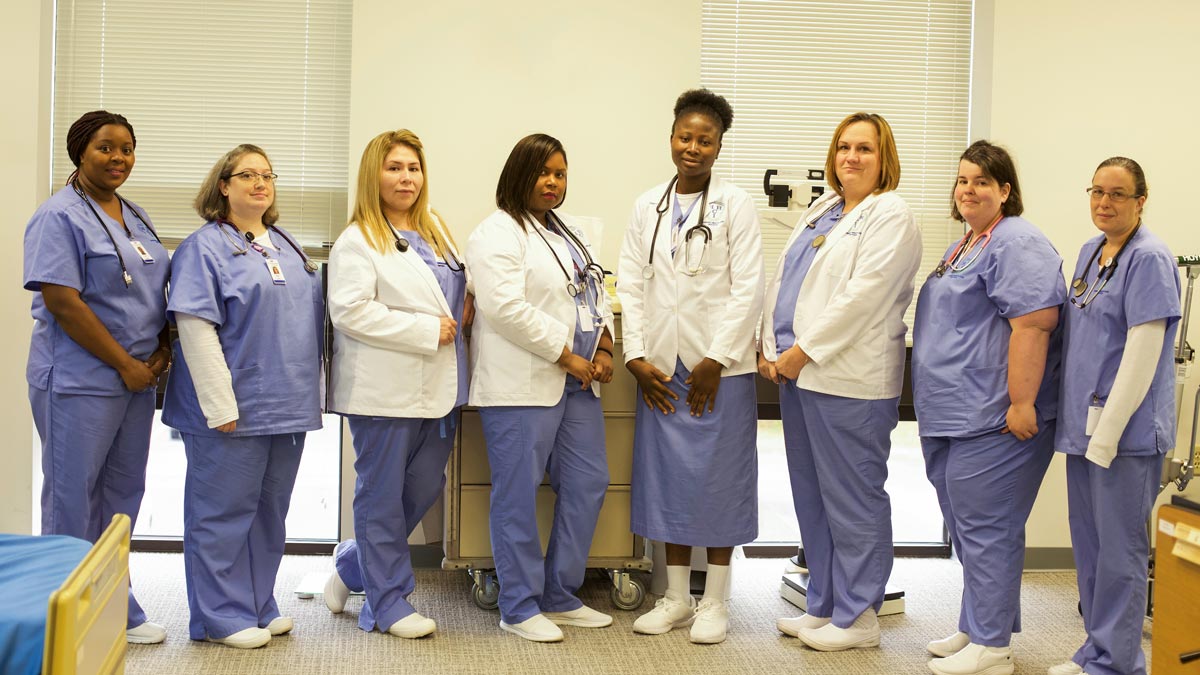 A few weeks later, she got the word. She was accepted as
one of the nine Catholic Charities LNAs
about to embark on a new and exciting journey. "Getting the scholarship took a lot of pressure off me," she recounts. "It gave me more confidence in gong back to school. Not having to worry about the tuition was huge. Without the scholarship, I don't think I would be where I am today."
Eager to Learn
She and her classmates hit the ground running with classwork and homework the first week at Harmony. Normally, that would sound daunting to Cynthia, but it felt different. "When you get older, you value education more," she shared. "I knew I wasn't there just to graduate and or make more money. I was there for the experience of school, learning and being away from home. For me, this was a period of my life where I was able to grow like I never have before. And that says a lot from someone who has lived for more than 50 years, raised a daughter as a single mother and am now even taking care of my granddaughter!" Classes were Monday through Thursday and she would return to Berlin to work two 12-hour shifts at St. Vincent on the weekends. Driving 300 miles round trip every day during the week was not an option. While it wasn't easy at first, she eventually made it work. She stayed with her sister in the Lakes Region for a few weeks. "I was sharing a bedroom with a pre-teen in a house with no AC in the middle of summer," she recalls with a laugh. "Sometimes I found myself studying in the car." But even the hour drive to class was taking a toll, so she rented a room in an apartment nearby in Merrimack. Then the COVID-19 pandemic hit and her roommate got nervous, so she moved into camper on a campground near the school. While many people may have been frustrated with the constant shifting, Cynthia took it in stride, and considers it part of the whole experience. "Yes, it was exhausting, but it was all leading to something much better, and sacrifices had to be made," she shares. Cynthia loved school. Another LNA from St. Vincent was in her class and she quickly became close with the other classmates. They would always lean on each other for support. She felt good being in a place where she could learn, and help out her other classmates as needed. The way she sees it, the LPN program was her second chance at school and she made the most of it. Growing up, she admits that she didn't take school as seriously as she did now, nor pay too much attention to grades. At Harmony, there was suspense when grades came out. "Some people may be focused on just passing, but for me, I wanted to challenge myself more," she added. And there was pride when her hard work paid off. She made the Dean's list every session and graduated in September 2020 with honors. She recalls telling her dad about it. "He was so proud." Today, Cynthia is back home as an LPN back at St. Vincent, being the best nurse that she can be. And she continuously finds moments where she applies the lessons she learned at Harmony to her job and the residents she serves.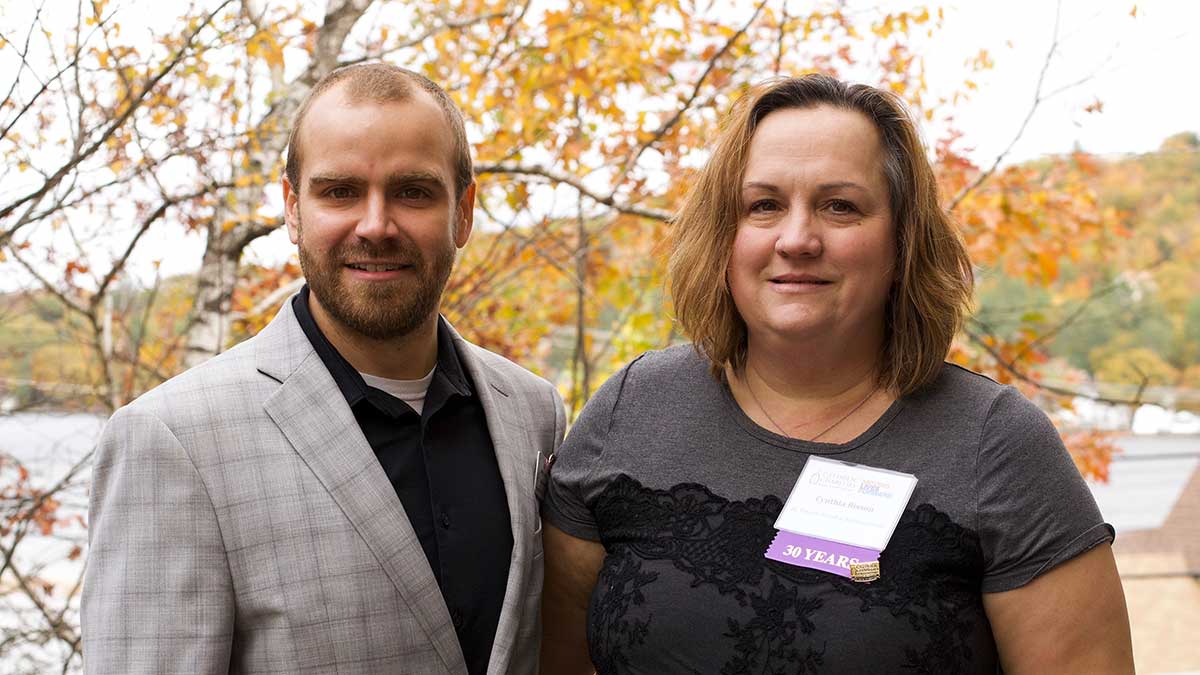 "Cynthia is a dedicated employee with a strong heart and passion for long-term care," says Jeffrey Lacroix, administrator at St. Vincent. "She is committed to ensuring that we, as a team, are doing all we can to provide the best care possible for our residents. We're incredibly proud of her." Cynthia took much more away from the experience beyond the education. "At my age, I proved that I could do it things that I never thought I could do. Now I know I can live away from home, support myself while going to school and get my degree. It's incredibly gratifying and I'm grateful for opportunity the scholarship provided." And through it all, she has a lesson for people, who like herself, didn't think they could reach higher. "This taught me that you don't know how capable you are until you try," she shares. "If you apply yourself, you can do it." To learn more about how you can grow your career in healthcare through Catholic Charities NH like Cynthia has,
click here
.