Wenger and Gray Appointed to CCNH Board
October 16, 2023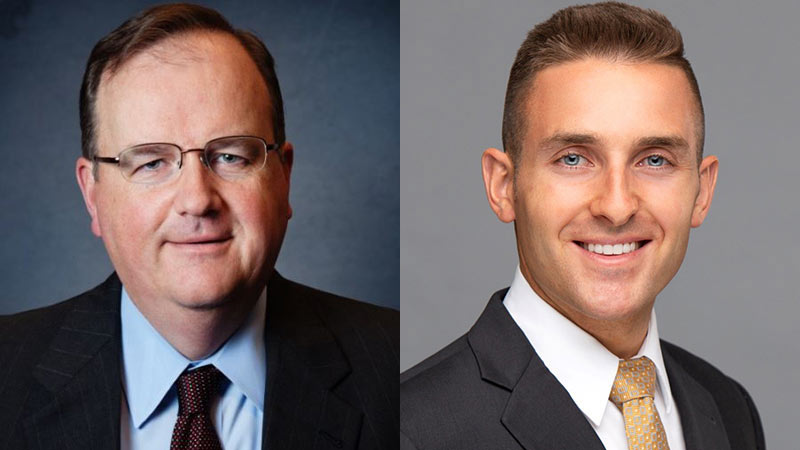 Catholic Charities NH, one of the state's largest social services organizations, today announced the appointments of David Wenger and Nick Gray to its Board of Trustees.
Wenger, a resident of Manchester, is a Senior Vice President in Global Commercial Banking at Bank of America, where he works with leading not-for-profit healthcare, higher education and senior living organizations in New Hampshire, Maine and Massachusetts. The Manchester native is a graduate of Trinity High School and holds a B.S. in finance from Boston College and an MBA from Bentley University. Wenger has been a member of the Catholic Charities NH Audit and Investment Committees since 2016 and recently completed his term as Chair of the Trinity High School Advisory Board. He is a parishioner of St. Catherine of Siena Parish in Manchester.
Gray, a resident of Manchester, is the Founder and Managing Principal of Gray Property Group, a vertically-integrated real estate investment, brokerage, and property management firm specializing in multi-family properties across Southern and Seacoast New Hampshire. Since establishing Gray Property Group in 2019, Gray has purchased and renovated 50+ apartments of his own, brokered the sale of 100+ apartments, and scaled the company's property management portfolio to nearly 250 units. Nick and his 12 employees are now producing $2.5M per year in gross revenue. The Exeter native holds both M.S. and B.S. degrees in mechanical engineering from Stanford and Cornell, respectively. Additionally, Nick serves as a 1st Lieutenant in the New Hampshire Air National Guard's 157th Aircraft Maintenance Squadron.
The organization also reappointed Russ Ouellette (Vice Chair), Susan Huard (Deputy Vice Chair), E.J. Powers (Secretary) and Pat Ford (Treasurer) to their roles on the Executive Committee.