6 Major Benefits of Nursing Homes: Addressing Common Worries
August 1, 2023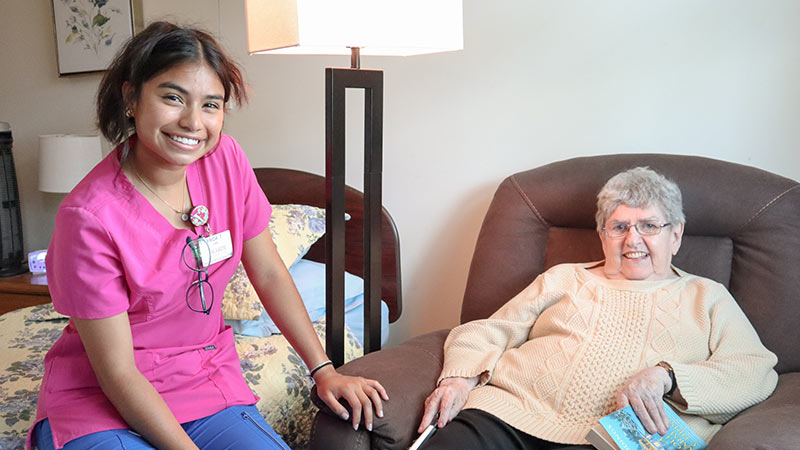 Exploring senior care or skilled nursing options for your loved one can be an overwhelming process, especially when it comes to entrusting their health and well-being.
Many families and potential residents have concerns and worries about nursing homes, which are perfectly normal. But what we may read in the news – especially when it comes to nursing homes and the COVID-19 pandemic – is often fueled by misconceptions and fears. In reality, the majority of nursing homes provide a safe, superior 24/7 care experience, leading to a high quality of life for their residents.
Let's address some common areas of concerns by discussing six significant advantages of nursing homes, and skilled nursing care specifically:
Nursing homes prioritize the safety and security of their residents:

Skilled nursing facilities are equipped with features like secure entrances, surveillance systems, and trained staff members who follow strict safety protocols. These measures provide peace of mind, knowing that your loved ones are in a protected environment, surrounded by professionals who are experienced in handling emergencies and ensuring their well-being. By choosing a reputable nursing home, you can have peace of mind knowing that your parent or grandparent is safe and secure.

Nursing homes offer around-the-clock care and support:

One of the significant advantages of nursing homes is the availability of 24/7 care and support. Skilled nursing facilities have dedicated teams of healthcare professionals who provide personalized care tailored to the specific needs of each resident. From assistance with daily activities to medication management and specialized therapies, nursing homes offer comprehensive care that may be challenging to replicate at home. This continuous support ensures that your loved ones receive the attention and medical supervision they require at all times.

They are designed to enhance the quality of life:

Contrary to popular belief, nursing homes strive to create an engaging and fulfilling environment for their residents. They offer a wide range of life enrichment activities, events, games, and social gatherings that provide opportunities for seniors to stay mentally, socially, and physically active. Reputable nursing homes, like Catholic Charities NH, focus on person-centered care, aligning activities with the hobbies and preferences of residents. By being part of a vibrant community, seniors can make new friendships and enjoy a sense of belonging, ultimately enhancing their overall quality of life.

Nursing homes provide personalized care and specialized services:

Nursing homes are equipped to handle various health conditions and provide specialized care. They have access to skilled medical professionals, including registered nurses and therapists, who are experienced in addressing the specific needs of seniors. Nursing homes often offer rehabilitation services, memory care programs, and palliative care options, ensuring that residents receive appropriate care and support throughout their journey.

Comprehensive support for daily living:

Living at home, many seniors may face challenges in performing tasks such as bathing, dressing, grooming, and eating independently. Nursing homes have trained staff members who are experienced in assisting residents with these activities, ensuring their comfort and well-being. This level of support can significantly reduce the physical and emotional strain on family members who may find it difficult to manage these tasks on their own. Nursing homes offer a supportive environment where residents receive personalized assistance with activities of daily living, promoting their dignity and independence.

Access to socialization and peer support:

Loneliness and isolation can have a significant impact on the well-being of seniors. Nursing homes provide opportunities for socialization and peer support, creating a sense of community for residents. With a variety of organized social activities, group outings, and communal dining experiences, nursing homes foster an environment where seniors can interact with their peers, share experiences, and form meaningful connections. These social interactions contribute to emotional well-being, mental stimulation, and overall happiness. Nursing homes often organize events and programs that encourage social engagement, ensuring that residents feel a sense of belonging and purpose.
When it comes to making an informed decision about senior care, it is natural to have worries or anxieties you or your family may have. However, it is crucial to address these concerns by having open conversations with the staff or administrators of the nursing home you are considering. Take a tour with these key points in mind and ask any questions you may have.
Remember, every person deserves the highest level of care, and by choosing a nursing home that aligns with your needs and preferences, you can ensure that your loved one receives the comprehensive care and support they deserve.
Are you looking for a secure, engaging environment for your loved one here in New Hampshire? Check out our various skilled nursing and senior living facilities statewide!