Applying to Become an LNA? 6 Keys to Make You Stand Out
October 2, 2023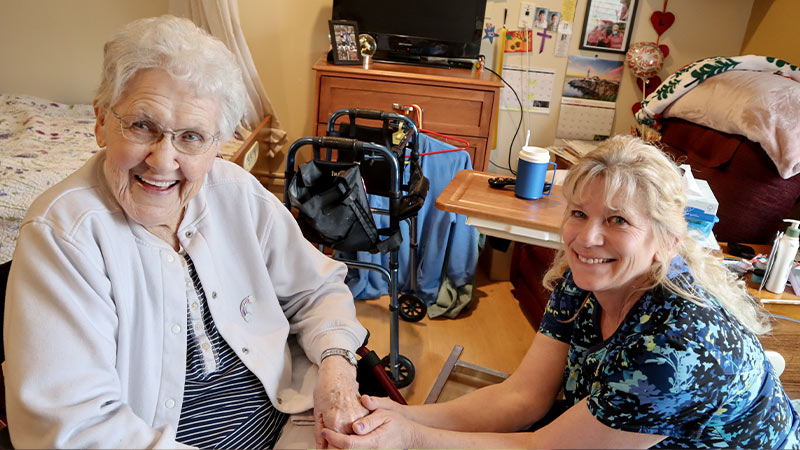 Are you considering a rewarding career in healthcare? If so, becoming a Licensed Nursing Assistant (LNA) may be the perfect path for you.
As an LNA, you gain invaluable hands-on experience, whether it's in a hospital, nursing home or senior living community. LNAs provide hands-on care that directly improves patients' and residents' quality of life by assisting with their basic daily needs like bathing, dressing, feeding, and mobility. And it's more than just a job – it's an opportunity to connect with people, brighten their days, and make a true difference in their lives.
The vast majority of nurses and healthcare professionals started their careers as LNAs, making it the ideal gateway to a long-lasting career in healthcare. Plus, it's a field with plenty of openings. The aging population is growing rapidly so there is no shortage of demand for compassionate, dedicated LNAs.
If you're considering applying as an LNA, here are six ways to help you stand out in the application process and get the right job for you:
Highlight any healthcare or caregiving experience:

Have you ever cared for a loved one – a grandparent, parent or friend? Even if it wasn't within an official healthcare setting, sharing those experiences can be valuable in showing how you like to help others. Be ready to share those experiences in your cover letter or interview.

Emphasize key relevant traits and personalities:

LNAs require strong communication, patience, empathy and a sense of teamwork. You should also carry a caring, kind and compassionate nature. Being an LNA requires someone who is looking out for others, so share how you exemplify those traits.

Highlight volunteer experience:

Volunteering often reflects qualities shared by healthcare professionals. Showcase any volunteer work you've done, whether it's through a church, community group, hosting a bake sale, or participating in charity walks. It speaks volumes to potential employers about your commitment to helping others.

Let your genuine enthusiasm shine through:

If you apply to become an LNA, express why you want to pursue this path. During interviews, discuss your excitement and passion for the work and how it aligns with your values. Specific anecdotes and examples will convey your authentic enthusiasm. For example, share a personal story that drew you to the healthcare field, an experience in caring for someone close that motivates you, or talk about a role model in your love who may work in healthcare.

Personalize your passion:

Customize your cover letter for each employer, sharing why you want to work there specifically. A personalized approach sets you apart and demonstrates your genuine interest in the organization. For instance, here at Catholic Charites NH, we love when candidates share why they are excited to be part of our mission-based culture, or an environment where person-centered care is brought out by our team. This personalized approach makes you stand out among other candidates.

Include strong references:

If you have previous work experience, make sure to include previous employers or supervisors who can talk about your skills, abilities and work ethic. If you haven't worked before, consider asking former teachers to become references. A strong reference can make a significant difference in the hiring process.
An important note: Here in New Hampshire, there are prerequisites before you can become an LNA. This includes completing an approved nursing assistant program, and a minimum of 200 hours of supervised nursing assistant experience. At Catholic Charities NH, we provide full financial assistance to pursue an LNA certificate through our unique Pathways program, covering the full cost of the program prior to starting it. Upon completion, you will be placed in a part-time or full-time role with us.
Becoming an LNA opens doors and lays the foundation for a rewarding career and future. Use the tips above to stand out among other applicants – and get closer to the first step in a career you'll love and grow in.
Interested in applying for an LNA job today? Check out our LNA openings across New Hampshire, including in Manchester, Dover, Windham, Berlin and Laconia.