5 Reasons Becoming an LNA is the Perfect Start to a Healthcare Career
July 13, 2023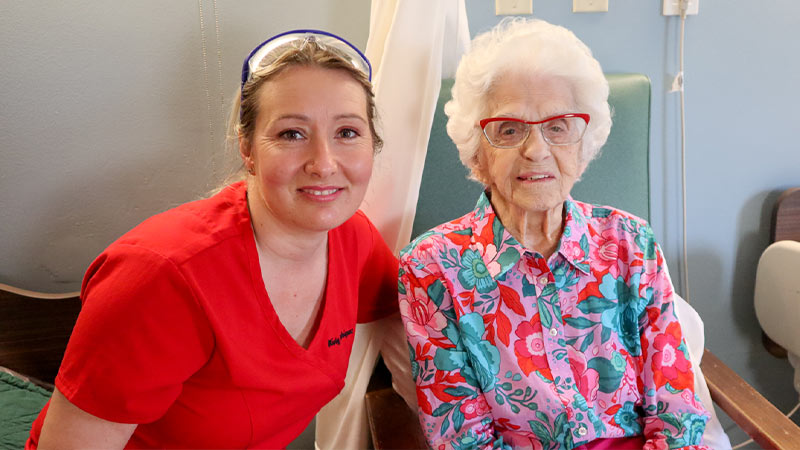 With the nation's second-fastest growing aging population, the demand for healthcare workers within senior care settings continues to grow throughout New Hampshire. And unlike many other professions, a career in senior care offers more flexibility and career growth opportunities for those passionate about caring for others.
Licensed Nursing Assistants (LNAs) are viewed as the most practical gateway to starting a career in nursing. The popular healthcare profession provides basic nursing care to residents and patients within senior care settings, under the supervision of a registered nurse (RN) or licensed practical nurse (LPN). LNAs provide a wide range of support for daily living, including taking vital signs, assisting with mobility, and so much more.
With the demand for nursing assistants expected to increase significantly over the coming years, there will be plenty of job opportunities for those pursuing a career as an LNA. In fact, as of today, there are nearly 1,000 separate openings in healthcare settings across the state (via Indeed).
So why become an LNA? Here are five pretty significant benefits:
There's a shorter training window:

Compared with other healthcare roles, it doesn't take much time to become a certified LNA. Here in New Hampshire, you must complete a minimum of 200 hours of nursing assistant-related activities or complete a nursing assistant competency training program. Most programs take around six weeks to complete and are offered at healthcare facilities, community colleges and vocational schools throughout New Hampshire. Catholic Charities NH, for instance, regularly offers LNA training programs in its Manchester, Laconia, Windham, Dover and Berlin locations.

LNAs receive competitive pay and life benefits:

Make no mistake about it – LNAs are essential members of any healthcare team and are compensated accordingly. And in many organizations, LNA benefits extend beyond pay. Catholic Charities NH offers comprehensive health and dental insurance, retirement plans, flexible scheduling and paid time off to help provide a better work/life balance for its LNAs.

It's a great way to advance a career:

Becoming an LNA is one of the most stable and secure job paths you can take. LNAs can go on to become Licensed Practical Nurses (LPNs) or Registered Nurses (RNs) after gaining experience and further education. One example is the unique Pathways program here in New Hampshire, offering select LNAs full-tuition scholarship opportunities to attend a full-time Licensed Practical Nurse (LPN) degree program, as well as other forms of tuition reimbursement for employees at other levels who want to pursue further education.

It can offer a great work-life balance:

Being an LNA can offer you the added flexibility you may not find anywhere else. LNA positions come in both part-time and full-time roles, with many healthcare settings offering flexible shifts based on someone's personal preferences or needs, whether it's balancing work with family or attending school in the evening.

LNAs make a difference in people's lives:

Imagine walking into a room and seeing a resident beaming a smile – all because of you? Well, that happens multiple times a day when you're an LNA. Not only do LNAs provide vital support for residents and their families, but they also make a positive impact on their lives by helping them through difficult or being the person they often lean on for support. This can be incredibly rewarding and fulfilling work.
Are you interested in becoming an LNA and looking for somewhere to start? Check out our job openings across New Hampshire!